Search:

Winnipeg Free Press Passages
All Titles
Notices are posted by 10 am Monday through Saturday

❮ Go Back to Listings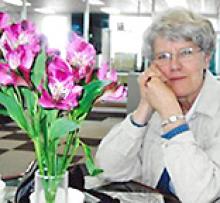 SISTER CAROL (EUNICE) PELOQUIN, S.N.J.M. (SISTER CAROL-MARIE)
Date of Passing: May 17, 2021
Send Flowers to the Family
Offer Condolences or Memory
SISTER CAROL (EUNICE) PELOQUIN, S.N.J.M.
(Sister Carol-Marie)

Sister Carol died peacefully in her sleep, Monday, May 17, 2021. She is survived by her brother Ray, nieces and nephews, her religious community and a multitude of friends.
She was predeceased by her parents and siblings, Leone, Agnes, Ida, Mae, Earl and Don.
Carol (Eunice) was born in St. Paul, Minnesota in 1936 and graduated from St. Jean Baptiste High School in Duluth. She entered the novitiate of the Sisters of the Holy Names of Jesus and Mary in 1955, made her first profession in 1957, and her final vows in 1962.
Sister Carol was life-long learner, achieving three Masters Degrees in Communications, Spirituality and Theology. She received the Enneagram Certification from the Riso-Hudson Institute in New York. This became a valuable tool in her ministry to others. She was committed to personal growth and the empowerment of others, especially women and those on the margins. She was a believer in non-violence and liberation theology.
Sister Carol was a teacher in the Catholic schools in Duluth and Winnipeg. Understanding the difficulties students encountered in academics, she created new courses at St. Mary's Academy - journalism, photography and psychology. She delighted in her drama students and members of the student councils with whom she worked. Sister was appreciated by her colleagues and many have remained friends to this day.
In 1983, Sister Geraldine MacNamara, founder of Rossbrook House, invited Sister Carol to start Meegwetch House, a home for teenage girls. She became a 'working mother' as she continued her teaching. For nine years, she mentored many girls, some of whom still remain in contact with her. On Mother's Day, she received a call from one of them. Sister Carol involved others in her ventures with the girls-people from Rossbrook, friends, the Sisters of Sion and the Holy Names who spelled her off so she could see to her endless corrections as an English teacher. They participated in different outings and numerous celebrations.
When Meegwetch House closed, Sister Carol left St. Mary's to become the Catholic Chaplain at Stoney Mountain Penitentiary. Carol once again found her niche. She made the chapel a sanctuary, a place of peace. Her background in education and passion for human growth helped her in her ministry with the men, bringing out the good she knew to be there.
Retiring from the penitentiary and knowing the challenges that faced the men upon their release, Sister Carol received permission from Corrections Canada to begin Next Step Peer Support Program in 1991. Participants met weekly to share and to get input on personal growth, finances, housing. Volunteers became friends and part of the family. When she stepped down as the Director of the Next Step Program, Sister Carol herself remained a volunteer.
With housing a main concern for the men, Sister Carol worked with Father Dave Creamer, S.J. to found Quixote House, a home for released offenders. Later, Father Dave with the Jesuits provided yet another housing option, Massie Apartments. One of the residents said "They tried to help me do what I wanted to do, and even if it didn't work out, the support was there." He added that "For many people it is hard to see past the mistakes a person has made; Father Dave and Sister Carol are able to do that."
Sister Carol was a strong voice for those she served. She was honoured by the Catholic Health Association of Manitoba. She was co-recipient of the Caritas Award from the Catholic Foundation and this year was named one of the 150 Women Trailblazers in Manitoba.
Important to her were friends with whom to share the journey, family whom she loved dearly, learning to be present to each person and to each moment. Those of us who loved her remember her as a loyal friend, a woman of faith, a true disciple on a mission to better the lives of others.
A Mass of the Resurrection will be celebrated at Despins Residence at 1:15 p.m. on Tuesday, May 25, 2021. Attendance is by invitation only. Interment will follow at St. Boniface Cemetery.
If you would like to view the service via Livestream, please go to the following link:
http://www.livememorialservices.com/Home/ServiceDetail/13422

In lieu of flowers, a donation in Sister Carol's name could be made to: Future Hope Inc., 290 Furby St., Winnipeg, MB R3C 2A9.
Family and friends may sign a
book of condolence online at
www.desjardinsfuneralchapel.ca.

Desjardins Funeral Home
204-233-4949


As published in Winnipeg Free Press on May 22, 2021
Condolences & Memories
(21 entries)
There is not enough space to say how important a part of our family Sr. Carol was. The fact that my most treasured photos of my children were taken by her says more than anything I can say here. Every family should be so lucky as to have a Sr. Carol in their midst. She is and will always be truly missed. - Posted by: Saara Greene (Friend) on: Jun 03, 2021

A shinning light that I so appreciated while working at Rockwood Institution. - Posted by: Robert Erickson (associate) on: Jun 02, 2021

Dear Family of Sister Carol-Marie and Sisters of the Holy Names: We are sending our deepest sympathy to you upon the recent repose of Sr. Carol-Marie SNJM. Know that many former students have been reflecting on the very positive and long-lasting impact that Sister had as a teacher on many students' lives. Many of her students followed in her path and have become passionate and dedicated educators. As an English Teacher, Sister enabled us to develop and express our inner most thoughts and to find our voices through the writing process. She expanded our notion of multi-media texts. Sister was very forward-looking in promoting media literacy and introduced us to the work of former Winnipegger, Marshall McLuhan. She sparked a love of theatre by involving us in the production of our classroom and Drama Club plays. For many of us, Sister Carol-Marie ignited a lifelong passion for learning and teaching English Language Arts. Because of her influence, several of Sister Carol Marie's students went on to become award-winning educators and leaders in Manitoba and other provinces. In Religion classes, Sister promoted the notion of social justice. She took an interest in our Byzantine traditions and respected all faiths. Sister continued to follow the example of Blessed Mother Marie-Rose Durocher in new ways, in her religious life. Sister was eager to share aspects of her American heritage. In American History classes, she helped us to understand aspects of the power of democracy, "government of the people, by the people, for the people" in a free society. She encouraged democratic student leadership at SMA. She promoted critical thinking and helped us to understand pivotal events in American history. Thanks to Sister, we had a deeper understanding of the events of the last four years in the US. We often thought of her course, as we watched American history unfold in the last presidency. We now understand that Sister Carol-Marie fostered the development of leadership in many ways, in each of her endeavors. She had an extraordinary gift for seeing the unique potential in people. Intuitively, she could see "diamonds in the rough". As we read her obituary, we were very inspired by Sister's lifelong learning and dedication to addressing the complex needs of diverse people. It is truly amazing how Sister Carol continued to "re-invent" herself and forged new pathways for her pastoral service, in the inner city, at Stony Mountain and beyond. We are grateful to Sister Carol-Marie for the transformative impact that she had on the lives of many Manitobans. We will miss her physical presence at our SMA reunion next year. The many special memories we have of Sister Carol will continue to inspire us and to serve as reminders of her ongoing presence in our lives. May Sister Carol-Marie Rest in Peace. May Her Memory Be Eternal! Sincerely, Marianna Carol Hryniuk-Adamov and Family - Posted by: Marianna Carol Hryniuk-Adamov (Former Student from SMA ) on: May 31, 2021

I first met Sister Carol in 2000 when I went to work at Stony Mountain Institution. I regularly gravitated to the chapel because of the positive and loving energy I felt in the presence of Sister Carol. She encouraged and supported me, and she truly believed in the inherent goodness of all people. Sister Carol was the strongest of advocates - she had the determination and tenacity of a pit bull! If Sister Carol was in your corner, you felt safe and blessed! I was lucky to be a volunteer with Next Step and witness to the healing and reintegration she fostered in the community. She was a mentor, a special friend, and a guardian angel. - Posted by: Kathleen Helgason (friend) on: May 31, 2021

Sr. Carol will always be remembered by me for her warmth, charm and ability to make all feel important and welcome. She taught me at both St. John Brebeuf and SMA. We had great fun putting on the play, Oliver at SJB. We were blessed with the beautiful voice of Michael Crossman, and her enthusiasm and talent to bring out the best in all of us. As years went on, she would reminisce about those days, but also tell me about her work in the prisons. She had the natural ability to see the best in everyone and foster that, a lesson for all. Sr. Carol was well read, intelligent and a fresh mind who inspired her students and everyone she encountered. Her gifts will no doubt live long past her. We were blessed to have her in our lives. - Posted by: Joan Flood (Student ) on: May 30, 2021

I so appreciate having Aunt Eunice in my life. She was always interesting to talk to, had great stories of her travels. She was kind and comforting, yet strong and honest. I will miss her, as will everyone who knew her. - Posted by: Barbara Robbins (Niece) on: May 29, 2021

Sister Carol made an incredible contribution to the prison chaplaincy of the Correctional Service of Canada. Her gentle quiet strength found a way to the heart of many inmates and helped them on their journey toward true freedom. As the CSC Chaplain General, it was a privilege to count her among our best chaplains. May she rest in Peace. Pierre Allard - Posted by: Pierre Allard (A colleague in Correctional Service of Canada Chaplaincy.) on: May 25, 2021

Sister Carol was a wonderful teacher. Her clam honesty and insights were appreciated when I was a teenager and even more now in retrospect. Her lifelong devotion to others in need is a great testament to her character. The Catholic Church was truly blessed by her courage and humanity. Meegwetch/ shalom / Namaste / Salem - Posted by: Valerie Unwin (Student at St. Mary's Academy 1969-72.) on: May 25, 2021

Sister Carol was a teacher of mine at St. Mary's Academy from 1974-1980, and over 40 years later I still remember her gentle and kind manner. She showed such respect to the students, that you never took advantage of her kindness. Rest in peace Sister Carol and give Jesus a hug for me. - Posted by: Dianne Gray-Wysocki (Past Student) on: May 25, 2021

I was very sorry to hear of the passing of Sister Carol. She did so much for so many! My deepest sympathies to her family. Sherry Rasmussen - Posted by: Sherry Rasmussen (Rossbrook House ) on: May 25, 2021

Tremendous loss for our community. Sr. Carol taught at St. Mary's Academy, where I first met her, and although I did not have her as a teacher at SMA, I did work along side Sr. Carol at her Next Step program. I can say without any hesitation that she dedicated her life to serving others, and made a positive impact on the lives of so many every single day of her life. Saddened to hear of her passing. I will cherish her memory and try to serve others as well as she demonstrated to us. - Posted by: Genevieve Michael (Student/volunteer) on: May 25, 2021

I enjoyed reading this wonderful and fitting obituary. I am among the many who will miss Sister Carol. She and I became friends soon after I joined the staff at St. Mary's in 1982, and it wasn't long before I realized that this lady possessed considerable talent. I admired Carol's gifts of creativity, organization and problem solving. She could make things happen, her goal being the betterment of the lives of others, be it educationally, personally, or both. Carol also cared deeply about justice, and I am so grateful to her for being one of the first to heighten my awareness of the social justice work of the Sisters of the Holy Names. Being a supporter of this work as well as of the programs Carol herself eventually initiated has enriched my life immensely. In more recent years Carol and I also enjoyed simply catching up and chatting about books we'd read. Your caring, friendship and continued involvement in helping people will be truly missed Sister Carol! Rest in peace. - Posted by: Deanne McDonald (Friend) on: May 24, 2021

Sister Carol was a bright shining star to so many And sure will be missed. Love walking by her side. She was a amazing lady, her compassion and wisdom, she was a inspiration to so many of us. My sincere condolence to the sisters and Next Step Program. Rest in Peace Sister Carol - Posted by: Eva PELOQUIN (FRIEND ) on: May 23, 2021

Sister Carol was a light for all ... she was very compassionate and held a special place for those who knew her. She will be missed, however, her spirit will be forever with those she loved and helped. Thank you Sr Carol for your courage, understanding, and compassion, Working with her was a great honor and I have learned a great deal from her kind words and understanding. Everyone deserves a second chance if they want to make a change. Sincere condolences to family and friends. - Posted by: Angele Bernardin (Work colleague) on: May 23, 2021

Sister Carol was always there for me when I needed her. During Mecweech house, and after. A number of times I was ill and told me to come back until I was well and other times when I was having problems, Sister Carol, a kind, caring thoughtful person I will always remember how she looked after me. I am sure I am not the only one to hear in her voice that you called, made a person feel special. My condolences to the other sisters and sister Carol's family - Posted by: Louise strong (Friend, and foster daughter) on: May 23, 2021

Sister Carol was my dearest and closest friend. She taught me so much and her presence and support made me want to be the best version of myself. She completely accepted me for who I am. She was a gift sent to me. Sister Carol was a life force who helped so many people in many different ways. She was an inspiration to us all. There is so much more I could write, but I am afraid I am not able to do so yet. My heart is hurting, while also so full of love for my dear loving friend. Sister Carol will be sadly missed by many, but we will see her work and love and caring all around us. I will miss her dearly and she will forever be in my thoughts, heart and prayers. Sister Carol believed that our loved ones who were deceased were watching over us and knew what was happening in our lives. I hope she was right, because I would like to think that she still is here with me in spirit and that our loving connection will never be lost. With all my love and devotion, Janine. - Posted by: Janine Cutler (dear friend/adopted sister) on: May 23, 2021

My heartfelt condolences to the Sisters in her community, her family and to all those whom she has helped on her journey. She is loved and missed. Sister Carol was one of the most outstanding women I have ever met. She truly followed our Saviour's example and was a friend to all, and her compassion and understanding are beyond measure. While I am deeply saddened to hear of her passing, I take comfort in knowing she are resting in the arms of our God. We miss you and will cherish your memory, and your legacy lives on in our hearts. We love you and we thank you. - Posted by: Jon Anthony (friend) on: May 23, 2021

It's hard to put into words how important Sister Carol has been to me. Her compassion, wisdom and moments of utter frankness made me see the world differently. She was such a gift! She has left a tremendous legacy in this community. To me she will was a mentor, a counsellor, a light - and will be so dearly missed. To all the alumni of Next Step, the volunteers and the Sisters, and all who support the program, my heart goes out to you all as we share this loss. - Posted by: Debra (Friend) on: May 22, 2021

Travelled many times with Sr. Carol to Rockwood and was a witness to her care & concern for the prisoners and her positive attitude always stood out to me. She is a leader & mentor to us all. She will work through us now and we will not forget to hand on what was handed on to Sr. Carol by others. Life is about transformation & love is stronger than death. She is a strong link in the chain drawing was to fullness. She has run the good race & reached the finish line. God's justice is His mercy. Alleluia ! - Posted by: Deacon Larry Campbell (Brother in Christ & fellow prison advocate) on: May 22, 2021

My condolences to Sister Carole Marie's family, friends and religious family. - Posted by: Linda Spear (Friend) on: May 22, 2021

I first met Sister Carol on a warm summer day in August of 1972. It was the first planning meeting of the newly elected St. Mary's Academy Student Council. I was immediately struck by her innate ability to make us all feel so comfortable. She made sure that, as the youngest member there, my ideas and views were heard and valued. Sister Carol created that same inclusive environment in our Grade 10 English class that year, a class that first inspired my love of literature and my own career as an English teacher. She and I remained friends after I graduated, and we often met for coffee before I moved provinces. I have such fond memories of her presence at my wedding, and her visit to my own English classroom. I'm so grateful that I was able to chat with her at our class reunion 5 years ago. She had that same twinkle in her eyes, that same warm, intense gaze, and that same ability to be totally present. My sincere condolences to Sister Carol's SNJM community and to her family. We have all lost such a bright star. - Posted by: Tannis (Baxter) Niziol (friend and former student) on: May 22, 2021
Email Alerts
Sign up for free email alerts of new obituaries for specific people, towns & more.

Desjardins Funeral Home
357 Des Meurons St. (Map)
Ph: 2042334949 | Visit Website
❮ Go Back to Listings