Search:

Winnipeg Free Press Passages
All Titles
Notices are posted by 10 am Monday through Saturday
❮ Go Back to Listings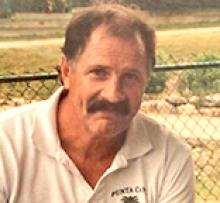 PETER FULTON
Born: Oct 16, 1950
Date of Passing: Jul 26, 2021
Send Flowers to the Family
Offer Condolences or Memory
PETER FULTON

Peter Gregory Fulton was born October 16, 1950, in Birtle, Manitoba to parents, Nellie Louise Fulton and Lt. Col. Lockhart Ross Fulton. He passed peacefully at his home on The Glen in Winnipeg July 26, 2021, surrounded by family and friends. Peter led a life of adventure, self-sacrifice, devotion, and love for others, which he expressed through music, sports, building and teaching.
He is survived by his partner, Sandra Mousseau; his siblings, Bruce (Rosemarie), Geoff (Lynn), Deborah, Jennifer (Don), Abigail (Karl); his nieces and nephew, Vanessa, Liona, Evadne, Deirdre and Lockhart; multiple loved cousins and a great many significant friends.
Peter attended the University of Manitoba ultimately graduating as a teacher. He spent many years teaching in First Nations communities across northern and central Manitoba, including Nelson House, Island Lake, Easterville, Brochet, South Indian Lake, and Long Plains. He ultimately landed in Winnipeg where he taught grades 3 and 4 at Dufferin and William Whyte schools. Even after his retirement in 2012, Peter continued to volunteer, teaching many, many young people to read.
Peter was known for his love of cars - old and almost new - especially convertibles; his monumental stonework and landscaping; his absolute and often deafening devotion to the Winnipeg Jets and the Blue Bombers; his legendary get-togethers in his back yard, complete with music, laughter and, in the winter, a homemade hockey rink lovingly flooded and lit up along the Seine river where his much beloved "Seinators" duked it out each season.
Peter was a talented musician. His singing, and expertise with the guitar and harmonica will always be remembered, and he was often the much-enjoyed entertainment at weddings, events, and parties.
Best of all, Peter was a humble friend, brother and partner who loved without judgement, and gave without motive. He was well loved and will be sorely missed by those left behind. We trust he is now singing new songs with those who went before him and cruising across heaven with the top down.
A service celebrating Peter's life will be held at 2:00 p.m., Saturday, September 4, at St. George's Anglican Church in Birtle, Manitoba.
In lieu of flowers, donations can be made to a charitable fund that has been established in Peter's name to support youth-at-risk called "THE PETYR PROJECT" at: https://www.constructionfoundation.ca/petyr-project/
KLASSEN FUNERAL HOME
204-338-0331
Condolences may be sent to
www.klassenfuneralhome.com

As published in Winnipeg Free Press on Jul 31, 2021
Condolences & Memories
(26 entries)
I was one of his first students at Dufferin School. He made such an impact on me. Just friendly and very nice. He took me to my first hockey game. We were both avid Jets fans every day we talked about them. I'll never forget him. I just learned of his passing - Posted by: Troy Brooks (Student) on: Aug 19, 2023

Omg I'm sad to see Mr. Fulton has passed. He was my teacher gr 4, 33 yrs ago. He has forever impacted my life and made elementary years the best. To this day I still listen to some of the songs he used to sing to us and each time I think about him. He definitely was an angel here on earth and I'm sure his afterlife is as beautiful as he was. Thank you Mr. Fulton for the wonderful memories. Rest In Peace <3 - Posted by: Edith (Student ) on: Nov 27, 2021

So sad to hear Mr. Fulton has passed. He was my 4th grade teacher at Dufferin. He taught my cousins and aunties and uncles before me as well. I will always remember how fun and amazing he was. The best teacher I've had! We used to have pizza parties every week and Mr. Fulton would pull out his guitar often and we would sing Bob Dylan songs. He definitely left his mark and I will always remember how great and kind he was. - Posted by: April T (Student) on: Oct 01, 2021

I had the privilege of having Peter as both a brother-in-law & friend. I admired his passion for sports (Go Jets Go!/D-FENSE!), music, teaching & landscaping just to name a few. No one used their backyard (on the Seine) or made it a more welcoming place than Peter! The music jams & solstice parties, hockey games, canoeing with Sandra and his gorgeous stonework. Even a wedding! Peter took a keen interest in people & what made them tick. I know he always made me feel special as he did for so many others &I will miss him. His was truly a life well lived. - Posted by: Kelly (Brother- in-law/friend) on: Sep 14, 2021

Condolences to the family I met Peter when our school in Nelson House was bring built. My late aunt Dolly asked me to give him a tour and he was very grateful even though I was a small boy at that time. My mother Lena Dysart and late aunt Dolly had a lot of respect for him and his awesome personality to draw people to him I am glad my cousins went to pay their respects to the family for he was family up here in NCN. - Posted by: Edward Dysart (Friend) on: Sep 07, 2021

While I may be well in to my 40s now, to this very day I still remember (Peter) Mr. Fulton and how he would teach us through music. His crazy antics with his friend and colleague, (Charlie) Mr. Linski and most of all how he always made learning fun! I was literally just talking about him, yesterday. To this very day I still remember how to do multiplication in my head to the songs :) Rest Mr. Fulton. You've done your job and I think we've all turned out better for it. - Posted by: Rachel Norton (Schultes) (tudent) on: Aug 31, 2021

Peter was a remarkable teacher and colleague. His work with the children of Dufferin was remarkable, kind and generous! All of my little students wanted to be in his class. I always thought of him as the (Dad) of Dufferin. I often heard him singing and playing his guitar as his students finished up their daily school tasks. Friday was pizza day in his class and several students had the exciting gift of going for a ride in his convertible (top down) around the community! Peter you will always be remembered. - Posted by: Marguerite Longstaff (teacher friend) on: Aug 20, 2021

He will be forever in our hearts, my condolences to the family & closest friends. I loved going to school knowing he was my teacher, still to this day I listen to some of the songs I remember him playing while we worked. A great man, Rest in Paradise Peter. - Posted by: Mailyn (Student ) on: Aug 18, 2021

Mr. Fulton you were my most favourite teacher in my entire life, I have never stopped thinking about your teachings and your songs you'd sing to the class while we ate our snacks. You were so kind and so thoughtful of all your students at William Whyte elementary. I wish I could hear you sing "coat of many colours" just one more time. Rest easy Mr. Fulton and thank you for the very precious memories. - Posted by: Kayla wiebe (Student) on: Aug 15, 2021

Dear Mr. Fulton I'm sorry to hear of your passing they wanted to come in right this on behalf of my brother Brandon Richard he was the one that was in your class I was in Mr. Guiboche class but you two were close friends I'm writing this on behalf of my brother Brandon I have a memory of you and your classroom singing that song oh where oh where is my baby and my brother Brandon he used to sing that song to my mom all the time it is a memory that I can't forget and that will always be stuck in my head singing that song "oh where oh where can my baby be the Lord took her away from me she's gone to heaven so I got to be good so I can see my baby when I leave this world" I hope you have a loving and safe Journey on the way home up to heaven and if you see my mom up there tell her I said hi you were the best teacher ever Mr. Fulton may you rest in peace. - Posted by: Brandi Richard (Student) on: Aug 15, 2021

I was a student of Mr Fulton's & previous family members were also his students the best & coolest teacher I ever had, he would let the students request songs while we did our work, what suprised me was the amount of songs he was able to keep memorized & he never gave us a list of songs he could play, we would tell him the song and he would sing it with his guitar. Will forever remember these memories - Posted by: Alexander (Student) on: Aug 14, 2021

I'm going to miss you Mr. Fulton you were my most favourite teacher. You were so kind and wise and so patient. - Posted by: Octavias Deschamps (My grade 3 teacher ) on: Aug 13, 2021

I just want to say I did not know Peter well but every time I saw him he put a smile on my face. He had such a beautiful kind soul. You could not even imagine the kindness he had in his heart. Rest in Peace Peter. Condolences to the family. - Posted by: DARLENE YAKUBOWSKI (FRIEND) on: Aug 07, 2021

I would like to share a couple of memories that I have of Peter. The first one is that we took some students from William Whyte School to sign Oh Canada at a Manitoba Moose game which was fun for the kids. Just seeing the smile on Peter's face after his kids performed he was so proud of them. Now this memory I will have for the rest of my life. We took the School Patrols to Fun Mountain water park. Peter asked me if I wanted to go down the slide with the tubes I said sure no harm no foul little did I know until we got to top of the slide that he wanted to go down in the double tubes. Well we are here not going back so Peter grab the double tube he sat in the front and I sat in the back, as we were going down the slide it started slow and then it picked up speed. As we are coming some how the tube spun itself around where I was in front now and Peter in the back. Until this day I don't know how the tube did that, but I'm pretty sure Peter did something lol. As we were coming to the end of the slide I went into the water first as soon as I hit the water I launched Peter clear over me and the tube right into the water. We got out of the water Peter said " WOW that is amazing want to that again I said no I'm good lol. These are my two stories of Mr. Fulton, I have many more that I will hold close to me Peter was always respectful to who ever he talked to, his love for the kids were so wonderful to see. I will miss him dearly until I see you again my friend RIP Mr. Fulton. - Posted by: Dan West (Friend / Co Worker) on: Aug 07, 2021

You loved, you cared, you were there for him. He will be missed although he lived to show caring kindness and gentleness. - Posted by: Ava Gaber (Friend) on: Aug 06, 2021

Met Peter in Nelson House, when he taught here… he was the most gentle soul that I have ever come across. Through the years we lost touch and one time I had the opportunity to attend one of his parties in Winnipeg… never saw him again… Rest Easy my Friend… Condolences to Abigail and Jennifer - Posted by: Morley Moore (Friend) on: Aug 05, 2021

I spent 18 months on South Indian Lake, and Peter became a good friend there. We both played guitar and loved trading songs and getting everyone to sing along. He truly enjoyed life. - Posted by: Jim Waldram (friend) on: Aug 05, 2021

Peter will always be remembered for his compassion for the children and his volunteer hours, he will be missed. - Posted by: Bonnie Predenchuk (I work at williamwhyte friend ) on: Aug 04, 2021

Peter was a beautiful soul, a gentleman, kind, respectful, humble and a true, caring friend to so many. For well over thirty years he kept all of us together by giving us a reason to stay together. We would gather at Peter's regular Wednesday events (very often more than that) and take in/participate in whatever the activity. During winter, we played hockey on Peter's rink that he lovingly and meticulously maintained, complete with lights in the trees and a spectacular fire pit area. For all those seasons, Peter never missed having the rink ready for us to play. He would wake up in the morning before work and shovel the entire rink so it would be ready for the evening - if it kept snowing during the day, he would be back at it after work. When hockey season was over, the activity changed to playing music at Peter's weekly jams. As a campfire singer/guitarist, there was no-one better than him. And Pete's annual end of school year/summer solstice parties were legendary. Many good friends in attendance, eager to celebrate and spend time together and specifically with Peter. Several years ago there was a contest on a local radio station asking people to name their favourite place in Winnipeg, typical spots like The Forks, The Zoo, etc. were identified. A group of us discussed this at the time and hands down our vote for favourite place was Peter's. It wasn't just the location. It was Peter. Safe travels Pete. See you later. - Posted by: Dennis Peristy and Janis Klapecki (Friends) on: Aug 04, 2021

Always polite, always considerate, Peter had more genuine empathy (complete with disarming foibles) than most of us could ever understand. Good job! - Posted by: Alan Gaber (Friend) on: Aug 02, 2021

No one could ask for a better friend. Peter was truly a beautiful human being who was both talented and funny. He brightened all our lives like a gift from above. I will miss you Peter my dearest friend. Your friend, Brian - Posted by: Brian Murray (friend) on: Aug 01, 2021

Condolences Sandy and the Fulton gang, thx for being Peter Fulton see u round a campfire somewhere. - Posted by: woody (friend) on: Aug 01, 2021

So sorry to hear of the news of Peter's passing. Didn't have numerous times enjoying his company but the times I did are memorable and fun time memories. Will always remember our chats and laughter which was easy with him! Such a good hearted man! RIP Peter Nik - Posted by: Nik Dohie (Friend) on: Jul 31, 2021

The whole neighborhood will miss him. He was so hardworking and enjoyed any challenge that came his way as he filled the neighborhood with his wonderful stone work. He really brought us together with his Wednesday night get togethers. And his skating rink impressed everyone that walked by. Winter was also the time that people walking by his property would get a glimpse of all the work he had put into his spectacular backyard. He has left a big memory in hearts. Our sympathy goes to Sandy and all of Peter's family and friends. - Posted by: Joe and Susan (Neighbors) on: Jul 31, 2021

A man of music, sport and kindness, Peter strove to lift the spirits of those around him. In our three decades together, Peter was a musical epicenter- evoking the best from those fortunate to join him in countless jam sessions, while also a force to be reckoned with on the enormous hockey rink he shovelled by hand (yes - by hand) year after year... His interactions with the river were continuous - whether creating functional and yet cozy spaces along the river in limestone or canoeing to the "secret spot" on the riverbank to watch young Fox kits with his beloved Sandy on Saturday afternoons. His love for family, friends, and his neighbours was exemplary indeed - it has been a privilege to have been his friend. Travel well Peter... - Posted by: NayborDave Blicq (Friend) on: Jul 31, 2021

When I was a young teacher just returned from Nova Scotia, I got a term position at Dufferin School teaching grade 5/ 6. Peter was a wonderful mentor and support. He was someone I could relate to because I too had taught in First Nations communities in Northern Manitoba before moving to the maritimes. I had a group of students that refused to accept me when I first took over for their much-loved teacher. Peter helped both myself and my class find a way to connect. He did it with such gentle determination and in the end he brought out the best in all of us. It has been one of my most memorable teaching experiences to date. My condolences to all of those who had the honour of having Peter be a part of their life on a regular basis. I know what a treasure he was for the short time that he was part of mine. Enjoy the freedom of Heaven Peter - Posted by: Joséfa (Ho/say/fa) Villafana (Former Colleague Dufferin School) on: Jul 31, 2021
Email Alerts
Sign up for free email alerts of new obituaries for specific people, towns & more.
❮ Go Back to Listings