Search:

Winnipeg Free Press Passages
All Titles
Notices are posted by 10 am Monday through Saturday

❮ Go Back to Listings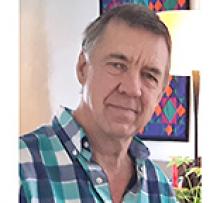 JOHN HAK
Born: Jan 15, 1955
Date of Passing: Nov 30, 2021
Send Flowers to the Family
Offer Condolences or Memory
JOHN HAK
January 15, 1955 - November 30, 2021

Peacefully with his family at his side, John Petrus Hak passed away on November 30, 2021 at the age of 66 years at the Health Sciences Centre.
He was predeceased by his son Aaron Hak, his parents, Bart and Mies Hak, his brother William and nephew Matthew Hak, brother-in -law Robin Seysener and nephew Robbie Seysener.
John will be sadly missed and lovingly remembered by his wife Frances of 40 years, his son Nicholas and Kristie Hak and their two children, Caleb and Lucy, Peter and Dixie Hak, Lidia Hak, Martin and Gail Hak, Albert Hak and Andrew and Lisa Hak, Les Seysener and Monique Seysener and many cousins, nieces, nephews, and friends.
John's mother tongue was Dutch. He started school at Mountbatten Elementry School, where the teachers told his parents, "John was learning english very well". From that time on John was a voracious reader. To this day he had an impressive personal library.
John's family moved to the dairy farm in St. Pierre in 1965. He graduated from St. Pierre Collegiate with honours. After high school he left home for two years to travel across Canada, Europe and to India. Upon return John continued with his education and graduated from the University of Winnipeg with a double major in Mathematics and Enviromental Ecology.
John married in 1981 to Frances Seysener. He met her while auditing an art history class. Together they had two sons that he loved dearly. Happily, he became a grandfather to two precious grandchildren not too long ago.
John's working career focused on computers, starting with programming in RPG and ending as a computer anaylst for WCB.
His passion for travel continued through out his life. His most recent trip had been to Egypt.
John's interests ranged from the local music scene where he spent many evenings out livening up the dance floors around town. He loved to dance, speaking to the musicians, meeting people from around the world and having conversations that centred on the wonder of life, music, art, nature, history and geography. He enjoyed word games, languages, his backyard birds and hiking country trails.
John was a kind soul and had a colourful character.....
A private family service will be held at 2:00 pm, Wednesday, December 8, 2021 at Glen Lawn Funeral Home. Should family and friends wish to attend virtually they may do so at:
afterword.com/stories/john-hak

Family and friends may sign a book of condolence at www.glenlawn.ca.

Glen Lawn Funeral Home
204-982-7550

As published in Winnipeg Free Press on Dec 04, 2021
Condolences & Memories
(43 entries)
My heartfelt condolences - will be seeing you again dancing around the after-hours bonfires at the Folk Fest - Posted by: Patric Frena (coworker/friend) on: Feb 02, 2022

I have so many wonderful memories of Jon. I first met Jon in 1974. We were both living in Tache Hall at the University of Manitoba. I liked Jon from the moment I met him. He was a fascinating character and had these amazing stories about his travels. Eventually I moved away for school and work and we drifted apart. We connected again a few years ago and it was wonderful to talk to him once more. We talked about work, travel, family and passions. The world was a better place with Jon in it. He was a kind, gentle funny person who just lit up a room when he entered it. I will miss you Jon. My condolences to his family. Until we meet again. - Posted by: Ray (Randy) Steine (Friend) on: Jan 30, 2022

Beste Familie Gecondoleerd met het verlies van jullie ma broer neef vader !!! Ik ken hem van zijn bezoeken aan Nederland en zijn entouchasme. Graag tot horens Vanuit Eemnes Nederland - Posted by: Peter van Hofslot (Neef) on: Dec 25, 2021

It was such a shock to hear of John's passing.  My heartfelt condolences go out to his family. Though I have been retired 5 years and John left WCB a couple years before that, I know that if I ran into him on the street somewhere it would be like I just saw him yesterday.  To me he was a teacher, a co-worker, a friend. I first met John somewhere around 1989. I was sent to Microage to learn PC DOCS, a computer program being installed in the department I supervised.  John was the instructor. The other day I  looked, but sadly couldn't find the certificate he signed acknowledging my successful completion of the course. Though I can't imagine him failing anyone. After training was complete, John spent a couple weeks at the WCB to help with the setup of the program and to make sure we were up and running. I wanted to learn much more than the basics taught in the classroom and had many questions. I was so thankful that John was willing to spend time answering my queries and I'm sure at times he had to do some extra digging to come back with an answer. A few times I recall him saying, Well that's not really part of what you need to know...but...and he would help me figure out why things worked the way they did and if I could change it to do what I wanted it to do. But that was John. Always willing to spend the time to figure things out and provide a solution.  Some time after that John came to work at the WCB in the IT department. Our paths crossed over the next several years but became much more regular when I transferred to the IT department in 1999.  We often assisted each other with user's requests for help; John still wanting to do everything he could to find out why something was happening and how to fix it. Over the years John shared stories of his sons growing up, his travels, and I met Frances at a couple WCB Christmas parties. Most days John had a story of his adventure on the way to work, on the weekend, or the night before. And yes, he would often refer to his notebook so he could tell me who he met by name, what he had learned about the person or how they were connected to someone else. He made every day an adventure. A few times we went walking at lunch and we would go to a place where he knew someone, in an art gallery, a dance studio, or just his favourite coffee shop. A couple times waiting for a light on a street corner a song would pop into his head and he'd start to dance...and occasionally I would join in...just for a moment.  When they lost Aaron I saw how he struggled but he kept looking for the adventure. I was happy to read he had grandchildren as I am sure they brought him great joy. I only wish I had been around to hear some stories. I know there would be many. I had somewhat of a Betty Boop collection at work and one day John brought in a poster of Betty Boop that he had come across on one of his journeys. I had it on the wall by my desk and now it's on the wall in my house. It reminds me all the time of what a special person he was. Rest in peace John and I'm sure somewhere you are dancing up a storm. Now if I can just find that picture of you in the paper hat you made for the Easter Bonnet contest. - Posted by: Sheryn Tataryn (Friend) on: Dec 25, 2021

Sending lots of love and deep condolences to you France, Nicholas, Kristie and your grandkids at this difficult time. Love you France. - Posted by: Cheryl Juan (Coworker of Frances) on: Dec 18, 2021

Sending my sincere sympathies and condolences to Frances and the family at this sad time. - Posted by: Al Milne (Co Worker of Frances) on: Dec 17, 2021

I just learned of John's passing. I want to pass on my deepest condolences to his family. I knew John through work at the WCB. He was always so upbeat. He walked with a spring in his step and a smile on his face and was always willing to help. - Posted by: Carolyn McFerran (Work) on: Dec 16, 2021

My sincere condolences to you and your family Frances. My thoughts are with you, sending hugs...... - Posted by: Judy Bourget (Friend) on: Dec 13, 2021

My sincere condolences to John's family. John and I worked together and had many discussions about gardening, butterflies and birds. John loved to share stories about his family and his adventures. He was so filled with joy, it was contagious. Truly a lovely man. I am so very sorry to hear of his passing. Happy Trails John. - Posted by: Shauna Czarnecki (Friend) on: Dec 09, 2021

So sad to hear one of our regular patrons and dear person John Hak has passed away. I remember him scratching my name down in his little memo pad, so he could remember me☺️...we will not forget you sir. Thank you for supporting the creative culture in Winnipeg John. Hope you are dancing your heart out wherever you are! Heartfelt thoughts go out to his family, friends and John's fans out there. - Posted by: Urban Shaman Gallery (place he visited) on: Dec 09, 2021

I am so sorry to hear of John's passing. My heartfelt condolence to his family. He was truly a wonderful human being, Rest in peace John. - Posted by: Maria DeRose (Friend/Co worker) on: Dec 09, 2021

My deepest condolences to John's family at this most difficult time. I worked with John at the WCB. I always enjoyed hearing a story from John when he came by. He was so genuine and kind. I liked hearing about John's early years with his travel and adventures. He told me about attending the Festival Express concert in Winnipeg in the 70's when Janice Joplin was here. I made him a CD of her greatest hits. John will be missed and I know he is dancing with the Angels now. - Posted by: Terrie Sanderson (Friend ) on: Dec 08, 2021

I am still in shock hearing of John's passing. My heartfelt condolences to Francis and the entire family. It is hard to imagine that someone so full of life has left us. Someone filled with such wonder and awe. My memories have been swirling. Images of meeting John at Tache Hall as he spoke of his journeys in India. Our overnight search for the "Devil's Punchbowl" or hanging upside down with John from heating pipes in the ceiling at the old apartment on Furby Street. Dancing with John and Francis at their wedding celebration as efforts were made to re-enforce the floor before it collapsed. His intrigue and curiosity of Lori's and my stories of ghost town North Dakota; or just randomly encountering John on a Friday night after hockey at a live music venue such as the Bella Vista or the Kings Head. If there is a definition of humanity it was John. Not only did I experience some of the joyous times but the overwhelming pain he felt with the loss Aaron. The last sale Aaron made for "Cutco" remains with us to this day. John was so proud of him. I wish all of you the best and Francis you are truly a remarkable person. - Posted by: David Hems (Friend) on: Dec 08, 2021

I will send my condolences to the loved ones of John. I am the youngest daughter of his aunt and uncle Alie en Piet in the Netherlands. I remember that when he was with us, I was a little girl and I liked running with him. When he holds my hand I make very big steps. I wish you strength with the loss of John. kind regards, Marian van't Klooster - Posted by: Marian van 't Klooster (niece) on: Dec 08, 2021

I am so very sorry for your loss, my condolences to the family. John was one of a kind, very intelligent, funny and kind. Always with notepad and pen in his hand ready to take some notes. Can he tell you stories .. after talking to him you always learned something new. Rest in peace John - Posted by: Maria Kruczynski (Coworker) on: Dec 08, 2021

I'm very sorry to hear of John's passing. I was a co-worker of John's and always enjoyed chatting with him. He was always happy and smiling. Just a wonderful person to be around. He will be truly missed. My deepest condolences. Sheila Di Santo (co-worker:wcb) - Posted by: Sheila Di Santo (Co-worker) on: Dec 07, 2021

Take note John...you are well loved. - Posted by: Richard Enns (Friend) on: Dec 07, 2021

So sorry for your loss Frances & Nick & Family. My son James played hockey with Nick for many years & we got to meet Frances & Jon at the games. You & John were one of the most friendly couples we met in our hockey days back then. It was always something we all liked to do is see our boys play hockey together & get better & learn how to be good sports. It was a fun time for all. - Posted by: Paul Gillen (Friend) on: Dec 07, 2021

Sorry to hear of John's passing, love to Frances, Nicholas and family. I will miss seeing John in the neighbourhood, his warm smile and the mischievous glint in his eyes. - Posted by: Ricki Devins (Neighbour ) on: Dec 07, 2021

Our condolences go out to Florence, Nick & family & all the friends who love John. John was one of a kind; extremely intelligent, funny, kind, honest & positive; all while carrying deep sorrows. I will miss our talks about everything. He sure loved Frances, his boys & the grandchildren gave him much joy. Music was his medicine; thank you to all the musicians who shared their talents with him. If it wasn't so cold out…I would go sit on our roof. Thank you John for being my friend. - Posted by: Vicky Tate (Friend) on: Dec 07, 2021

John was one of the first people I met when I started working at the WCB. For the first two days I was to shadow John and learn the ropes. Although his tall frame certainly cast a large shadow, keeping up with it was challenging as he walked at such a brisk pace. On my first days of work, he took me around to introduce me to nearly every single staff member at the office. To say John was a social guy would be a huge understatement. Over the years he shared many stories about his life and his adventures. Even navigating to work was an adventure for John as he would snowshoe to work in the winter and hack his way through the brush with a machete in the summer. I also often bumped into John at the various local concerts and was able to see him in his element - dancing and enjoying the music. Everybody knew John. It's been a few years since I last spoke with John and I was quite sad to hear that he passed. My heartfelt condolences to his family and friends. Keep dancing, John. - Posted by: Phil Harris (Co-worker) on: Dec 07, 2021

My dear friend John and I were connected by tragedy. I loved him. He was such a great ambassador for the Winnipeg music scene. He filled me up with art, books, ornithology, mapping, connecting people, his travel adventures, journaling, drawing mandalas, memorizing the countries of the world in alphabetical order. He loved his family. He was a proud Opa. Knowing John made my life so much better and oh, could he dance! - Posted by: Lynn Gillson (Friend) on: Dec 06, 2021

It was with great sadness that I learned of John's passing. John leaves family and friends with so many unique and special memories. He was a brilliant, curious and committed man. Although I moved from St. Pierre in 1973, we remained in contact through facebook. I was able to follow his love of family, travel and music. We will not forget his expressive dance, great shirts and forever smile. To Frances and all the Hak family my deepest condolences. - Posted by: Noël LaTour (Long time family friend) on: Dec 06, 2021

I am very sad to see this news about John. He has been a longtime customer at my business where he came for his bird seed to feed his backyard birds. It was always such a pleasure to see him as he always had a neat fact or something of interest to share. He also loved to share the latest reports of the birds visiting his feeders. My staff and I at The Preferred Perch send our condolences to his family. Rest in paradise John. - Posted by: Sherrie Versluis (Business) on: Dec 05, 2021

We send our deepest sympathies to you Frances and family. It was always nice to hear about John's travels and the stories he would tell. He and France's had a cottage at Beaconia and he was telling us about it and how beautiful it is there. It was then we told him Linda's parents have a cottage there too. Two streets down from them. He will be missed. Rest in peace John. - Posted by: Paulette Desaulniers and Linda Schnerch (Friends and co-workers) on: Dec 05, 2021

So very sorry for your loss, our condolences to the family. - Posted by: Tony and Kathy Bastiaanssen (Friend) on: Dec 05, 2021

We had good times together in Holland, and recently by telephone. - Posted by: anton van Hofslot (cousin) on: Dec 05, 2021

Very sad to hear. I Knew him and his family since I was 3. They bought their house from my family back in 86/87. The tree house in his backyard was originally built by my dad. His son Aaron and I were the same age and were friends. Aaron sadly died in a bad car accident about 15 years ago. Jon is now with his son. R.I.P - Posted by: Logan Taylor (family friend) on: Dec 05, 2021

I am saddened to hear of the parting of John. I didn't know him as well as he was much older than me but I went to school with his brother Martin. But like all the Hak family, they were examples of what decent caring people should be and set the bar high. My deepest condolences to the families who are grieving at this time. Claude - Posted by: Claude Berard (Acquaintence) on: Dec 05, 2021

This is some sad news. John was amazing. I was in a band at one point and I remember the little notebook he carried around with the name of the band and all the members. He was an icon on the dance floor. You could just tell he loved it. I saw him at many different kinds of shows too. From rock to pop and reggae to folk. He was legendary. My condolences to his family and loved ones. He'll be missed around the local music scene for sure. Such a nice guy. - Posted by: Erin (Local musician) on: Dec 05, 2021

I was so sorry to hear of John's passing, my deepest condolences to his family. I worked with John at the WCB, I was always happy when John was sent down to fix my computer, when I saw him coming down the hall I knew I was in for a good story and a few laughs, he was a kind soul with a big heart. He will be truly missed by his friends and family. RIP John - Posted by: Barb Benoit (Co worker ) on: Dec 04, 2021

I am so deeply sorry for John's family and close friends. He was such a staple in the Winnipeg music scene. We often talked about how dancing was his medicine. He is a spirit beyond beautiful. He spoke so highly about his wife in our conversations and shared stories about his sons. He had such a deep capacity to love and I believe felt pain as deeply as he felt joy. I feel privileged to have met him and had the chance to share time and space with him. More of us should strive to be like John. - Posted by: Kristjanna Oleson (Friend) on: Dec 04, 2021

I will miss John very much. I do not recall a single visit with him when he didn't smile and we had lots of laughs together. Every conversation we had was a pleasure including the ones where we solved the problems of the Bombers and the Jets. John always had a pile of five books that he read simultaneously. I always counted them but it wasn't necessary - always five books. Rest in peace my friend. - Posted by: Lyle Hordo (friend and neighbour) on: Dec 04, 2021

Sending prayers for strength and solace at this heart breaking time. - Posted by: Debra Bell Seysener (Sister in law ) on: Dec 04, 2021

John and I spent many a sweaty summer night dancing at the outdoor stage at this festival or that in the Exchange/Market Square. I'll wear yellow and/or red in his honour and try my best to dance like no one is watching. - Posted by: Kim Zeglinski (admirer) on: Dec 04, 2021

I was saddened to read about John's passing today. John and I started our journey as neighbours in south Winnipeg. His family lived and worked on the farm on the north side of our property. We attended Mountbatten School together. We became friends and not only walked to and from the school, but spent countless hours playing in the corn fields or bushes near us. I lost track of him after the family moved to Klefeld, but met by incident in late 60s when he showed up at a country fair I was working at. He stayed with me for a couple of days, and disappeared just as quick as he appeared. I never heard from him again till a chance meeting at a downtown club where he appeared and was greater as some sort of local celebrity. He was "Jon the dancer" and everyone knew him. Our meeting was short and then he was gone again. I am not surprised at his academic achievements I always thought of him as a smart kid. Sorry I didn't know him better as an adult. My sincere condolences to all remaining family members and to his wife and kids. Much love to you all. - Posted by: Rick Thiessen (Long time friend) on: Dec 04, 2021

I am so incredibly sad to read that John has died, especially as we all missed the last 2 summers at Folk Fest, His goofy smile and yellow outfits will be sorely missed this coming summer when we get back to Bird's Hill. I'll be sure to dance an extra sun-shiny dance for him. I hope he's dancing in the afterlife. So sad. Kat - Posted by: Kat Rother (Dance friend from Folk Fest) on: Dec 04, 2021

A beautiful soul. John had an infectious smile and an energy that was unlike any other. I could not imagine a bad word ever being spoken of him. I am a better man for knowing him, he touched so many lives. I am blessed to bear this sorrow, as it could not happen without John being a part of my life. To be clear, John and I were never close, but we saw each other often, always offering each other a friendly smile and a few kind words. I will remember those moments in time fondly. I offer my condolences to all that are grieving this sublime man that showed us how to live. - Posted by: Ian Carriere (Friend) on: Dec 04, 2021

Francis, Nic and family my prayers are with you. A man of such great character will be missed. - Posted by: Michael Silman (Fellow hockey dad) on: Dec 04, 2021

I remember John fondly. He was lively, friendly and colourful. I loved when he would come to my desk with his notebook and regale me with tales of what small Manitoba places he had visited or what live music he had listened too. As a super fan of local music he also became friends with my daughter Lauren and a fan of her band. She was always excited to see him at a show because his enthusiasm (and dance moves) were contagious. Our condolences to the family on your loss. - Posted by: Jennifer Willems (Coworker ) on: Dec 04, 2021

I am sadden to hear of John's passing and express my condolences to his family. I greatly appreciated him as a student in my mathematics and physics classes; his inquisitiveness and intelligence were remarkable. I remember and appreciated his visit to my house after his two years of travel and his relating of many adventures he had. He is one of those students that you never forget! May he Rest In Peace. - Posted by: Edmond LaBossiere (Former teacher) on: Dec 04, 2021

I have fond memories of your family while you resides in St-Pierre-Jolys and am saddened to see that John has departed at such a young age. Sincerest sympathies to the entire family. Omer - Posted by: Omer Fontaine (Acquaintance ) on: Dec 04, 2021

My best memory with John was when I asked him why he sat on his roof and his response was " I was going to ask you why you don't sit on your roof"?! Love my long talks with him and his family! Hug and prayers to Frances and family. 💔 - Posted by: Jodi Dirk (Neighbor long time friend) on: Dec 04, 2021
Email Alerts
Sign up for free email alerts of new obituaries for specific people, towns & more.

Glen Lawn Funeral Home & Cemetery
455 Lagimodiere Blvd. (Map)
Ph: 2049827550 | Visit Website
❮ Go Back to Listings