Search:

Winnipeg Free Press Passages
All Titles
Notices are posted by 10 am Monday through Saturday

❮ Go Back to Listings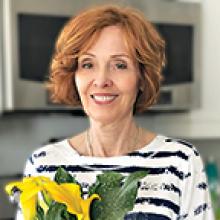 JUDITH LYNN BROESKA (HARROWER) (JUDI)
Born: Aug 28, 1948
Date of Passing: Dec 30, 2021
Send Flowers to the Family
Offer Condolences or Memory

JUDITH LYNN BROESKA (HARROWER)
August 28, 1948 - December 30, 2021

It is with our deepest sorrow that we announce the peaceful passing of our dear Judi Broeska. Judi battled Idiopathic Pulmonary Fibrosis with great courage, determination, strength of character, and a very positive attitude.
Judi is lovingly remembered by her partner Jack Palmer, of 33 years; son, Matthew (Sara); granddaughters, Nora and Adeline; daughter, Valerie (Francisco); granddaughter, Camilla; twin grandsons, Dylan and Mateo; brother, Rick; sister, Audrey (Ralph); brothers, Kevin (Shelley) and Darren; and many beloved nieces, nephews, and cousins.
Born in Winnipeg, and raised in Windsor Park and Southdale, Judi was a caring, selfless, and compassionate soul from early on. As the eldest of five siblings, she was a nurturing and devoted big sister. Her love of children carried into her professional life and Judi became an elementary school teacher. Her first job was in Pikwitonei, northern Manitoba, followed by King Edward School, Dr. D. W. Penner School and finally Samuel Burland School, where she spent her last two decades as a classroom teacher. Judi retired from teaching in 2008, but continued to impact children as a substitute teacher, particularly with her beloved Bonnycastle School family. Judi spent a remarkable 49 years serving in schools as a teacher, a substitute, and as U of W B.Ed. advisor. Her dedication to children and to the field of education was profound, and she left a lasting impact on all who crossed paths with Judi, child and adult alike - in the warmth of her smile, a gentle squeeze of the cheeks (Judi's signature), or the look that made you feel truly special. Judi never wanted to leave teaching behind, even after her illness and the pandemic made it impossible for her to do otherwise.
Judi exuded love, joy, kindness, and sheer wit, and made friends wherever she went. She was a very proud member of The Penthouse Social Club, friends from the U of M days in the 1960s. In the 1980s, she joined the St. Vital Women's Interest Group, where she and her friends got together for fun, different speakers… and a break from the kids! In recent years, Judi looked forward to seeing her retired teacher friends Fridays for wine and appies. Mom loved "a glass of wine with the girls." She always said, "Look your friends in their eyes and say, 'Cheers', like you mean it!" An avid reader, Judi also loved her 'young' book club, commenting on how bright, talented, and funny they were. Our Judi was as warm and charismatic as they come, and forever young at heart. Judi was rich in friends. A particular thanks to Pattie Moore, Sharon Brokop, Kerry Kane, and Gina Knechtel (her "angel on earth"), for all your love, support, and laughter.
Judi's beautiful smile always lit up the room, and nothing made her light up more than being with her family. She poured her heart and soul into raising her children, and she worked tirelessly to provide the best possible life for her family. In 1987, this motivated her return to U of M to complete her education degree. She continued to teach full-time, while successfully completing this courageous and monumental task, a true embodiment of strength. Judi recalled these extraordinarily challenging times, describing herself studying for another test, pages blowing in the wind, while watching her kids play in soccer or baseball games. In later years, at nearly every gathering, Judi often exclaimed, "I love all the laughter. I'm just so happy." As the adoring Nana she was, she felt her grandkids were all geniuses. Judi read with them, baked for them, took them for ice cream or a swim, and supported them with schoolwork. Her grandkids were her pride and joy; her "heartbeats."
Judi was renowned for her baking. While the lucky recipients of her baking were usually students and colleagues in her schools, so many felt Judi's love through her baking - "Jack's Lads," tradespeople, restaurant staff, in-home cable support... Jack, Val and Matthew would tease her that they would love it if she would just keep some of the baking for the household.
After Judi's lung operation in 2017, she started a Gratitude journal because "there was always something to be grateful for." At least half of the entries were about her kids and grandkids. Our precious mom, partner, Nana, Judi - we are forever grateful for you - for the powerful impact you've made to those around you; for your gift of connecting to those of all ages, effortlessly making them feel loved, special and full of potential; for your enduring legacy carried on by your children and grandchildren; for being our greatest inspiration and source of true strength, beauty, courage and never-ending love.
Our family wishes to thank Dr. and Debbie Homik for their dedication and care throughout our Judi's courageous IPF fight, as well as the compassionate care of Dr. Kristin Heinrichs and her team.
A Celebration of Love and Life with family and friends will be planned for later this spring, when restrictions have eased.
In lieu of flowers, please consider donating to the Canadian Pulmonary Fibrosis Foundation (CPFF.ca).


www.voyagefuneralhomes.com
As published in Winnipeg Free Press on Jan 15, 2022
Condolences & Memories
(14 entries)
I had the privilege of being in one of Ms. Broeska's last Grade 3 classes at Samuel Burland School in 2006. When people ask me who my favourite teacher was growing up, her name is always the first to come to mind. She was always so kind and loving and genuinely cared about each and every student. I was often under-stimulated in school and she was the first to push me towards independent learning and give me more challenging work. She also was the first to see how scared I was of failure. While perfectionism and the anxiety that comes with it is a lifelong struggle, I'll always remember her telling me "we're not going to string you up by your thumbs from the ceiling if you make a mistake"! While I didn't have the tools to process her advice then, I understand now and I wish I could thank her for the role she played in who I am today. She was one of those teachers who stick with you forever. I want to extend my condolences to all of her loved ones for the loss of this most special woman. I could say so much more, but I will honour her memory by abiding by her KISS rule - Keep It Simple Sweetheart! <3 - Posted by: Julia Antonyshyn (Former Student) on: Feb 01, 2022

I just want to give you my condolences Miss Carlson. She was the best teacher that I ever had and I was glad that I was in her class and she was my friend. I will deeply miss her so much. Posted by Alison Priscott /former student - Posted by: Alison (Friend ) on: Jan 20, 2022

Our deepest condolences of the loss of your mother. I was so saddened when Jenelle told me, she was one of the sweetest, kind beautiful person inside and out and I'm so glad I got to know her through teaching Jenelle. She will always be on your minds and forever in your hearts. - Posted by: Liz and Bill Carpenter (Friend) on: Jan 17, 2022

I had the privilege of meeting and volunteering with Valerie at the Immigrant Center several years ago. Val spoke highly of her mom whenever she came up in conversation. From what I see, Valerie is much like her mom and I am so happy the grandkids all got to meet their nana. Rest in Peace Judy and God Bless - Posted by: Rosalie Larcombe (friend an colligue of daughter Val) on: Jan 16, 2022

It saddens me to hear of the passing of such a nice and wonderful lady. Judi was a well respected teacher at Samuel Burland School. The kids, parents and staff all loved having Judi in the school. She was smart, funny and giving of her time. Judi often talked about her family and how much she loved them. Our condolences to family and friends as this is a great loss of such a truly great person. She will be missed by all of us. - Posted by: Jeff Bowes (Judi's Co-Worker at Samuel Burland ) on: Jan 16, 2022

Beautiful tribute to a much loved Mama, Nana, Cousin and Friend. I will miss you forever and have gratitude for the times we've shared these past years - Your family are a testament to your dedication, kindness and loving soul. Tears overwhelm me and I honour your soul, flying! Blessings Dear One. - Posted by: Karen Stephens (Cousin) on: Jan 15, 2022

Ms. Broeska was my fourth grade science teacher. I will always remember how kind she was and how I always felt like she truly listened to her students. While in her class she assigned us a project where each student had to research and write about a bird species. I chose great blue herons as Ms. Broeska mentioned she liked them. I am now a bird biologist and fondly think of her each time I see a great blue heron while working or birding for enjoyment. - Posted by: Delaney Brooks (Former student) on: Jan 15, 2022

I will miss meeting Judi out in the community as whenever we met, we would catch up with each other's family and teaching stories. As early on neighbours in our teaching careers, Judi was so loving, kind and with a heart of gold that listened to your stories. She loved teaching and even in retirement she substituted making a difference for both the teachers she helped and the students she continued to car for when others were away. Reading of her passing today has me in tears for she still had so much life in her to give and share with others. Her smile and the attention she gave you when you met her will always reside deeply in heart. Now the angels will have her smile back at them. - Posted by: Mona-Lynne Ayotte (Friend) on: Jan 15, 2022

Mrs. Broeska was my favourite teacher growing up. Her warmth and caring are something that will never be forgotten. I feel incredibly fortunate that I was able to recognize Judi during my graduation from the UofM Faculty of Education. I gave he following speech for her then and I think it rings just as true now. "Judi, you were the first teacher to help me recognize that a love of learning is a gift that will take you anywhere you want to go. Whether it was trying to stump the teacher with a tricky word, building a whole human body out of paper, or learning to love literature through Anne of Green Gables, there was always something to be excited about. But that is only good teaching. You are a great teacher because beyond teaching cursive, long division, and a Shel Silverstein poem about homework (which I can still recite from memory), you taught me to believe in myself. I cannot express to you how much that belief has carried me through the years since I left your classroom. You showed me what it means to truly care about students as individuals, and I can only hope that my students come to love being in my classroom as much as I loved being in yours. Thank you for having faith in an awkward little girl. It is in no small part due to your influence that she has come this far." My condolences to the family. She will be greatly missed. - Posted by: Megan McManes (Former student ) on: Jan 15, 2022

Ms Broeska was everyone's favourite teacher, including mine. She was my grade 3 teacher at Samuel Burland school in 1989, 33 years ago and not a day goes by that I don't think of her. My grandparents were killed tragically in a car accident October of 1989. My grandma was my caregiver as my mom and dad both worked full time. My dad's job took him out of town every second week and my mom did schooling in the evenings. Needless to say I was very close with my grandma - I loved my grandpa too but he worked full time and would take the bus to and from work so I didn't get to spend as much time with him . I still remember the day after they died, Ms Broeska took me on her lap at lunch hour - she had a black leather skirt on and these gorgeous eyelashes and red hair - she had brought in a cake for me - Homemade - and just cuddled me and made me know everything was eventually going to be okay. I wish I could make her family feel this way at this time. Especially Valerie and all the grandkids. You have lost a very special human being and I'm so sorry. - Posted by: Sarah kolley (Former student ) on: Jan 15, 2022

I consider myself to have been so lucky to get Judi as my cooperating teacher when I was completing my B.Ed degree back in the late 90's. She was always open to new ideas and continuously supportive and encouraging. One thing I must mention is that in addition to her well documented warmth and enthusiasm, Judi had a great sense of humour, which I'm sure served her well during her illness. I remember once we were doing hands-on science experiments with her grade 3 students and one station required a bit of material to be ignited. We were always taking photos to show what we had done in the classroom and Judi wanted to be in a picture with the kids so that we could "have a photo of her last day of teaching!" She will be missed by hundreds of former students as well as friends, family and colleagues. I am so sorry that we have lost this vibrant light. - Posted by: Kathy Stevenson (Friend and colleague) on: Jan 15, 2022

I taught Judi's daughter, Val, at Glenlawn, and thusly, came to know Judi through parent-teacher conferences. She was supportive, cheery, fun and smart whenever I later saw her, either in this capacity, or as a colleague. I am so sorry to hear of her loss, and I send my condolences to all those who have loved, and lost, a bright light in their lives. - Posted by: Kelly Bekeris (Teacher of her daughter, Val) on: Jan 15, 2022

What a heart-felt tribute! Sending our love, warm thoughts and strength to her beautiful family. Judi was exceptional and truly an angel ...we adored her and loved any chance we had to visit with her. She was so open to sharing her genuine love and affection to people around her. Even bumping into Judi in a grocery store meant big hugs and a meaningful catch-up chat; she had a way of making everyone feel cared for. Judi, we will miss you, and will hold dear the times we shared with you. We are so grateful to call you our friend, and thanks for being such an influential teacher and "aunty" in our boys lives...xo we love you. - Posted by: The Kyliuk family (Friends (adopted aunty Judi to our boys)) on: Jan 15, 2022

Judi was the most gracious person I think I've ever met. She could not have been more welcoming to a new EA, a new student, a new parent… She was the type of teacher I have strived to become. Judi was the teacher who came to watch students' soccer games. She was definitely my daughter's favourite teacher and Rebecca was overjoyed to be able to show her a photo of the wedding dress she had chosen when we saw her one day at the mall. We were lucky enough to live close to her and see her in the neighbourhood. And her house was always a destination on Halloween. She's the teacher that students will remember forever. Loved and missed - Posted by: Carol Nikkel (Former coworker/parent of student ) on: Jan 15, 2022
Email Alerts
Sign up for free email alerts of new obituaries for specific people, towns & more.

Voyage Funeral Home
220 Hespeler (Map)
Ph: 2046683151 | Visit Website
❮ Go Back to Listings