Search:

Winnipeg Free Press Passages
All Titles
Notices are posted by 10 am Monday through Saturday
❮ Go Back to Listings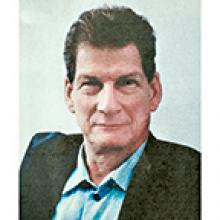 GUSTAAF PETER SEVENHUYSEN
Born: Feb 16, 1947
Date of Passing: Feb 04, 2022
Send Flowers to the Family
Offer Condolences or Memory
GUSTAAF PETER SEVENHUYSEN

It is with profound sadness that we announce the passing of Gustaaf Peter Sevenhuysen, loving husband, father and grandfather. After a long battle with cancer, Gustaaf passed away peacefully, at home in Winnipeg, on February 4, 2022, at the age of 74 years. Gustaaf was born February 16, 1947 in Den Haag, Netherlands.
Left to celebrate his life are his wife Rina Sevenhuysen, his daughter Claire Sevenhuysen (Philippe Lagacé-Wiens), grandchildren, Alexandre and Sophie (Lagacé), and first wife Laura Sevenhuysen. He will also be missed and remembered by all his friends, extended family, and his community in Winnipeg.
Gustaaf's lifelong involvement in international development began when he joined London University's Applied Nutrition Program in Debarq, Ethiopia and earned his PhD in Nutrition. This was followed by employment with UNICEF in Zambia, and with the UN Food and Agriculture Organization (FAO) in Rome where he worked on food assistance programs and poverty alleviation projects.
Gustaaf accepted a position for an international nutrition specialist with the University of Manitoba in 1979, thus beginning a long career with the Faculty of Human Ecology. Gustaaf also had a cross-appointment in the department of Community Health Sciences (Rady Faculty of Health Sciences) which supported his strong belief that nutrition should be in a health-oriented faculty. He worked as a consultant to numerous international organizations, sharing his expertise on national food policy, nutrition survey methodology and community development, including many years as a UNICEF consultant to BAPPENAS, the National Development Planning Agency, Republic of Indonesia.
Gustaaf contributed to community nutrition programs in Winnipeg as well as in Jakarta, Indonesia, focused on prenatal / infant nutrition leading to the development of programs such as the Winnipeg Regional Health Authority program Healthy Start for Mom and Me.
Gustaaf was a committed and innovative teacher and very supportive of the graduate students that he supervised. He was very proud to guide the development of the Faculty of Human Ecology throughout his career, but particularly his 10 years as Dean. Gustaaf took a holistic approach to leadership, and always sought ways to enhance collaboration among the three departments. When the faculty was dissolved, he demonstrated the leadership needed to position each department for success within their new faculties. Gustaaf retired in 2014 and was honoured with the title of Dean Emeritus in 2016.
His life was marked by many visionary ideas and projects, many of which were cutting edge and often limited by the technology available. He was always thinking and expanding on his ideas, pushing to see them to fruition through extraordinary perseverance.
After his retirement, Gustaaf became interested in the field of textile fibre development, inventing and testing novel processing techniques for generating fibres from agricultural plant waste.
He enjoyed making things, including both wood carving for leisure, as well as machines and tools needed to move his projects forward. He enjoyed running, as well as sitting is his shady back garden, and visiting beautiful natural sites around Canada.
He will be remembered for a keen mind, lateral thinking, a desire to bring people together, and eyes that twinkled at the prospect of solving a new problem. He was always interested in people, their spirit and their motivations. His approach was frequently one of thoughtful listening, as he considered both the content of a discussion and the perspectives of those involved. He threw himself with vigour and commitment into every project, reflected in his two favourite mottos Laborare est Orare (to work is to pray) and Illegitimi Non Carborundum (don't let the bastards grind you down).
The family wishes to extend their gratitude to all the staff at CancerCare Manitoba, and the caring professionals of the Manitoba Palliative Care Program and the Riverview Health Centre for their support.
In accordance with Islamic tradition, the funeral for Gustaaf was held on Monday, February 7, 2022 at the Winnipeg Grand Mosque, followed by burial at Transcona Cemetery (5150 Dugald Road).
In lieu of flowers, the family would appreciate donations in memory of Gustaaf to community organizations working in poverty alleviation such as homeless shelters, and programs supporting underserved women.
As published in Winnipeg Free Press on Feb 08, 2022
Condolences & Memories
(17 entries)
I was honored and has given the privilege to be chosen as one of his master degree students in human nutrition sciences. I learned a lot from Dr Gustaaf. He believed In me and my capabilities. I respect him and I appreciate all the minutes he spent with me to finally deserve to take my degree from all the way from Saudi Arabia to Winnipeg Canada. I do miss him and just very deeply sad to his passing away. God give him mercy to the big heritage of silence and knowledge he left behind. Words can't describe enough... my condolences to Dr Gustaaf sevenhusen family. - Posted by: RZaz kheir (One of his students ) on: Jun 23, 2022

I was saddened to learn of the passing of Gustaaf Sevenhuysen. I was lucky to work with him on my masters project, an innovative idea for gathering population survey data. We had many in-depth conversations in his office while working through the thesis project. I often saw his eyes twinkle as referred to in his obituary. From his kind and generous nature, he offered me research assistant work while he was in Ethiopia and I was working away on my thesis in Winnipeg. When I encountered a personal issue, he gave me more work, which he later explained was to help me concentrate on something else. It worked very well. Throughout the years since my graduation, he would seek me out at conferences to find out about my new projects. The world is better for his kindness, compassion, intellect, sense of humour and mentoring capacity. - Posted by: Laurie A. Wadsworth (Masters thesis supervisor) on: Feb 15, 2022

To family and friends of Dr Sevenhuysen, I offer my deepest condolences. I have fond memories of Gustaaf and am so very saddened to hear this news. His support of me (personally, professionally and financially) was instrumental in one of my greatest accomplishments…my doctorate in Applied Health Sciences. Many hours were spent in his office, along with Dr Shooshtari, and that is where many deep discussions of my PhD were had. Discussions that were insightful and motivating! As described in his obituary, I was honoured to be part of these conversations and to witness that endearing sparkle in his eyes. He heard of my challenges during my PhD and, with a genuine heartfelt attempt, tried his best to support me along the way. His significant contributions to the world will be missed. He was an amazing person and I will never forget him. Xo - Posted by: Jacqueline Lemaire (PhD Student ) on: Feb 15, 2022

I am so sorry to learn that Gustaaf has passed away. He was a fine, fine man, and I had been aware of his work in nutrition before I joined the University of Manitoba. May he rest in peace, and may it bring solace to his family to know how much he was admired and respected by so many of us. - Posted by: Emoke Szathmary (Colleague) on: Feb 14, 2022

Dr. Gustaaf Peter Sevenhuysen (my master's thesis advisor) was such a great man that he cannot be adequately described in a few words. His incredible compassion is inexplicable toward those who strive for betterment. I will always remember your commitment to the community and your continuous efforts to help those who struggle to overcome the socio-economic and cultural barriers to reach their goals and dreams. My admiration and gratitude will never cease for your thoughtfulness, kindness and modesty. Rest in peace I was so fortunate to be your friend and student. Hooman Sassani "This place is a dream. Only a sleeper considers it real. Then death comes like dawn, and you wake up laughing at what you thought was your grief." — Rumi - Posted by: Hooman Sassani (Friend) on: Feb 13, 2022

I was very saddened to learn of Gustaaf's passing. Over our time at the University of Manitoba, we worked closely together and became friends. He was a special individual with a kind heart and generous spirit. He was an innovative leader and mentor to many and he will be greatly missed. RIP, Gustaaf. - Posted by: Joanne Keselman (Colleague) on: Feb 10, 2022

I am very sorry to hear of this news. He was a great man and someone I am honoured to have worked with over the years. He always had a story to tell, and helped me through a difficult time in my life by assuring me it shall pass. He was a soulful person and had many layers. I will never forget his kindness and that spark in his eyes when he had to share his next great idea! I will miss him and think of all the lessons he taught me often. Take care, Jody - Posted by: Jody Dexter (Colleague) on: Feb 10, 2022

Dr. Sevenhuysen was a great man. He was the Dean when I was hired. I will never forget when I met him for the first time in his office - he was so welcoming to the extent that I forgot that the meeting is actually part of the job interview/screening. From that very first conversation I got the feeling that he really knows the struggles of newcomers in establishing themselves in their new home. Dr. Sevenhuysen was always sensitive to the needs of his staff and colleagues. He was seeing us as human beings in the context of our lives and from a broader perspective - our contributions to the community and not only judging us based on the number of courses taught, or number of publications although he did his best to support us to excel in those areas as well. Dr. Sevenhuysen was caring about our families too......families here and families far away........ Over the past 16 years, I do have many good memories of Dr. Sevenhuysen.....I will never forget him...I have always had full respect for him and his vision....he will be deeply missed. - Posted by: Shahin Shooshtari (Colleague ) on: Feb 10, 2022

Dr Sevenhuysen was one of my advisors during my MSc and PhD. He generously shared his immense knowledge of nutrition, provided mentorship and helped guide important decisions, always in a calm and steady manner. We had many philosophical discussions relating broadly to nutrition, and the elegant - and eloquent - ways in which he challenged me to further my thinking. To his family, I offer my sincere condolences on his passing, as well as my gratitude for his undeniable contributions to science. - Posted by: Jennifer Protudjer (My graduate school advisor ) on: Feb 09, 2022

Thank you for the lovely tribute to Gustaaf. My condolences to his friends and loved ones. - Posted by: Rona Courtney (family relationship) on: Feb 09, 2022

Dear Rina and family, Please accept my condolences as you grieve Gustaaf's passing. I am so very sad for your loss. I first met Gustaaf when I was a Master's student in the Faculty of Human Ecology; I TA'd one of the core courses that he taught in the faculty. He was a wonderful instructor to work with - so patient, kind, and thoughtful. It was one of my first TA positions, so I would have needed a lot of support! Over the years, as I went from being a graduate student to a faculty member in the Department Community Health Sciences, I connected with Gustaaf at various meetings and events. He was always eager to hear how I was doing. I am grateful for the opportunity to have known him. - Posted by: Lisa Lix (Colleague, Department of Community Health Sciences) on: Feb 08, 2022

Gustaaf was a visionary and core supporter of the development of graduate programs in Community Health Sciences and Pat Kaufert will always celebrate the interdisciplinary wisdom and support he gave to the development of post-grad programs in CHS and Human Ecology. He was also a personal friend and mentor who involved me in teaching qualitative research methodology in the post graduate SEMIO courses that he developed and co-taught in Jakarta. I have wonderful memories of working with him and his students in developing food mapping data and then consuming the wonderful street food that students brought back with stories of the origins of dishes and family recipes . His introduction to Jakarta and Indonesia was always connected with his childhood memories of people and community, We celebrated his legacy in Pat Kaufert's memorial recipe in the program, following the Asian tradition of remembering those who had passed with their favorite recipes. I feel his loss very deeply and am truly thankful that he shared his love of communities and food ecology with me. Thank you my friend, Joseph Kaufert , Professor Emeritus - Posted by: Joseph Kaufert (Friend and co-worker and teacher in SEMEO post graduate training in Indonesia) on: Feb 08, 2022

Dear Claire, I remember your father through our interactions in the Department of Community Health Sciences (and its preceding iterations). He was generous with his wisdom and insight, and widely respected for his community collaborations throughout the world. I am thinking of you and all your family at this time. Pamela Orr - Posted by: Pamela Orr (Colleague) on: Feb 08, 2022

Dear Claire and family, sending my most heartfelt sympathies during this difficult time. Keeping you in my thoughts and prayers. Wishing you comfort and peace. - Posted by: Laura Gilbert (Colleague of Claire) on: Feb 08, 2022

When I moved to Winnipeg, Gustaaf saw an opportunity to incorporate a marketer into Textile Sciences. With his support, I was soon immersed in all aspects of textiles. Working with Gustaaf meant constantly learning and growing. Our next adventure was starting the Manitoba Consumer Monitor focused on the opinions and habits of MB consumers around food and nutrition. Courtesy of Gustaaf, I learned a lot about nutrition. When our data became too large to handle, he worked with a software developer to create a relational database so that he could do the analysis that he envisioned. More learning for those of us working with him. Some of my fondest memories are sitting with him in his office, discussing issues to be solved, or insights into our research, or plans for Human Ecology. He encouraged others to reach for new goals and to have fun while doing so. I have to believe he is off to the next adventure. - Posted by: Tammi Feltham (Former Department Head Textile Sciences, U of M) on: Feb 08, 2022

Gustaaf will be missed dearly. He was such a great leader, mentor, colleague, and friend! Very sorry to hear this. Deeply saddened. Song - Posted by: Song Liu (Colleague) on: Feb 08, 2022

He was a very nice and respectful person. Sad for the news - Posted by: Aysheh Shuaibi (My PhD advisor) on: Feb 08, 2022
Email Alerts
Sign up for free email alerts of new obituaries for specific people, towns & more.
❮ Go Back to Listings