Search:

Winnipeg Free Press Passages
All Titles
Notices are posted by 10 am Monday through Saturday
❮ Go Back to Listings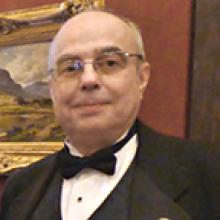 ROBERT (BOB) BOHDAN WOLODYMYR CHOPTIANY
Born: Feb 07, 1956
Date of Passing: Jun 08, 2022
Send Flowers to the Family
Offer Condolences or Memory
ROBERT (BOB) BOHDAN WOLODYMYR CHOPTIANY
MD, B.SC. (MED), B.SC.
February 7, 1956 - June 8, 2022

It is with great sorrow and broken hearts that we announce the sudden and unexpected passing of our dear Brother, Uncle and Cousin - Robert (Bob) Choptiany - on Wednesday, June 8, 2022. Bob was predeceased by his father Nicholas Choptianyj, grandmother Warwara Choptianyj and just recently by his mother Marie (Maria) Choptianyj.
Dr. Bob, as he preferred to be called, completed his undergraduate and medical school studies at the University of Manitoba. He then went on to train in Internal Medicine at the University of Ottawa. After competing a Straight Internship in Medicine, Dr. Bob returned and practiced General Medicine until his sudden and untimely passing.
Bob was a member of the Masons from 1988 until his passing and was very respected.
Bob leaves to cherish his memory his brother Dr. Ihor (Thor) Choptiany (Chrystyna) and their children, Ariadna Choptiany, Dr. Maxym Choptiany (Dr. Lindsay Taam), Dr. Platon Choptiany (Rowena and children, Felix and Luka) and Renata Ryall (Jeffrey Ryall and their child Artem); and his sister Oksana Choptiany (John Bogucki) and their children, Brianna Bogucki (Stephen Erickson) and Laryssa Bogucki (Dr. Rahul Jayas).
He will also be missed by his cousins, Dr. Terry Chlysta (Sharon) and their children, Dr. Walter Chlysta (Lisa) and their children, Dr. Dana Chlysta and her children, Dr. Lesia Chlysta and her daughter and numerous relatives in Ukraine, Canada and the U.S.A.
Prayers will be sung at 7:00 p.m. on Tuesday, June 21, 2022 at Korban Funeral Chapel, 907 Main St., Winnipeg. Divine Liturgy will be celebrated 10:00 a.m. on Wednesday, June 22, 2022 at Sts. Vladimir and Olga Cathedral, 115 McGregor St., Winnipeg. Interment to follow at All Saints Cemetery.
In lieu of flowers, if friends so desire, donations in Bob's memory may be made to The Ukrainian Canadian Congress in support of aid to Ukraine.

VICHNAYA PAMYAT
KORBAN FUNERAL CHAPEL
(204) 956 - 2193
Condolences may be sent to
www.korbanchapel.com
As published in Winnipeg Free Press on Jun 18, 2022
Condolences & Memories
(33 entries)
I'm so sad 😞 very sad 😥 I cried all day😭😭😭 I'm so lost without you Dr. Choptiany😭😭😭😭😭😭😭😭😭😭😭😭😭 Thanks for everything doc❤ I will never forget our last meeting. ❤😭😭😭😭😭😭 - Posted by: Maribeth Arquero (Patient ) on: Jul 14, 2022

We are so saddened by the message left on Bobs answering machine on June 29 when we went to book an appt to see him ! Lisa said he has passed away ! We were devastated, to hear this saddening message. Dr Bob was our family doctor for approx 25 yrs. Bob was not only our Doctor but was considered a friend. He was always there to listen, and never in a hurry. He always took the time to hear all your concerns , even if it wasnt medical related. When I first met Bob I noticed he was a batman fan, with the badge on his jacket and the batman toys hanging form his ceiling and posters up in the rooms. We had something in common from the start as I am a batman fan myself.(THE BATMAN DOCTOR) Bob would make sure all your need were met, going up to bat for u weather it be compensation forms, Great West Life, Workers Compensation, he was always ready to fight for you ! And LISA made sure it got done (brother and sister is how I saw those two) Our deepest condolences to all Bob's family and LISA. We will surely miss them both!! - Posted by: mike and marilyn phelan (patients) on: Jul 07, 2022

I'm going to miss you. Always a pleasure to meet with you. I remember following you to your Berrydale clinic from the Tache walk in clinic. That was such a long time ago. Rest in Peace Doctor Batman. - Posted by: Paul Morand (Patient ) on: Jun 27, 2022

He was a unique and caring person who saw the path to health clearly, and guided me with his medical care and good humour. I was so lucky to find him and can't believe he's gone. I will remember him and his wisdom, and continue to feel his concern and comfort into the future. - Posted by: Shelley Werner (patient) on: Jun 24, 2022

It's very sad sad, I'm so lost without you doc. I lost a doctor and friend, I'm gonna miss our talks and how you made me be able to talk to you with your down to earth and straight to point mannerism. My condolences to the family Bob was a really great man taken way to soon. - Posted by: Paulette goulet (Patient ) on: Jun 24, 2022

Dr. Choptiany has been my doctor for many years he was so easy to talk to and always gave me the time I needed with him, I never felt rushed. A few years ago I went to see him after spending almost a week in the ICU and his caring, compassion and concern was truly genuine. Whenever I needed to be referred to a specialist I was never disappointed with whom he chose for me. My sincere condolences go out to the family and to Lisa as she has been by his side and part of the Berrydale Family Medical Centre for many years. Like so many others I will have to find a new doctor but he or she will never replace Dr Choptiany. Rest in Peace Dr. Choptiany you will be missed - Posted by: Bonnie (patient) on: Jun 23, 2022

Greatest Guy ever. As I have been reading and whole heartedly believe that Dr. Bob can not be replaced, he was an extreme Professional in his Care for those fortunate enough to have known him and had him as a Treating Physician for DECADES like most. He had Patients for Decades because of how good he was at his job and how much he truly cared for everyone of his patients. Also he could not have hired a better Secretary "LISA" was always on top of everything that needed to be done for our care. Stunned/ Sad and Shocked. May God Bless him and those who knew him He was the Greatest Guy Ever… FOREVER IN PEACE Ed - Posted by: Ed Rushton (Patient ) on: Jun 23, 2022

This is so sad to hear, I feel so lost without dr Choptiany now. Such a wonderful doctor, friend, mentor… gone way to soon. He's been my doctor for 27 years, I never imagined him being gone. It's silly how you tend to think your doctor is a hero and he will outlive you but they are only human and we have to accept what is. Sincere condolences to his family and friends and to Lisa who worked alongside him in the clinic ever since I started seeing this dr. I still can t believe he's gone - Posted by: Cheryl Jasper (Patient ) on: Jun 23, 2022

My family sends our condolences to all his family for their loss. He was a great physician. - Posted by: Karen Dobranski (Patient ) on: Jun 22, 2022

I've been seeing Bob for over 40 years. I still can't believe he's gone. I doubt I'll find another doctor who genuinely cared so much for his patients. For me he had become a good friend who always took the time to listen. Yes I too lost a good friend like everyone else here. My heart also goes out to Lisa who has been with Bob for 25 years. Bob and Lisa were an amazing team. I'm really really going to miss seeing both of them. To Bob's family my deepest sympathies on your loss but I hope by reading all these displays of affection for Bob I hope it will help ease the pain you all must be feeling. Bob may you truly Rest In Peace. - Posted by: Wayne Nault (Patient ) on: Jun 22, 2022

My sincere condolences to Dr. Choptianys family and our Lisa. My heart is more then heavy..it hurts deeply. It is hard to fathom that he has left this earth. I was just in to see him a few weeks ago . He was my doctor for well over 20 years. Dr. Choptiany was truly a wonderful, gifted, caring, respectful and skilled Doctor and a incredible person. He and Lisa were a real team that worked so well together to ensure all our health needs were met. They always had time for a great conversation and some laughter, we were all treated so well. I will truly miss Dr. Choptiany and Lisa, neither one can ever be replaced. Thank you Dr. Choptiany and thank you Lisa - Posted by: Josie Daciuk Thompson (Patient) on: Jun 22, 2022

I am so sorry for your loss. The world lost a very compassionate doctor. I started to see him when he started his practice at the Hartford location, where he practiced along with his brother. When he moved to the St. Anne location I followed him. He has been my doctor for so much of my life that he helped me through some of the joys of our lives, like finding out I was expecting. To helping me deal with some of my health issues. I will miss his sense of humor. One time he had to give my husband a shot and I was sitting outside the room where he ended up going in with a needle the size of his arm, and asked my husband if he was ready for his shot. To him having his Batman knickknacks around the office. He truly cared about his patients! Because of compassion our whole family was going to him. My heart hurts thinking that I will never be able to go see him again. I am privileged to have had him for my doctor. I wish I could have gotten to know him once he retired! He will be sorely missed by all that have had contact with him. Our family grieves with you. - Posted by: Barbara Gunner (Patiant for 42 years) on: Jun 22, 2022

For over 30 years, Dr Bob was not only my doctor but my trusted confidant. On more than one occasion, his care, frankness and amazing medical knowledge likely saved my life. He was never too busy to talk through an issue and always ensured that both my physical and mental health were well cared for. For all that he did for both me and my husband, we will be eternally grateful. My sincerest condolences go out to Lisa and the Choptiany family. - Posted by: Diane Hopkins (Patient) on: Jun 22, 2022

I was shocked to learn of Dr Choptiany's passing. He was my doctor / psychiatrist and so much more. He was always there when you needed him. Dr. Choptiany had the most kind, caring, sincere, compassionate heart. He genuinely cared about his patients in all aspects. A true hero one that will be extremely missed. I will miss you.....Rest in Peace - Posted by: Diane Brandt (Patient ) on: Jun 22, 2022

My doctor and my children's doctor for many years. Very caring and kind. Will be missed tremendously. Taken way too soon. Rest In Peace. - Posted by: Carol Thompson (Patient) on: Jun 22, 2022

It is with much sadness to hear of Dr. Choptiany's passing. Our deepest condolences to the family and his receptionist Lisa. They made a great team and treated us with respect and compassion. Dr. Choptiany was our family doctor for many years and he will be greatly missed. He would always listen to our concerns and cared for his us (his patients) with wisdom and compassion. - Posted by: Peter & Louise Friesen (patients) on: Jun 21, 2022

It was with sadness and shock that we learned of Dr Choptiany's passing. He looked after our entire family. He was always a kind and compassionate man who truly cared about his patients. He will be truly missed. Our sincere condolences to his family and to Lisa who worked for him for many years. - Posted by: Timo & Shirley Kangas (Patients) on: Jun 21, 2022

A great doctor, a respected Mason and a best friend. My condolences to the Choptiany family on such an unexpected a tragic loss. I will miss you Bob. Rest easy. - Posted by: Greg Balla (Friend) on: Jun 21, 2022

Dr Choptiany was a very good Dr and friend to so many, Lisa was an excellent receptionist and she knew her stuff. I've never lost a Dr before and like most of you I'm at a loss. My condolences to the family, and I'm going to me as Dr Choptiany & Lisa cause they was a team. Rest in peace Dr Choptiany cause you worked very hard to take care of all of us.....later Buddy - Posted by: Roger Brule (Patient) on: Jun 20, 2022

So sorry to hear of Dr Choptiany's passing. He was always there to help, kind, compassionate and always had time to spend with me at my visits to the clinic. He was a doctor that will be very had to replace, and I will miss the visits that I had in the past, the good disscussions amd sound advise. Rest in peace David Swedlo patient. - Posted by: david swedlo (patient) on: Jun 20, 2022

Vichnaya pamniat I remember you from school days, your parents were from ST. Vlads like mine. May you rest in peace. - Posted by: GREGORY LUCAN (HIGH SCHOOL FRIEND ) on: Jun 20, 2022

I, as with my entire family, was very shocked and saddened to hear the news of Dr. Bob's sudden passing. I was a patient for many many years, and I brought along over the years a husband, 2 children and eventually their spouses and as recently as 2 months he treated my young grandson for an ailment. Always just a phone call away or a hop skip and a jump to his office. Always took the time to listen, genuinely cared and was always kind. He really was just the best. We have lost a huge part of our family. RIP Dr. Bob xoxo - Posted by: Michele (Patient ) on: Jun 20, 2022

Dr. Choptiany was my Family doctor, and a great role model and friend for 30+ years. His sense of humour and take on the world made what should have been a stressful event going to the doctors a great experience. He helped my wife and I through many health issues and the void his passing has left will be impossible to fill. The words he once told me have resonated for years, "Don't sweat the small things". It's helped me more than I could ever describe. - Posted by: Ryan Blair (Friend) on: Jun 20, 2022

I am shocked and saddened beyond belief. Dr Choptiany was the kindest, most caring doctor a person could ever hope for. He truly cared about his patients. This world has lost a wonderful doctor, and a caring human being. There won't be another like him Thank you Dr Choptiany for all that you have done for me and for all of your many patients You will be missed greatly and thought of often. Rest In Peace dear friend. - Posted by: Marilyn Simenik (Friend ) on: Jun 19, 2022

Bob was not only my doctor but also a good friend and advisor for many years. He was a greatly respected brother mason. He was taken from us way to soon and will be missed by myself and many others. - Posted by: Dan Regan (Friend Patient) on: Jun 19, 2022

Dr. "C." Was a compassionate and caring doctor and friend. Many of my family had him as their physician. After 25 years We built a patient/ doctor relationship that will never be forgotten. My heart goes out to the Family and the many Friends he had throughout his Life. This is a great loss to many. - Posted by: Lynda Hart (Patient for 25 years) on: Jun 19, 2022

We would like to extend our sincere condolences to the entire Choptiany family for their huge loss. We have both been Doc C's (as we affectionately referred to him as) patients & also his friends, for almost 30yrs. Over that time he saw us both thru serious health issues and became our trusted & beloved friend. We were shocked & so saddened at Doc C's sudden passing. God said your work is done, it's time to come home now! RIP Doc, C thank you for everything, dearest friend & trusted Doctor. Rest well in paradise dear friend, See your on the other side🙏💔 - Posted by: Janet & Emile Courcelles (Patients & friends) on: Jun 19, 2022

I am completely heartbroken by Doc passing. He was the first Dr that actually treated me and helped me. I went to this man for 20+ years and this feels like losing a loved one. This man was a true professional, severely miss you Doc. My condolences to his family and friends and Lisa. I feel lost without ya Doc. Thanks for everything and will never forget our last meeting. ❤️ - Posted by: Chris Fraser (Patient ) on: Jun 19, 2022

Most pleased & confident with Dr. Choptiany & his entire office. Am most saddened. He will be most missed. The Good Dr. indeed! - Posted by: Jacqueline de Havilland (Patient ) on: Jun 19, 2022

Dr. Bob was my physician from early childhood right through to the last time I went to see him in late May of this year. In those 30+ years he offer guidance through the roughest and most tumultuous times in my life, births of my children, divorces, marriages, job losses and the COVID pandemic always with wit and a touch of sarcasm and always with a great deal of respect for myself as a person. It is a great loss to the medical system and to the health of women in Winnipeg, as it is rare to find a physician who truly takes the time to listen the way Dr. Choptiany did. I will miss him as my doctor, and confidant, it feels very much like a family member is gone. I know as he was the physician for my extended family as well that we are all seriously feeling the loss of a truly wonderful and helpful healer. May he rest peacefully. - Posted by: Andree (Patient and mentee) on: Jun 18, 2022

Met Dr Bob several years ago in Free Masonary and followed up by being a patient in Dr Bob's medical practice. Dr Bob I found a very kind Doctor and attentive to my needs. My thoughts go with you my dear Brother in Free Masons. - Posted by: Carl Pitura (Friend and Brother in Free Masonary) on: Jun 18, 2022

I had the pleasure of meeting Dr. Choptiany through my mother at the Norwood walk-in medical centre over 40 years ago, over the years he became more than my doctor he became my friend a true and genuine reflection of goodness. Robert and Lisa made such a good team and treated all their patients with such respect. Rest in peace my friend you will be missed by many. And you are a superhero! ❤️ - Posted by: Ken Walker (Friend ) on: Jun 18, 2022

I am so deeply saddened, Dr. Choptiany was my personal family practitioner for nearly 30 years. Beyond being so knowledgeable he was the most kind and compassionate person I know. He always shown interest, understanding and a great willingness to help others in medical and personal need. A real life super hero who will be truly missed. - Posted by: oliver viveiros (Friend ) on: Jun 18, 2022
Email Alerts
Sign up for free email alerts of new obituaries for specific people, towns & more.
❮ Go Back to Listings