Search:

Winnipeg Free Press Passages
All Titles
Notices are posted by 10 am Monday through Saturday
❮ Go Back to Listings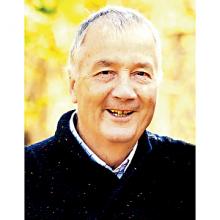 WARREN WILLIAM WELDON
Born: Mar 04, 1939
Date of Passing: Jun 17, 2022
Send Flowers to the Family
Offer Condolences or Memory

WARREN WILLIAM WELDON

Warren William Weldon, our beloved husband, brother, dad, grandpa and friend has died peacefully and with grace on June 17, 2022, at home surrounded by love.
Heartbroken but holding him close in our memories are his wife Dorothy, his brother Jack, his sons, Greg (Cecilia) and Jason, his daughter Erin, and grandchildren, Arthur (Sipiwe), Isaac, Daniel, Sloane and Liv.
Born March 4, 1939 Warren was raised by his mother Alice Weldon (Dupas) in the West End. He cherished his French speaking mother, who provided for him the best way she knew how given her limited means and education. A humble upbringing, as they often do, led to a resilience and generosity of spirit in Warren that carried him through life. He often spoke of simple things such as a local bakery's cherry cheesecake as a major childhood highlight. A cake so special he literally walked ten miles through seven foot snow drifts to get. Over the years Warren's telling of this story seemed to have more miles and higher drifts and we will continue to tell it and add a mile and a foot every year.
He attended St. Mary's school, followed by St. Paul's High School with a final year at Daniel McIntyre Collegiate. His school years cultivated many friendships that lasted a lifetime and beyond. It was during this time that he developed a passion for music. It was also during his year at Daniel Mac that he met his future wife Dorothy, or should we say he saw her and thought she was an angel . She thought he was a strange, funny guy with red pants. They would meet again, years later at a party and the two of them began an inseparable life of love, family and adventure. Warren would often say Dorothy saved him from a party life with no meaning. We accept that she saved him from those red pants.
In 1959 Warren was hired by the Canadian Broadcasting Corporation (CBC) as a mail delivery boy. The human resources director was a lover of music and took a chance on him because Warren also shared a love of music and played saxophone in a local band. Warren briefly worked in accounting at CBC but quickly worked his way into the film department first as an assistant then as a film editor.
In 1968 the film department was in need of a cameraman and decided to rotate the film editors into that position to see if there was a talented fit. Warren was the first to rotate. He worked on a one hour documentary on the Maharishi Mahesh Yogi who rented the Chateau Lake Louise for his followers of transcendental meditation. After the film shoot, the rotation never occurred and Warren became the new assistant film cameraman. Warren worked on many documentaries, dramas, network shows and award-winning pieces as a lead cameraman. Some familiar names of network shows he worked on were 24 Hours, Points West, Country Canada and Sesame Street. He travelled throughout the world filming and telling stories with a spirit of adventure and curiosity. His final shoot led him to Ethiopia after which he retired early at the ripe old age of 54.
During his early years at CBC, Warren also played saxophone in a local band called Roy Mickey and the Downbeats. They played many gigs at community clubs and local venues for five dollars a show in the 1960s. His bandmate, Fred Turner went on to form Bachman Turner Overdrive. In 1963, the frontman retired and the band transformed into The Many Others. The Many Others toured to many venues and were a staple at a local venue called The Hungry Eye.
Music took a bit of a hiatus for Warren but in the 1990s his former drummer Ed invited him to join a band called Jimmy G and the Doo Wops. They played shows in Regina and Winnipeg where crowds swing danced and revelled in the nostalgic music of his youth. The band was eventually renamed The Twilights and they continued playing local venues and outdoor events. Warren hung up his saxophone at the age of 78. He often said he wasn't a very good musician, that he really only worked hard at it. Having seen him play we beg to differ.
Retiring at 54 allowed Warren the time to focus on all of his loves: his beautiful wife, his children and eventually grandchildren, his cottage at Falcon Lake, his house by the river, his music, photography, filmography and travel. He and Dorothy travelled to 35 countries including Thailand, Turkey, Egypt, Israel, China, Cambodia, Greece and Italy. Warren could never leave his documentary days behind and found himself interviewing people everywhere he went on all of his travels. His videos of his travels are legendary. With Dorothy as the star of his show, he told stories through film of all of his travels and in fact every moment of his family's life. We look forward to many a movie night listening to his edited, narrated videos whose stories will transport us to him.
Warren was diagnosed with mesothelioma in 2020. He faced the journey with the same resilience, work ethic and generosity of spirit he had acquired throughout his life. He truly loved people and no one was a stranger in his presence even when he was sick. He engaged everyone in his big energy, his story telling and his positivity. His end of life was no different. He was his authentic self, right until the very last moment.
We are devastated to be separated from him but we will celebrate his life as he planned it. He has chosen his readings, his music, the food and everything and anything you could imagine for his service. Please come, he would want you to be there.
Extra special thanks to Dr. Craig Harlos who truly listened, went the extra mile and gave him some extra time on this planet and to Sean Roe, his palliative nurse who carried us all to the end with him.
Warren's Celebration of Life will take place at Christ The King Parish, 847 St. Mary's Road, Winnipeg on June 22, 2022 at 11:30 a.m.
Condolences for the family may be left at www.alternacremation.ca or call us to talk about Warren, we would love to hear from you.
As published in Winnipeg Free Press on Jun 21, 2022
Condolences & Memories
(13 entries)
Deepest condolences to Dorothy, the children and the grandkids. I'm so very sorry to hear of Warren's passing. My father spoke highly of Warren, he was always a friendly soul. Sincerely Jodie - Posted by: Jodie Dupas (Cousin (Ray's daughter)) on: Jul 12, 2022

We were very sorry to hear of Warren's passing. We first encountered Warren in the late 90's when, over a period of a few years, we rented the Weldon family cabin at Falcon Lake for 2 weeks each summer. Although our contacts with him were brief, we always appreciated how genuinely nice a man he was. - Posted by: Russ & Willie Duffy (Acquaintance) on: Jun 29, 2022

Dorothy and Family, We will miss Warren and his wonderful stories around our monthly dinner get togethers. In tribute, I will play a tune on Monday to the man with the wailing sax. - Posted by: Tom Dercola (Friend) on: Jun 23, 2022

I met Warren the day I walked into my first Jimmy G and the Doo Wops rehearsal. In a room full of strangers who would soon become my friends and comrades, there was this saxophone player with a big smile and even bigger laugh, who seemed like someone I already knew as a good buddy. Warren had already lived several lifetime's worth of experiences by the time I became a part of his life. We I soon found out that we'd had parallel careers, he a CBC cameraman and I, a sound man for Manitoba Education. We started trading stories about our film shoots and trips, as well as our misspent youth playing in Winnipeg rock bands. Along with a couple of the other Doo Wops, I considered Warren part of Winnipeg rock royalty. And not just because Warren played in the Downbeats with Fred Turner. He had been there when Rock n Roll was just starting, part of the original scene. It is no accident that I have a real love and appreciation for 50's music. Over the next 11 years and countless gigs with the Doo Wops and The Twilights, Warren would be to my right on stage, encouraging me to play my best, cheering me on. Of course, the feeling was mutual. When Warren would go on a sabbatical to do another personal press junket with his road-film star (Dorothy), we would be forced to find a temporary sax player to fill in. And while the band did manage to find a some technically more proficient players, it was never the same without Warren. (At least he kept in touch with us through his emails with amazing pics and stories from whatever corner of the world he happened to be in at the time.) When Warren finally did come back to Winnipeg, we welcomed him back with open arms, all was right with the band again. His love amn knowledge of 50's and 60's music was infectious and inspiring. He was a huge a mentor in my musical journey. At a Halloween gig at a St. James community club several years ago, the power and depth of Warren's friendship became most apparent to me. I had just found out that a family member had been threatening to commit suicide that night. I came to the gig not knowing if I'd be able to go through with it, fearing I'd be getting terrible news. Warren could tell something was very wrong. He reached out to me and I told him what was going on. I can't remember a single word he said to me, but I will always remember his love and wisdom, taking me under his wing and getting me through that night. There's so much of Warren's life I will never know about, but the parts I did share with him will always be among my greatest treasures. Warren, you'll always be one of my world's favourite people. I celebrate you! We'll all miss you, but Rock n Roll Heaven has gained one wicked sax player, with that little warble in his notes! - Posted by: Frank Piske (friend) on: Jun 22, 2022

Dear Dorothy and family....we have very fond memories of you and Warren visiting us here in Australia in the late 90's!! And, then, Warren "volunteered" to video our daughter's wedding in Winnipeg....such a kind and generous gesture!! And, a beautiful job done!! That was trypical of the man that Warren was....our sympathies to you and your family on his passing!! As Charlie said today, "he was one of the good guys!:....on many levels." Much love to you all....Janice and Charlie - Posted by: Janice and Charlie Braekevelt (friends) on: Jun 22, 2022

Hello Dorothy and family....we have very fond memories, Dorothy, of your trip to visit us here in Australia....such a good time! And, then, Warren wanted to do the video of our daughter's wedding in Winnipeg....what a great gesture!! A good man, and good friend!! Our sincere thoughts are with you and your family during this difficult time!! - Posted by: Janice and Charlie Braekevelt (friends) on: Jun 22, 2022

I'm sorry to hear of your loss Dorothy. I recall standing behind you and Warren at some store and he was talking his intention to write about a vacation you were on in some foreign country. I'm happy to hear that he did that. You will have many loving memories of your years together - God bless you and your family. Mary Barrett - Posted by: Mary Barrett (parishioner at CTK) on: Jun 22, 2022

Like every member of his family and his many friends, I was devastated to learn about Warren's diagnosis. But I was not surprised to learn that he faced this awful illness with such dignity….Warren was such a good guy….he seemed to enjoy everything life had to offer: his work, his music, his home and cottage, and being with friends and family. My fondest memory has to be the weekend in 2002 that he spent with Don and Doreen Phimister and me at my rental condo in Palm Springs. We had so much fun sightseeing, going to restaurants, and perhaps most of all, watching his travel videos….. My deepest sympathy to Dorothy and his family…. - Posted by: Ms Frankie Glickman (CBC Colleague) on: Jun 21, 2022

I actually remember meeting Warren for the first time at Falcon Lake at the age of 6 or 7 years old when they bought a place 2 cottages down from us. He and my dad instantly hit it off and became good buds. Was always over asking dad "hey Bill..how do you do this?" or eager to lend a helping a hand when my dad needed one. One time Warren and my mom got lost for hours in the bush while picking blueberries only to find their way out at about the same time as the RCMP arrived to start the search party. (all that for a 1/4 pail) He and Dorothy were always friends with and kind to my parents and to my mom after my dad passed some 30 years ago. Warren is a great guy and will be sadly missed by his family, friends, lake neighbors and all who knew him. Our condolences to Dorothy and all his family. Blow your horn Warren..rockin heavens band! Gord and Robin Doran - Posted by: gordon doran (lake neighbor/friend) on: Jun 21, 2022

Warren had a great eye for picture composition, especially faces! I always enjoyed talking with Warren. He was always full of enthusiasm. Fond memories of those 'film' weekends at Falcon Lake. - Posted by: Doug Coolidge (Friend) on: Jun 21, 2022

Dorothy, I'm so very sorry for your loss. Gil and I remember him from Christ the King parish activities. Our prayers are with you and your family. - Posted by: Deb Bernier (Friend ) on: Jun 21, 2022

I was just one of many who were saddened to hear of Warren's loss. I didn't know he was a musician or I would have taken in a couple of his gigs. Warren along with Ron Place, was on the shoot for "Noon Hour" when I made a parachute jump for the show back in '77. Comforting when people like that are with you in that situation. Warren always looked like he had just told himself a joke he hadn't heard before. That little smile that always seemed to be there. I join the legion of people who mourn the loss and I hope that knowledge helps a little bit while his family goes through this difficult time - Posted by: Murray Parker (colleague/friend) on: Jun 21, 2022

We both remember Warren well from our time at CBC Winnipeg and our recollection is the same. Every conversation with Warren had something in common - you always saw that big smile and always heard that pleasant laugh. However your day may have been going before you bumped into Warren, it just got better. Sincerest condolences to Warren's family. - Posted by: Rick and Bev Inglis (CBC colleagues) on: Jun 21, 2022
Email Alerts
Sign up for free email alerts of new obituaries for specific people, towns & more.
❮ Go Back to Listings