Search:

Winnipeg Free Press Passages
All Titles
Notices are posted by 10 am Monday through Saturday
❮ Go Back to Listings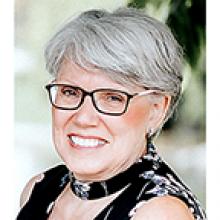 JACQUELINE (JACKIE) CORMIER
Born: Nov 09, 1957
Date of Passing: Oct 08, 2022
Send Flowers to the Family
Offer Condolences or Memory
JACQUELINE "JACQUIE" CORMIER

Jacqueline "Jacquie" Cormier passed away suddenly in her sleep, at the age of 64, on Saturday, October 8, 2022, at home in Winnipeg, Manitoba.
Jacquie was born on November 9, 1957, in Winnipeg. During her childhood, her parents, Clément and Lisette (Bédoret) LeClaire, as well as her two younger sisters, lived with her in Winnipeg and St-Pierre. From a young age, Jacquie showed a keen interest in reading. She would spend hours devouring books with her sister while at home or on road trips. Jacquie also loved the outdoors. She especially enjoyed spending hours in the garden while visiting extended family in rural Manitoba.
Towards the end of high school, she attended Collège Saint-Boniface, where she met Clément (Clem). Their connection intensified as Jacquie spent more time with him while he recovered from a skiing accident in the hospital. Soon after, Clem quickly became a regular at LeClaire family dinners. A few years later, Jacqueline and Clément were married on June 10, 1978. They enjoyed several years as a young married couple before purchasing their first home and starting a family in the early 1980s. Over this same period, Jacquie transitioned from her position at The Bay to a career with Air Canada at the downtown Winnipeg office. Over the course of her 33 years there, she enjoyed many trips with her growing family, as well as long-lasting friendships with colleagues. Jacquie travelled to many locations around the world, including destinations across Europe, Australia, and North America. Family trips to Disney World were treasured.
As the travel industry evolved and became more uncertain, she overcame many challenging years and retired in November of 2013. In retirement, she was able to enjoy many of her favourite things. It's easy to picture Jacquie eating a croissant and enjoying a cup of coffee in her backyard on a sunny summer morning, as she worked through the day's crossword puzzle. Spending time with friends and family, shopping, keeping her yard in pristine condition, and playing a round of golf were also all a part of her weekly activities. Her years as a retiree also coincided with a time when she saw her children grow into adults and she was always delighted to celebrate their achievements, as they obtained advanced degrees, established their careers, and found their life partners.
Jacquie's family was a focal point throughout her life. Her fondness for social gatherings and family connections during her early years likely contributed to her desire to keep traditions going. Throughout her adult life, she did so by being the person who organised and hosted many large family events on a regular basis. She also showed her dedication to maintaining family bonds by taking time to connect with people, regardless of physical distance. Unsurprisingly, she truly cherished the times of year when the entire family was together. This is likely why she enjoyed Christmas so much and would transform her home into a winter wonderland filled with her delicious baking. Although her children were sometimes reluctant to contribute to some of her ideas, like family photos in matching pyjamas, in retrospect, they represent her desire to create memorable moments for her family.
Jacqueline is survived by her husband; her five children and their partners, Damien (Stacey Leach), Geneviève (Jay Shyiak), Christian (Julie Labossière), Véronique (Blair Shewfelt), and Danica (Nicholas Bourgeois); and her five grandchildren (Esme, Harlow, Lucas, Sébastien, and Émilie). She is also survived by her father and sisters, Brigitte and Mireille. Jacquie was predeceased by her mother (1998).
A public memorial service will be held at 10:00 a.m. on October 21, 2022, at the parish hall adjacent to the Saints-Martyrs-Canadiens Parish (289 Dussault Avenue). In lieu of flowers, donations in Jacquie's name may be made to Siloam Mission or a charity of your choice.

LECLAIRE BROTHERS
475 Provencher Blvd.,
In care of arrangements, 204-775-2220
As published in Winnipeg Free Press on Oct 15, 2022
Condolences & Memories
(30 entries)
It is now Feb 20. I was not aware of this very shocking and stunning news until today! This is truly hard to believe and even thought we lost touch over the decades that have passed it does not make this any less painful! She was a very cheerful and positive lady who was always fun to be around! Heartfelt Sympathies To Clem and Clem, Brigette. Mireille and all her family that will miss her deeply!!! - Posted by: Robert (Cousin) on: Feb 20, 2023

We were very saddened to hear the news about Jackie. Unfortunately we did not find out till late this month (we've moved to Calgary). Please take care of yourself and your family. You're in our thoughts Mr. C. Nancy Burns and Murray Setter - Posted by: Nancy Burns (Friend ) on: Nov 29, 2022

I am very sorry to hear of Jackie's passing. My condolences to you Clem and to all her family - Posted by: Marc (Friend) on: Nov 25, 2022

Cher Clément, Mes plus sincères condoléances pour le décès de ta chère Jackie. Il est difficile d'imaginer votre profonde tristesse en cette période très difficile pour toi et vos enfants. C'est évidement une perte irremplaçable pour votre grande famille mais elle veillera toujours sur vous. Bon courage Clem. - Posted by: Daniel Boucher (friend) on: Nov 08, 2022

We were saddened to learn recently of Jacqueline's sudden passing. I am left with fond memories of shared times at Collège where I watched the growing love between her and Clément that turned into a 44 year marriage (!). We send our heartfelt condolences to Clément and the family. - Posted by: Denis and Eileen Lavoie (high school classmate) on: Oct 25, 2022

Cher Clement, Nous ne pouvons même pas imaginer la peine, la perte que tu vis en ce moment. Nous pensons à toi et a tous ceux qui aiment Jacqueline. Nos sincères sympathies. Michelle et Paul Campeau - Posted by: Michelle Et Paul Campeau (Friends) on: Oct 24, 2022

Clem and family, Julie and I send our condolences on the passing of Jackie. She was always so friendly and welcoming on the occasions we got together. Our thoughts and prayers are with you Clem. Take care Brother. Cole & Julia Single. - Posted by: Cole & Julia Single (Friends) on: Oct 24, 2022

Mes sincères condoléances à toute la famille Cormier. On dit qu'on reconnait un arbre à ses fruits. Si c'est le cas, Jacqueline était une femme exceptionnelle. J'ai connu Christian, son fils à l'USB lorsqu'il était étudiant en sciences infirmières et que j'étais chargée de cours. Ce jeune homme profond, réfléchi qui avait une soif de connaissances, de compétence et de compassion, s'est démarqué dès le début de ses études. Ses frangins sont sans doute aussi exceptionnels. Repose en paix Jacqueline, tu as accompli ta mission avec brio. Merci. - Posted by: Louise Hebert-Saindon (friend of family member) on: Oct 24, 2022

We are heartbroken to hear this sad news. We were neighbours for many years and watched each other's children grow up. You have our deepest sympathy during this most difficult time. Brian & Denise Gray and family, - Posted by: Brian and Denise Gray (Neighbors and friends ) on: Oct 22, 2022

We are very sorry to hear of Jackie's passing. Our condolences to all her family. Gord & Doris Pavlick - Posted by: Doris Pavlick (friends) on: Oct 22, 2022

I am so sorry to hear of this terrible news. Jacquie and I spent a lot of time together while in grades 11 and 12. Many memories. My condolences to the family. - Posted by: Paulette Sullivan nee LaFleche (School friend) on: Oct 21, 2022

Mes sincères condoléances à Clem lors du décès de sa douce moitié - Posted by: Lévis Preteau (Collègue de travail de Clem) on: Oct 20, 2022

Toutes mes condoléances à Clément et à toute la famille de Jacqueline. - Posted by: Paul Sherwood (Schoolmate) on: Oct 18, 2022

I had the pleasure of working with Jacquie for many years at Air Canada. She was always so pleasant and had a beautiful smile. She will definitely be missed. My thoughts are with her family and friends who lost her too soon. Thinking of you during this difficult time. - Posted by: Aline Forest Bassett (Co-worker) on: Oct 18, 2022

Mes plus sincėres sympathies à toute la famille. - Posted by: Micheline Brodeur (cousine) on: Oct 18, 2022

Nos sincères sympathies à toi, Clément et ta belle famille. Le départ soudain et trop tôt de Jacqueline laissera sûrment un grand vide. Elle continuera à vivre à travers de ce qu'elle vous a donné et transmis. J'espère que vos bons souvenirs d'elle pourront vous réconforter durant ce moment difficile. - Posted by: Diane et Aurèle Foidart (friend) on: Oct 17, 2022

I was sorry to hear of Jackie's passing. She was a friend when I worked downtown with AC. Her smile, no nonsense attitude and sense of humor made going to work much more enjoyable. My deepest condolences to all the family. - Posted by: Margaret (Maggie) Tagliaferri (Co-worker) on: Oct 17, 2022

I am so sorry for your loss. I have fond childhood memories of Jacquie as we played at our grandparents home in St Adolph and had various sleepovers at each other's house. She was always fun to be with. My sincere condolences - Posted by: Denise Cullen (Cousin) on: Oct 16, 2022

I am so shocked and saddened to hear of another taken too young. There are so many fond childhood memories. My condolences to Clem and family, she will be greatly missed. - Posted by: Colette Bednas (Cousin ) on: Oct 16, 2022

We worked with Jacquie at Air Canada for 10 years. She always had a warm presence, a beautiful smile and we enjoyed our chats together. We were very sad to hear of her passing, much too soon. Nos sincères condoléances à toute la famille et amis. - Posted by: Geneviève et Léonard Marcoux (Former co-workers) on: Oct 15, 2022

Clem, Brigitte, Mireille, and all of your families, Please accept my most profound sympathies at Jacquie's passing many, many decades too soon! I remember her laugh, and recall her being deeply practical, deeply committed and deeply loving. Sincères condoléances à tous - Posted by: Rachelle Smith (Friend) on: Oct 15, 2022

Dear Clem and family, Our deepest sympathy on Jacquie's passing. May memories of special times comfort you during this difficult time. Sincerely, Allan and Anita Malbranck - Posted by: Allan and Anita Malbranck (Fellow parents at École Lavallee) on: Oct 15, 2022

As I've cut Jackie's hair for almost 40 years now, we've shared our lives with each other which grew into a friendship. I will truly miss her very very much. My condolences to the family. - Posted by: Colleen Bauer (Friend ) on: Oct 15, 2022

Dear Clem and Family: I was very sorry to read about the sudden death of "Jacquie". We have known each other since 1969. We were neighbours on Cote Street and classmates in grade 7 at the St. Pierre-Jolys Elementary School. She was an outstanding student and athlete; I can remember her love of Language Arts and her dedication to training for middle distance races and cross-country running. Years later, your children became patients of mine in my Paediatric Dental Practice in Winnipeg. For at least two decades, she and you would frequent my office with your five children. Both of you have been very loyal and great friends to me over the years. My hope is that the fond memories of "Jacquie" will sustain you and your family in the coming days. You will ALL be in my thoughts and prayers. A Great Polar Bear Hug to ALL. Roland Cantin ( Sputnik) - Posted by: Roland Cantin (Family friend) on: Oct 15, 2022

To the dear family and friends of Jacquie, I remember Jacquie from our training class. I recall her being such a lovely person. I am glad her life was filled with wonderful people and places to go. I admire people who make the most of what comes to them in their lives and sounds like she did. Anyone in my books that has to tend to a garden and have it forefront while with a book in hand is one of those people. I had changed work locations and hadn't seen Jacquie since those days but I can't help but to keep people that enter my life in my memory, therefore I am sending you my condolences and best wishes to Jacquie's loved ones. Jill Palmer/McWhinney - Posted by: Jill Palmer nee McWhinney (co worker ) on: Oct 15, 2022

I am so sorry to hear that Jackie has passed away. I have many good memories of Jackie spending time in our childhood home with Gisèle. Her laughter was infectious. Richard and I wish to express our deepest sympathy to Clem and family. - Posted by: Huguette Turenne (Friend) on: Oct 15, 2022

Through all life's trials and tribulations Jackie was an integral part of our family and will be missed by all but not forgotten. - Posted by: Michel Bedoret (Uncle) on: Oct 15, 2022

Sincėres sympathies a toute la famille. Vous êtes dans nos pensées et priėres. Sheryl et Rémi - Posted by: Sheryl (friend) on: Oct 15, 2022

I had the pleasure of knowing Jacquie in high school. I was so sad to hear of her passing. Mes plus sincères condolences à Clément et toute la famille. - Posted by: Janine Labelle (Friend) on: Oct 15, 2022

I had the pleasure of working alongside Jackie at AC. It was a joyful experience. I so valued her work ethic, her sense of humour was pleasing as well as her lovable engaging ways. Her wonderful Joie de Vie made our work life so very pleasant. Thank you Jackie, from the bottom of my heart for your kind friendship. Robert - Posted by: Ronert Gamache (Friend) on: Oct 15, 2022
Email Alerts
Sign up for free email alerts of new obituaries for specific people, towns & more.
❮ Go Back to Listings