Search:

Winnipeg Free Press Passages
All Titles
Notices are posted by 10 am Monday through Saturday
❮ Go Back to Listings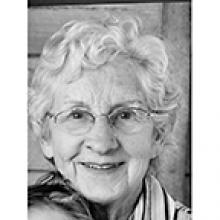 ALLISON MALCOM MOLGAT
Date of Passing: Oct 22, 2022
Send Flowers to the Family
Offer Condolences or Memory
ALLISON MALCOM MOLGAT

Quit reminding me, girl,
it's a ragged old world,
'Cause I don't want to leave it behind.
— Joel Plaskett
In the early hours of Saturday, October 22, 2022, Allison died.
Missing her are her children and grandchildren Mathurin and Jessie, Anne and Laura, Marlo, Matisse, Moby, Dakota, Chester, Al, and Cheyenne, her sisters-in-law Luce and Joan, her brother-in-law Daniel (Inge), nieces, nephews, and friends too numerous to count, among them her chief partner in hilarity, Pat.
She was predeceased by her husband Gildas (Gil) (2001), her siblings Berta, Jean, and Bud, in-laws Jim, Jean, Germaine, Jacqueline, and André, and lifelong friends Noreen and Jane.
Allison was born in Winnipeg in 1928, graduated from the University of Manitoba, and in 1958 married Gil. Theirs was a true partnership. She was the consummate politician's wife at a time when it was a full-time job. She did itall — wrote speeches, coordinated campaigns, fundraised, shook hands, volunteered extensively, and attended community picnics and church socials. She was welcomed into Gil's military life, both within and beyond the RWR. People were drawn to her warmth and bright smile. Allison never forgot a face or a name and years after meeting someone would recall details of their lives. She could throw a dinner party at the drop of a hat, never refused a lunch invitation, and was always up for an adventure. Our friends loved her and she them. Though not prone to colouring much outside the lines, she encouraged her children to and usually welcomed the consequences. We loved her. Francophone d'adoption suite à son mariage, elle a élevé ses enfants en français et a fait sienne la communauté franco-manitobaine.
She was wickedly funny and a fabulous storyteller, loved all desserts, travelled the world despite having no sense of direction, and played a mean blues harmonica. She treated everyone with respect and insisted her children do the same.
Allison's final years were spent at Golden Door Geriatric Centre. Our heartfelt thanks to the staff who lovingly cared for her and for us. She could not have received better care nor been surrounded by a kinder, more generous group of people. We forgive them for introducing her to ABBA.
In lieu of flowers, please consider writing to your MLA to urge them to support ongoing sustainable operational funding for personal care homes. These homes — and they are indeed homes — have not received a funding increase in 15 years. Our loved ones deserve better.
We will gather to celebrate Allison's life next summer when her New Zealand family can be in Winnipeg, before a final road trip to some of her favourite places, and interment in Sainte-Rose-du-Lac with Gildas. If you'd like to join us for the celebration, please let us know at annem@web.ca and we'll be in touch.
As published in Winnipeg Free Press on Nov 05, 2022
Condolences & Memories
(9 entries)
I just yesterday found your mother's obituary while researching information to add documentation to my Molgat family tree on Ancestry. I am sorry to hear of your loss. I initially met your Mom as a young child on our frequent visits to my Dad's (Yves Molgat) Uncle Louis and Aunty Adele's house (we lived just outside of Winnipeg). Your Dad was just early in his political career… and your parents were just getting married. My Dad always felt close to Gildas and enjoyed their visits later in life when we had moved to Vancouver and Gildas and Allison would stop in for a visit to or from the Orient when he was in the senate. What a wonderful family you are from. Both of your parents were always so friendly, welcoming and great contributors to Canada. It amazes me from two brothers who come to Canada in 1906/7 the breadth the Molgat family has grown to in Canada and the significant contributors to society that evolved. My heartfelt condolences to all of your family. - Posted by: Louise Vickets (Molgat) (Daughter of Yves Molgat… your Dads first cousin) on: Feb 05, 2023

I was lucky enough to spend part of my childhood on the same street as the Molgats, and enjoyed many happy hours as a 'regular' in their home. Mrs. Molgat was my favourite 'other mom' on the street, welcoming all us kids into the house with a big smile and always taking a genuine interest in what we were doing. She always seemed quite entertained by our crazy ideas, and was a willing helper whenever we needed some assistance. I remember one year when a bunch of us girls decided to go Christmas carolling - I'm not sure whose idea it was that we collect money for the Save the Children fund, but we collected a remarkable amount of money for little kids - I don't think it was our musical talent that impressed people so much as our enthusiasm! We didn't have a clue how to actually get the money to the charity, but Mrs. M. happily helped us out of that little predicament. I was always a bit envious that their family could speak French (kind of like a secret code!), and was most impressed that Mrs. M. had learned the language as an adult. I thought she must have a secret power - it didn't seem so easy to me! There are a lot of wonderful memories wrapped up for me within the Molgat family. Due to geography, I haven't seen her for many years, but she always took the time to send a note with the annual Christmas card and Anne has kept me up to date more recently. I'm grateful for the influence she had on my childhood - we were damn lucky little kids. A life well-lived. RIP Mrs. M. and say hi to Mr. M. for me. - Posted by: Anne Carroll (Friend ) on: Nov 22, 2022

My deepest condolences to the family. I met Allison and Gil in the early 1960s when I became President of the St Boniface Young Liberals. Allison was a truly dedicated and compassionate partner to Gil. She worked hard and treated everyone with kindness and respect. Together they laid the foundation for a progressive Manitoba Liberal Party encompassing all regions of Manitoba. - Posted by: james ( jim) wyndels (Liberal Party) on: Nov 16, 2022

It brought sincere sorrow to learn of the passing of one of Manitoba's truly great unheralded ambassadors last week. Anne et Mathurin, acceptez mes sincères condoléances à l'occasion du passage de ta mère si bien aimé. My family's connection to la famille Molgat extends back many many years. As patrons of the Buchanan Marine Boat Yard, formerly operated with the support of our family, I would hear tales of Gil Molgat mastering his catamaran with Allison and les petits in tow! When I was a teenager, I bought a federal study on National Defence at one of our local hospital book sales and tucked inside was a letter your dad had written to a colleague, signed in his recognizable baby blue ink. Little did I know that this same blue ink would one day grace a letter addressed to me, inviting me to apply to the Senate Page Program in Ottawa. Thus began a very unforgettable career in service to the political leadership of this country that has been my raison d'être ever since. To be a young, impressionable Page during Speaker Molgat's présidence over the upper House of Parliament was an apprenticeship in values and ethics observed and learned firsthand from so enduring a statesman as your father. Yet, it became quite clear that behind this amicable man was a partner who was his equal in so many respects, an extraordinary femme whose companionship made possible all that he was able to achieve and to give. Mme Molgat, as she was known by those of us who worked behind the scenes, was in every sense an ideal messenger of the slogan "Friendly Manitoba" for which we are known. I will recall with greatest humour those new to the Speaker's Office exchanging, in hushed tones, statements such as "Mme is bringing smoked goldeye with her when she lands in about two hours… c'est quoi ça smoked goldeye?!?" Explaining to the retinue what our provincial staple was all about— and how to prepare it— was certainly a privilege! Beyond those local quirks that defined her love for and genuine representation of this province however, was realized the incontestable diplomat I opened this tribute with. Meeting with heads of state, ambassadors, consuls, senators, Members of Parliament and so many luminaries from around the world, Allison Molgat conveyed and embodied not only a sense of Canadian noblesse but the down to earth qualities of an authentic Manitoban at every turn. To the end, she remained true to her own self and who she was, while coming alongside of our Speaker and his many responsibilities— obligations and duties that often saw him personally invested in fulfilling those over long periods away from the one who was his true "chère". For me, given Gildas' retirement from the Speaker's Throne and his ultimate passing from the role he played so well just a few months later, leaving no time to spend with that dear partner in a deserved retirement, will always remain a profound debt that this province and nation can never repay to the Molgats. When the staff were invited to pay their respects to Mme Molgat in his office a few days following that passing, it will always be one of the most unforgettable recollections that her generosity knew no bounds. Rather than being comforted, she so often served as a comfort to so many who felt as though the greatest person they had the pleasure to work with, had through their untimely passing, just taken a little piece of themselves away. One of the most remarkable testaments to the selflessness and caring that your mother demonstrated on such an unforgettable occasion was in giving each Page one of your dad's books, as a keepsake and token to always remember him by. Grief-stricken as she was, she lived up to the legacy of being ever the diplomat, ever the partner that Speaker Molgat so deserved. There is so much more that could be written about those years, so many memories that address why Allison's passing is the concluding sentence of a golden chapter of our province's story and of it's many contributions on the global stage. That it brings conclusion to a life well and fully lived and has served to reunite two remarkable public servants in the ever after— one that is now "happily ever after"—can certainly be affirmed. I came across a photo of your dad and mom recently and it says more on this occasion than any words could possibly do justice. https://digitalcollections.lib.umanitoba.ca/islandora/object/uofm:1483039/print_object May you find comfort in this time of grief and sorrow in knowing that today, those expressions of love and togetherness are now shared once more. Anne, Mathurin et toutes les membres du famille Molgat, j'espère que vous obtiendrez du paix et du confort en tant que vous pleurerez une femme si inoubliable et si remarquable. Merci de nous l'avoir partagé. - Posted by: Josh Watt (Family friend) on: Nov 08, 2022

I wish to express my sincere condolences to the entire Molgat family, and to thank you for including a closing statement in the obituary to support personal care homes. As executive director of the Manitoba Association of Residential & Community Care Homes for the Elderly, I hope that those reading Allison's obit will advocate on behalf of PCHs who are in dire need of support. Blessings to you all. Julie Turenne-Maynard - Posted by: Julie Turenne-Maynard (Community colleague) on: Nov 08, 2022

Reg and I were very fond of Allison. Reading her tribute brought many happy memories of her and Gil to mind. The call to action in lieu of flowers is a brilliant and fitting testament to her life's work. Allison was an incredible woman; smart, kind and a pleasure to work with. Renaming Liberal HQ to Molgat Place was reflection of both Gil and Allison's legacy of contribution to the party and their community. Sincerest condolences to Allison's family and loved ones. Peace to you Allison. - Posted by: Karen Taraska-Alcock (Friend, fellow Liberal ) on: Nov 07, 2022

So sorry for your loss..my sincere condolences. - Posted by: Patricia Tougas Montsion (Relative) on: Nov 06, 2022

She truly was a friend to many. Sincere condolences to her family and friends. May she rest in peace. - Posted by: Normand Dupasquier (Acquaintance) on: Nov 05, 2022

I had the honour of meeting Allison at the opening of Molgat Park in Ste. Rose several years ago. My parents knew the Molgat family well and mom worked for John and Germaine at Molgats store and for Gildas dad. - Posted by: Debbie Pinette (Gildas and Allison were friends of my parents ) on: Nov 05, 2022
Email Alerts
Sign up for free email alerts of new obituaries for specific people, towns & more.
❮ Go Back to Listings