Search:

Winnipeg Free Press Passages
All Titles
Notices are posted by 10 am Monday through Saturday
❮ Go Back to Listings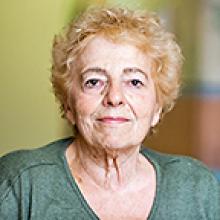 CECILE HULL
Date of Passing: Nov 24, 2022
Send Flowers to the Family
Offer Condolences or Memory
CECILE HULL

Cecile Hull, our mom, Nonna, aunt and friend to many, passed away unexpectedly and peacefully on November 24, 2022 after 82 years of life.
Leaving behind her daughters, Kelly (Lana), Tracy (David); grandchildren, Nicole (Parsa), Michele (Chris), Joe (Megan); great-grandchildren, Parker and Remmi, with a third on the way; her niece Tinda and Carson (Cheryl).
Cecile was a force. As a first generation Canadian with parents that spoke mainly Swiss Italian, she grew up and lived on the corner of University Crescent and Grierson Avenue for almost 75 years. The daughter of a prize winning salad maker and mother of two teenage daughters, Cecile started her career as an office manager at a lawn and garden equipment retailer. One day fate intervened when a friend mentioned a small coffee shop was for sale. The rest as they say is history. In 1983, somehow, this single woman with no experience in business or restaurants convinced a bank to loan her money and a building manager to lease her space. Pastrami and Things was born. Continuing to work full time at Yetmans, Cecile hired a manager to run the deli which started in the hallway at 400 Tache Avenue with only two tables. Space in the building was at a premium and the only way to expand was to buy out another business, which is exactly what she did. The Smoke shop at the front of the building went out of business so Cecile bought their stock and moved the smoke shop to the hallway and the Deli to the front of building. Seating increased to 12! Not too long after, the Jewellery store next door decided to close and Cecile was in there making a deal expanding to seating for 60! The two teenage daughters grew up and they, along with their friends and children, all had stints working at the deli. At 82, Cecile was still working full time making soup and sandwiches for all her favourite customers from St. Boniface Hospital. Cecile was happiest at the deli, making good food and talking to anyone that would listen about how important eating well is.
A Celebration of Life will be arranged at a later date.
The family would like to express their deep appreciation of the Grace Hospital ICU staff for their kindness.
In lieu of flowers, donations can be made to the Winnipeg Human Society or Harvest Manitoba.
As published in Winnipeg Free Press on Nov 26, 2022
Condolences & Memories
(33 entries)
I learned today of the passing of Cecile. I want to offer my sincere condolences to Tracy, Kelly and the family. I worked for Cecile when I was in high school after school and on Saturdays this was one of my first jobs, and I thoroughly enjoyed working at the deli and getting to know Cecile, Tracey, and Kelly. Cecile was a wonderful woman she taught me many things and created a wonderful example of determination and strong work ethic. I can remember going to deliver catering orders and watching her whip up Caesar salad dressing in the back, she made a mean pastrami on rye, I have many fond memories of this time. May she rest in peace. - Posted by: Laura Ruppel (Former employee ) on: Feb 01, 2023

I recently found out of the passing of Cecile. I am sorry for the loss of your mother. I did not know Cecile very much but I knew her parents and their origin. Her father worked for my father Arthur Laurin on our farm in Dufresne, Manitoba. In 1939, at the beginning of World War II, my father built him a house so he could bring his wife and daughter from Switzerland. After their arrival Cecile was born. I am now 96 years old and reminiscing on these wonderful memories. - Posted by: Claire (Laurin) Jeanson (Old family friend) on: Jan 31, 2023

I am so sorry to hear about Cecile, My condolences to you Kelly, Tracey and Joe. Loved the Caesar Sals and chicken fingers. It was a real outing to share lunch and conversation with Cecile. I have Joe's hockey card to cherish. Cecile you will be missed, you left a wonderful story behind, RIP Cheers to a wonderful and kind lady . Donna Read - Posted by: Donna Read (Customer from Mb X-ray for 37 years) on: Jan 19, 2023

Chantal and I just learned of Cecile's passing. Our deepest condolences to you and your family. Cecile was a hard-working and wonderful lady. May she stay close in your hearts. Take care. With warm regards, Debbie and Chantal Lewis. - Posted by: Debbie and Chantal Lewis (frien) on: Jan 18, 2023

Tracy, I just learned today that Cecile passed. I was and am shocked! My deepest, sincerest apologies to you and your sister and both your families. I was across the street today to drop off something upstairs, saw something was going on with the Deli and was then told Cecile had passed. I have many memories of eating there and how I always had amazing care/service and entertaining conversations with you and your Mom. And from the many, many, many times I was with other staff from the hospital when they grabbed their usual coffees at break times. And I would poke my head in to say hi and see how your day was going. And sometimes a quick chat. Along with a bit of kidding from you and your Mom about not seeing my face for awhile and where have I been. Oh and the usual how's work going in my department at the hospital. (Never really having an answer you both weren't all too familiar with.) I'll remember the special Christmas traditions Cecile included me in over the years "in the office". I hope you will have access to my email and phone number that I have provided and will reach out to me in some way when you're feeling up to doing so. I really am so sorry Tracy. - Posted by: Juliette (customer) on: Jan 13, 2023

I have known Cecile and the family for many years. Working at St.Boniface Hospital and 400 Tache building I was the regular at the Deli. Cecile was always friendly and engaging. Couple of my friends also worked at the Deli different times and loved working with her. Tracy and Kelly my deepest condolences for your loss. Your mom sure was larger than life and will be fondly remembered by many including me. Eva Ryan - Posted by: Eva Ryan (Friend ) on: Dec 24, 2022

Dear Tracy and family, So very sorry to learn of your Mom's passing - couldn't believe it, as I was just stopping in for my take out chicken soup and coleslaw a few days earlier- she made the best. Take comfort in knowing your Mother has met the Face of God during this holy time of year. I've said a Mass for her and wanted to drop it by to you today only to realize the deli was understandably closed. Take care. - Posted by: Darlene Hoffman nee: Polanski (Customer) on: Dec 19, 2022

I was saddened to learn of Cecile's passing. I was in to the deli a few weeks back and got to say hello. She was always kind lady and I loved spending time there. May she rest in peace! - Posted by: Lori Santoro (Customer ) on: Dec 12, 2022

Cecile, we will miss seeing you at lunch . The trip to pastrami was not only for the delicious sandwiches, but also to hear something positive and interesting from you. You will be remembered as a very kind and welcoming woman. Our thoughts and prayers are with the family. Chris & Suri - Posted by: Chris & Suri (Customer ) on: Dec 10, 2022

Dr. Elena Kotelevskaya's Dental office sends our condolences to the family. RIP. - Posted by: Gail Ford (Customer) on: Dec 06, 2022

It is with shock and great sadness that I heard of Cecile's passing. Cecile was very welcoming and made everyone at ease. She will be missed and the 400 Taché will never be the same. My condolences to Tracy and the family. - Posted by: Annie Bédard (customer) on: Dec 06, 2022

All the folks in the lab will miss Cecile. She was something special - she knew her local sports teams inside out, was always available for a good comment, and some of the best lunches I've ever had. I have been visiting Cecile for more than 30 years, her passing was a shock. I would concur that she was a force. Rest in Peace, Cecile - you were one of the good ones. - Posted by: Ian Dixon (Customer, friend from St. B hospital) on: Dec 05, 2022

Dear Tracy and Cecile's family, We are very saddened for your loss. Cecile was always very welcoming and caring about all those who path she crossed. She will truly be missed 😢 We keep you in our thoughts and prayers as you grieve her loss and mourn her absence in your lives. may all of the memories that you made and share with her become the treasures of your heart ♥️ - Posted by: Claudette Moquin & Harm Bouwman (restaurant patrons) on: Dec 04, 2022

Kelly we were so very sorry to hear of the passing of your mother. Our sincere condolences to you, Lana and your family. - Posted by: Peggy & Neil Ash (Friend) on: Dec 03, 2022

Tracy and Family, So sorry to hear about the recent loss of your mother, grandmother, Cecile was capable of making some of the best soups especially her chicken noodle and her borscht. Delicious. I enjoyed going over to P&T from St. Boniface and having a good bowl of soap and / or sandwich. She will be missed by many. I remember the delicious sandwiches that both of you made for Rounds. - Posted by: Donna Ansell (Friend and customer of P&T) on: Dec 03, 2022

I have been at St. Boniface Hospital twenty years now and can't remember a time I didn't see Cecile at Pastrami & Things. One of our favourite things to do was to call in our lunch order and go across for delicious soups and sandwiches. I will miss Cecile teasing me about cooked salmon because she knew I don't like it. My deepest condolences to Tracy and her family. My thoughts and wishes are with you during this time of grief. - Posted by: Judi McFarland (Friend) on: Nov 29, 2022

I am so sorry to hear about the sudden passing of your mom Cecile. My coworker and I would pop by for lunches whenever we needed something better than what we may had packed for lunch! Amazing food always and what a lovely lady.... she will be missed by many from St B! - Posted by: Cheryl (Customer ) on: Nov 29, 2022

Dear Kelly, Tracy and Family We were so shocked and saddened to hear of Cecile's passing. We always looked forward with getting together when we were on Tamworth Bay. Cecile was one of the hardest working, generous happiest persons we knew. We had so much fun together with her and the family so many fond memories. She will be sadly missed she was a great friend. Our sincere condolences. Dave and Fran Brooker and Family - Posted by: Dave and Fran Brooker (Friend and neighbors ) on: Nov 29, 2022

Cecile will be missed by many people. My condolences to the family. Marvin Fetch - Posted by: marvin fetch (customer and friend) on: Nov 29, 2022

So sorry to hear the passing of Nonna. I always enjoyed doing Nonna's hair every four weeks and get to hear how excited she was when the Winnipeg Blue Bombers would win. Last time I talked to her she was so excited about an article that was getting printed about the deli. Nonna will be very missed. - Posted by: Tara Gouzecky (Hairstyles ) on: Nov 28, 2022

Cecile was always a pleasure to work with. I have only known her a few years, but was always kind and considerate. She will certainly be missed at 400 Tache by all the staff that knew from Towers Realty Group. - Posted by: Linda Muron (Business) on: Nov 28, 2022

For 10 years I met my work friends at P&T every Thursday for lunch. Always welcomed with a smile and a funny story or witty comment. The food was amazing, especially her soups. If Cecile knew it was your birthday she would be sure to spoil you with something sweet. I always felt like I was eating lunch in my families kitchen. I will treasure those memories always. My deepest condolences to Cecile's family and friends. - Posted by: Tracy (Customer ) on: Nov 28, 2022

What a shock to hear the news of Cecile's passing. She was an amazing lady who always had great stories to tell me when I came in from a tough day in ER … she made my day with her smile and jokes. I am so sorry for your loss Tracy / Kelly, she will be greatly missed by many. May all the memories you have of mom remain in your hearts forever. Take care - Posted by: Lydia Harris (Friend and customer ) on: Nov 28, 2022

Dear Kelly, Tracy and families, We were saddened to hear of Cecile's passing. She was a good neighbour to us for almost 25 years and always looked out for us, including our pets. We thought of her as part of our family as we shared many meals, birthday celebrations and conversations together and is a big part of our family history on University Crescent. We will miss her and wish you all strength as you cope with her sudden loss. Margaret, Matthew and Kiran - Posted by: Margaret Gowdar (Former neighbour ) on: Nov 27, 2022

Cecile was our next door neighbour on University Crescent for nearly my entire life. We are all so sorry to hear of her passing. I have fond memories of her taking me, my sister, and her grandson Joe out for ice cream. My condolences to her family. - Posted by: Matthew Gowdar (Neighbour ) on: Nov 27, 2022

Kelly Tracy and families Pat and I are both shocked and saddened to hear of your mom's passing. I personally have known Cecile for many years having gone to school with her at St. Avila. We are so very thankful that we had a good visit with her this last May. Also you too Tracy although you were holding down the fort while your mom visited. Take care Don & Pat Allbright - Posted by: Don Allbright (Friend) on: Nov 26, 2022

I have so many great memories of P&T Thursday lunches. Cecile made the best soups!!! She treated you like family. Always there to offer a witty comment and make you laugh! She will be truly missed! My deepest condolences to the family!!! - Posted by: Chelsea (Patrion) on: Nov 26, 2022

Wow! Tracy I am lost for words. Condolence to you and the family. Me and Diane will miss her deeply. She was the highlight of my hour lunch time. Always a delight! Ceclie you will be greatly missed forever. Thank you! ❤️ - Posted by: Jooy Aniel (Customer) on: Nov 26, 2022

Dear Tracy and family I'm so sorry for your loss. An exceptional lady. RIP. Marilyn Brooks - Posted by: Marilyn Brooks (Friend) on: Nov 26, 2022

Tracy, Kelly and families So sorry to hear of your Mom's passing. Although I have not been in the deli for a while it was THE BEST in Winnipeg. She was a wonderful lady and will be sooo missed by many. Rest well Cecile. Diane Sul - Posted by: Diane Sul (Customer) on: Nov 26, 2022

Kelly and Tracy and family, I feel so sadden by your mom's passing. She was a one of a kind great lady and love her family more then life it self. I know she will be greatly missed by all that knew her. - Posted by: Margaret Morton (friend) on: Nov 26, 2022

Cec made and delivered a wonderful container of chicken soup for my husband Wilkie in St Boniface hospital recovering from cancer . We shared lovely meals at her home on Grierson. A thoughtful caring talented lady . Rest well my friend. Carole Collins - Posted by: Carole Collins (Friend ) on: Nov 26, 2022

Cecile was one Very Special Lady. After Apts and Procedures at St B or 400 Tache over the years, Pastrami and Things was alway my "treat" and go to place afterwards. I knew i would leave been fulfilled and energized by not only by the delicious food I'd had but by the visit, conversation, always helpful advice and knowledge Cecile would share with me. She always made time to ask how I was doing and truly cared about her patrons. If you were really lucky, she would sit and have a coffee and quick bite to eat with you between helping Tracy serve the next rush of customers. She was always excited and willing to have you sample a new soup she'd made or new salad she'd created! I will miss her dearly, but know that one day I will share her delicious food and heartfelt conversation once again. Rest In Peace Cecile. I will miss you dearly. Marne M. (Friend Forever!) - Posted by: Marne Murray (Friend) on: Nov 26, 2022
Email Alerts
Sign up for free email alerts of new obituaries for specific people, towns & more.
❮ Go Back to Listings