Search:

Winnipeg Free Press Passages
All Titles
Notices are posted by 10 am Monday through Saturday
❮ Go Back to Listings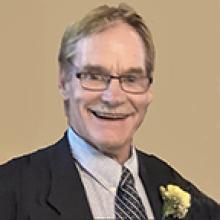 RODNEY SCOTT LINDQUIST (ROD)
Born: May 20, 1948
Date of Passing: Nov 27, 2022
Send Flowers to the Family
Offer Condolences or Memory

RODNEY SCOTT LINDQUIST
May 20, 1948 - November 27, 2022

It is with heavy hearts that we announce the sudden passing of our beloved husband, father and "papa", Rod Lindquist, at the age of 74.
He is survived by his wife of 51 years, Ruth; his daughters, Riley and Raechelle; and his two sons-in-law, Marc and Duane that were like sons to him; as well as three grandchildren, India, Olivia and Gus; brother Randy (Marilyn); sisters, Vicki (Terry), Susan (Vic) and Marlene; sister-in-law Margie (Gary); many nieces, nephews, great-nieces and nephews and a wide group of loving, caring friends.
Rod was born in Winnipeg on May 20, 1948 along with his twin brother Randy to Gertie and Vic Lindquist.
In the early days Rod and his brother would spend their days attending Windsor School and evenings were spent at the outdoor rink or in the neighbourhood. Many strong friendships were formed, some still very strong to this day.
Rod had many wonderful memories of family road trips, that were also shared with his aunt Marge and her two children, Kathy and Bill. Whether they were going to visit family in Kenora or in the US, they all had a good time. This is where Rod built his strong connection to family that he carried forward once him and Ruth started their own family.
For high school he attended Glenlawn Collegiate. While hockey and golf were Rod's true passions, he also played many other sports, including track and field. It is here that Rod met the love of his life, Ruth. The two locked eyes across the track and it was history after that.
Following high school, Rod went onto the University of Manitoba. He was a recipient of the Molson Hockey scholarship for academics and athletics. He played hockey with the Bisons from 1966 to 1971, where he was the Captain for the 1969 to 1971 seasons, and the Team MVP from 1968 to 1971. In 1971 he was named University of Manitoba Athlete of the Year and was inducted into the University of Manitoba Bison Hall of Fame in 1994. From 1971 to 1974 Rod made many great memories playing for the St. Boniface Mohawks Senior Hockey Team. This team was inducted into the Manitoba Hockey Hall of Fame in 2019. Rod was truly honoured and was very happy to catch up with his teammates at the ceremony, almost 50 years after they played together.
In addition to hockey, Rod was an avid golfer. He shared many memories of golfing with his dad and Randy while growing up. He loved to be on the course, both for the love of golf and love of the people he golfed with. He had an uncanny ability to remember every hole that he played and would gladly fill you in on the hole if you would let him.
After graduating from University Rod began working at St. John's Ravenscourt School where he spent 38 years teaching and coaching hockey. Rod had many fond memories from SJR, from people that he took under his wing when he first started, to colleagues, school staff, parents and of course students. Upon retirement in 2009, Rod was awarded the SJR Board of Governor's Outstanding Service Award.
After retirement Rod spent his time travelling with Ruth, golfing with his brother Randy and many friends, visiting his grandchildren in Calgary and spending time at the cottage. All of this in between substitute teaching at SJR and mentoring students at University of Winnipeg.
Rod was an amazing husband to Ruth, they loved spending time together skiing, hiking, walking, biking and travelling. He was also an incredible father to his girls, so loving and supportive of everything they did and they are thankful for the many lessons he taught them. "Papa" was such an important person in his grandchildren's lives. Even though they didn't live in the same city, they were quick to call or facetime to tell him about something that happened at school or in one of their sports. When he had the opportunity to be with them in person, he was quick to play with them whether it be a game of chess or catch in the backyard. He loved when they came to the cottage and he had the opportunity to spend time with them there.
Rod had a large circle of friends, some going back as far as 65+ years. He valued all his friendships and sincerely enjoyed spending time with friends, whether it was on the golf course, around a dinner table - giving one of his famous toasts or just spending time together, this brought so much joy to him.
Rod's favourite place to be was the cottage that he and Ruth built at Lake of the Woods. Rod wasn't one to sit down, which really came in handy at the cottage, he was always dreaming up new plans and building new things. When he wasn't building, he could be found canoeing, kayaking, wind surfing, swimming, planting flowers or hanging out on the dock.
Dad lit up every room he entered. He was quick with a joke and it didn't take him long to have the people around him laughing. He was a kind and caring man, always there to help a friend or person in need. He was always interested in the people he was speaking with and found a way to relate to everyone. He was a dedicated teacher and a devoted coach.
A Celebration of Life for this great man will be held Sunday, December 11, 2022 at 1:00 p.m. at St. John's Ravenscourt School, 400 South Dr., Winnipeg, MB.
In lieu of flowers, donations in Rod's memory may be made to St. John's Ravenscourt to support student co-curricular activities c/o St. John's Ravenscourt School, 400 South Dr., Winnipeg, MB R3T 3K5, 204-477-2497 or online at http://www.sjr.mb.ca/ Alternatively, please feel free to donate to another charity that you feel will honour Rod's memory.

Condolences may be left on his tribute wall at www.gilbartfuneralhome.com

Gilbart Funeral Home, Selkirk in care of arrangements.
As published in Winnipeg Free Press on Dec 03, 2022
Condolences & Memories
(32 entries)
My truly heartfelt condolences to Ruth and their entire family. I will miss seeing Rod around the condo, always smiling and so friendly, cross country skiing around the property, and making the annual holiday parties(along with Ruth) so special. Rod always decorated the trees in the back of the property at Christmas time and made a point to putting the lights up on the trees close to my balcony, that meant so much to me, it was such a comfort to me. I will always treasure that memory, rest in peace Rod. Shannon Gillespie. - Posted by: Shannon Gillespie (Neighbor ) on: Dec 27, 2022

I have many fond memories of being a student of Mr. Lindquist's at SJR. His kind and encouraging personality always facilitated a very positive learning environment. He simply lit up the room. May his memory be a blessing. - Posted by: Ethan Morantz ((SJR Alum '07)) on: Dec 12, 2022

My sincere condolences. I well remember Rod's thoughtful and insightful contributions to our work at SJR. WAYNE BEMBRIDGE - Posted by: Wayne Bembridge (Former colleague ) on: Dec 11, 2022

After the initial shock of this such sad news, I came to realize that all of us who knew Roddy must count ourselves as being most lucky for the honour and pleasure to have been any part of his life's journey. Starting with hockey games during university, where his smile was on full display as he deeked this defenceman for another easy goal, he was a friend who will be greatly missed. To Ruth, Randy and family, I hope the outpouring of tributes brings you some solace during this difficult time. Rod just made things better. Rest in peace my friend. - Posted by: Garry Boltoin (Longtime friend) on: Dec 11, 2022

I only met Rod a few times, but knew of him from common friends and from my younger days aing hockey out of Windsor Park. My only personal memory of him was when in Palm Springs I had the pleasure of playing golf & sharing a cart with him. In the fours hours or so we shared stories, had a few cocktails, laughed a lot, oh and golfed. I am by know means a great golfer and Rod was so patient with me , offering support and subtle advice. His kindness won me over and though I haven't seen him since , I believe I made a new friend that day. Thank you Rod! Our condolences go out to Ruth and all the family. Take care Raymond & Alice Rajotte - Posted by: Ray Rajotte (New Friend) on: Dec 11, 2022

I am so very sorry to hear of Rod's passing…my condolences to you Ruth and all your family. May your memories help you deal with your loss. Rest In Peace Rod. - Posted by: Heather Rogers (Longtime friend) on: Dec 10, 2022

Rod was a great teacher, mentor, colleague, and above all a true friend. His impact on my life was monumental to me, and in return on my family. He loved his family and friends deeply and was always happy to listen and share experiences with everyone. His joy and humour were infectious, and has touched all who knew him. He will be greatly missed. So long my friend, until we meet again. - Posted by: Dan And Leslie Sanier (Friends ) on: Dec 10, 2022

We were saddened and shocked to hear of Rod's passing. We enjoyed our association with Rod over our many years at SJR and just a few weeks ago at the homecoming breakfast, we sat with Rod. He was his usual happy and positive self and we had a lovely visit. Our sincere condolences to Ruth and family. - Posted by: Murray and Patricia Colp (Friends and Colleagues) on: Dec 10, 2022

Rod's energy and commitment to SJR had no bounds - I bumped into him at the coffee pot within recent months, when he was helping out as a sub. He always asked fondly after my boys, who were fortunate enough to experience his enthusiasm in the classroom "back in the day". I suspect he displayed this same warmth for every student he encountered. He will be greatly missed. - Posted by: Jillian Lamothe (Colleague) on: Dec 09, 2022

Rod and I started at SJR in the same year.......I have many memories of him! Not the least being when he lobbed a ball across the staffroom and it hit me! He was so apologetic and I laughed and laughed. He was such a good natured and kind teacher and colleague. I was supposed to catch that ball, and I didn't deliberately! What fun it was to have him around. I feel for Ruth and the girls.....very tough for all of you! He was such a decent person and I will always remember him with fondness! - Posted by: Mary Morican (colleague) on: Dec 09, 2022

As I read his tributes, there are so many people who remember Mr. Lindquist for his light-up-the-room smile, and that's the first thing that comes to mind for me as well. I don't recall a day where it wasn't present whenever I saw him in my 6 years at SJR. He wasn't a teacher I had a lot of interaction or time with through my years at the school, but he always knew my name and made sure to say hello when he saw me in the halls. My mom, and I for several summers, worked at a golf course he and his brother frequented. For years after I'd graduated, whenever he'd see my mom he would say hello and ask to pass on a greeting to me as well. Those small gestures of kindness and acknowledgment made an impact on me as a shy, awkward teenager and are remembered all these years later. My sincere condolences to his family. - Posted by: Kacie Drewry (Former student - class of '06) on: Dec 06, 2022

I knew Rod through mutual friends and shared a few rounds of golf and some ice time with him in the 90's. He was very accomplished at both but it was his character that stood out. After moving back to Winnipeg from Toronto my son Spencer started school at SJR. In the fall I received a call from Rod asking if I would help coach. Frankly, it was a great experience for me and the team. Regardless of skill level Rod made sure that EACH of these young players got to enjoy the game. I admired him and held him in high regard. A true gentleman in every sense of the word. - Posted by: Grant Arbuckle (Friend and Assistant Coach) on: Dec 06, 2022

Roddy, thanks for the countless laughs and fond memories in the Phys Ed office, on the golf course, at staff parties, around the fire pit and at Thursday Night Hockey. You were one of the most kind and genuine people I've ever met, and a mentor to me both in my early days at SJR and well-after you retired. I will treasure our many conversations about our families and the many stories you shared about your life and career. My condolences to Ruth and your family. - Posted by: Andrew Robertson (Colleague) on: Dec 05, 2022

Ruth and family, I pray that the love Rod gave and received from you his family and his many friends will carry you through this time of loss. Please count me among the friends whose thoughts and prayers are with you. Love never ends. - Posted by: Mary Hawn (Friend) on: Dec 05, 2022

I too have fond memories of Rod and Randy, playing sponge hockey at Windsor, Sometimes until the club shut the lights off. I hadn't seen him for along time. But ran into him at Windsor 100. We talked at length, he told me a story about my dad. I feel so lucky to have connected with him. Condolences to his family, and extended family. - Posted by: Arny Lovatt (Friend) on: Dec 05, 2022

Ruth, David and I were saddened to hear of Rod's passing. Rod was a wonderful, supportive coach during Christopher's hockey days at SJR. Truly a mentor to so many. Rod has closed his eyes to our world. We can only imagine the beauty he now sees. - Posted by: Joanne & David Provinciano (Friend) on: Dec 05, 2022

Rod Lindquist. One of my heroes. Windsor area kid's lives revolved totally around sports in our era. And he was usually the best. I was so fortunate to play right wing beside Roddy on a Windsor Bantam team with Lanny Mann on left wing. His unselfish play-making made us both look good, time and again. After moving to B.C. I got to see Roddy play for the Bisons against U.B.C. a couple of times and I was always so proud. R.I.P. Champ. - Posted by: Chris Dadson (Friend) on: Dec 05, 2022

Sorry to hear of your dear Father and Husband's passing. What a fantastic life he led. Rod was our teams referee at late night ladies Ringette and I could tell from the first time I met him that he was at home on the ice. Such a gentleman and beautiful human. Our team appreciated him and he will be remembered. - Posted by: Sharon Evans (Ladies Ringette League that Rod refereed) on: Dec 05, 2022

Our sincere condolences go out to you Ruth, Riley, Raechelle, Randy, Dwayne and the entire extended Lindquist family. First, all is forgiven Rod (and Randy), for the drubbings you handed us in our old community club minor hockey days. Our friendship grew over the years including: chasing you around rinks; you and Jane in Phys Ed & working together at SJR; you and I working together as U of M students at Molsons Brewery; our families growing up together in St.Vital and a wonderful friendship forming between Amy & Raechelle; Janice & I renting a cottage around the corner from you & Ruth at the lake for 7 years (p.s. did we ever return the run about 10 horse?)..... so many wonderful memories. Your family can be very proud, you set a great example and were loved by all. I can't recall ever seeing you without a smile on your face. You will be sincerely missed Rod. Brian Baizley & Janice Day - Posted by: Brian Baizley (Friends) on: Dec 04, 2022

Rod & Randy were friends of my late bother (Frank Cruse) They were always skating at the outdoor rink at Windsor. I know they had great times being together. My condolences to the whole Lindquist family. - Posted by: Dell Braun(Cruse) (Friend) on: Dec 03, 2022

It's near impossible to find the words to capture my memories of "Howie" (his Bison hockey name). First got to know him and Randy "Rums" (his hockey nick name.) Both excellent hockey players in their own right. Howie and I became teammates with the Bisons. His job was to score. My job was to keep them out. I can't even attempt to say who did their job better. His best fan was Ruth. The two of them were always smiling. Their long beautiful life together is proof of that. Ruth was and always will be his BEST teammate. I'm sorry to ramble. Howie, thanks for letting me call you friend. I will never forget you. - Posted by: Larry Hollton (Friend) on: Dec 03, 2022

We were deeply saddened to learn of Rod's passing. He was an icon at SJR. Always good-natured and caring, Roddy made everyone feel better whenever he entered a room. We have fond memories of Rod on our school ski trips to Giant's Ridge. He was so caring and motivational to the students. He wanted to make sure that everyone had a good time. There was never a dull moment when Rod was around. Staff parties were much more fun when Rod and Ruth attended. We will miss him. Ruth, Riley, Raechelle, and your families, you are in our thoughts and prayers. - Posted by: Ray and Michelle Grynol (friends and former colleagues) on: Dec 03, 2022

I don't think I ever saw Rod Lindquist, that he didn't have that broad, friendly welcoming smile under his ever present moustache, in the 16 years that my four sons attended SJR. When I picture him in my mind, it is always scooting around on the ice at Dutton, with a hockey stick in his hands and about twenty young gaffers on blades all around him. My boys: Greg, D'Arcy, David and Matthew benefited from his teaching & coaching at school, and also from many hockey schools in off-seasons. Rod was an all-around lovely man and the world is a sadder and less complete place without him. My family and I wish to send our love and sincere condolences to Ruth, Riley and Raechelle. Please know that Rod was help in high esteem by those who knew him. Catherine Lee - Posted by: Catherine Lee (Friend) on: Dec 03, 2022

So sorry to hear of Rod's passing. Condolences to Ruth and the extended family. - Posted by: Cyrena Anderson (Cousin) on: Dec 03, 2022

What a sad shock to hear of Rod's untimely death. My deepest condolences to Ruth and family. Rod was the quintessential Energizer Bunny. His speed, agility and imagination on the ice were only exceeded by his quick wit and ubiquitous smile. He will be greatly missed by many, but leaves behind a legacy of influence on multitudes of students, teammates and colleagues. May your many happy memories of Rod's life provide some comfort at this sad time. - Posted by: David Ramsay (friend) on: Dec 03, 2022

Rod was one of my teachers at SJR. He was a wonderful teacher and a man. I was a border at the school for several years and Mr. Lindquist was one of the teachers that brought "home" closer for us out of town residents. I still think of Mr. Lindquist often with nothing but fond memories. Rest in Peace Rod. - Posted by: Jeffrey Gibson (student) on: Dec 03, 2022

Although I didn't fall under Rod's tutelage during my time at SJR (1980-1984) Mr Lindquist taught both my brother Benny ('86) & Jeffrey ('89) how to skate when they entered Lower School at SJR both in grade 4. My brothers had never stepped on the ice let alone knew how to tie up skates! And if you were at young lad stepping into SJR, being comfortable on the ice was absolutely important to fit in with your classmates! Thank you Rod, Mr Lindquist & 'Sir'! - Posted by: Erin Claman (SJR Alum 1984) on: Dec 03, 2022

Rod has been a great friend for more than 60 years. One of my favourite memories of Rod was a 30 km bicycle trip we took together on Lake of the Woods across the bare ice in early April. My heart goes out to Ruth and Rod's family. He will be dearly missed. - Posted by: Dick Carson (Friend) on: Dec 03, 2022

I was one of the lucky ones who has been a friend and followed in his footsteps for 65 years! From the outdoor rinks at Windsor and EPRC to U of M phys Ed to SJR to lake 'neighbors' Roddy has always been the ultimate mentor! We were so fortunate that he had the same relationship with our 3 boys, shaping the into the successful men they have become! One my favourite memories was one cold dark winter night, skiing by Wildwood outdoor rink seeing Rod out there coaching his daughters' ringette after a full day teaching and coaching other people's kids!! He was always able to find joy in life and brought joy to the lives of so many others! That philosophy of life is a legacy for all of us! Keep your stick on the ice Roddy Carpe skiem - Posted by: Ted Bigelow (Friend ) on: Dec 03, 2022

So sorry to read of the passing of Rod. Rod knew my dad ( they played hockey together as kids/teens), I got the opportunity to have Rod as a referee mentor for ringette. Later our paths would cross again when I joined the Rink Ratz Ringette team to learn Rod was the teams home referee! Rod was always friendly and had a smile on his face! Tara Kavanagh-Gilkes - Posted by: Tara Gilkes (Ringette colleague ) on: Dec 03, 2022

So incredibly sorry to hear this news… still in shock and disbelief… Rod was a true friend, great teammate, and superb golf partner… Rod was one of a kind… sending tons of love and support to Ruth and the entire Lindquist family ❤️❤️❤️❤️ - Posted by: George Watson (Long time friend) on: Dec 03, 2022

I am greatly saddened to hear of Rod's passing and extend my sincere condolences to Ruth and the rest of the Lindquist clan. Rod was a legend at SJR and for many good reasons. He gave everything he had in serving students and colleagues alike, and his smile and laugh lit up every room he entered. He had the heart of a lion. Farewell, my friend. You were a model for us all. - Posted by: Mark Duncan (Friend and colleague ) on: Dec 03, 2022
Email Alerts
Sign up for free email alerts of new obituaries for specific people, towns & more.
❮ Go Back to Listings