Search:

Winnipeg Free Press Passages
All Titles
Notices are posted by 10 am Monday through Saturday
❮ Go Back to Listings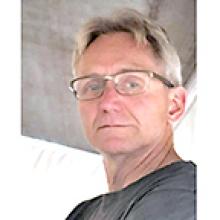 BRUCE EDWARD GELHORN
Date of Passing: Jan 09, 2023
Send Flowers to the Family
Offer Condolences or Memory

BRUCE EDWARD GELHORN

Surrounded by family and close friends, our beloved husband, father, grandfather, son, brother and Pastor, Bruce, died on January 9, 2023, at the age of 67.
He is survived by his wife of 44 years, Elaine; children, Jamie Morrison (Daniel), Sarah Osswald (Matthew), Heidi, and Leif (Diana); mother Phyllis Gelhorn; father-in-law Harold Granke; brother Lloyd, sister Heather Sellings, niece Laurie (Fred, Juliette, Oliver); in-laws, Bob and Lynn Granke, Gary and Naomi Granke. Bruce leaves behind his beloved grandchildren who were his pride and joy: Noah, Grady, Marley, Mason, Becket, Lenni and Kinley. He is survived by many nieces, nephews, cousins and loved ones. Bruce was predeceased by his father Edward, and mother-in-law Patricia Granke.
Bruce received his Master of Divinity in 1981 at the Lutheran Theological Seminary in Saskatoon, Saskatchewan. He began his ministry in Yellow Grass / Lang, SK. Bruce loved being in a farming community as he had great memories going to his maternal grandparents' farm in Dencross, MB. During his time in Saskatchewan his three daughters were born. Elaine and Bruce moved to Winnipeg with their family in November of 1987 where Bruce began serving Grace Lutheran Church. In January of 1991, Elaine and Bruce welcomed their first-born son. Bruce was set to retire on November 20, 2022. However, this played out differently than expected as Bruce was already in the hospital. So instead, he and Elaine cuddled in a hospital bed and watched his final service online. God had other plans for our dad.
Bruce lived a very healthy and active lifestyle. He ran numerous full and half marathons. He would often push his grandchildren in the jogger while his children struggled to keep up to his pace during his "short runs." He participated in many long-distance biking adventures including "The Ragbrai" across Iowa with his cherished friends. Bruce taught cycling classes at the YM-YWCA on Kimberly. You could often find Elaine and Bruce riding their tandem bicycle around Birds Hill Park or down River Road or Henderson Highway to Lockport for supper at the Half Moon.
Bruce cherished his marriage with the love of his life, Elaine. Bruce and Elaine had a love like no other. This was evident throughout their entire relationship, including in the final days where Bruce referred to Elaine as his angel. He was so appreciative of all she did for him. They enjoyed their trips to Europe, Mexico and of course their favourite place Luther Village. This is where their relationship started. The family will continue to honour Bruce's memory at their special place, Luther Village.
He was the greatest father his children could ever have asked for. His children knew that they could always go to Bruce with any problem. They would always be met with his unique compassion and care. Bruce would often say, "Be good, and if you can't be good, have fun!" Bruce led by example. He always had room in his heart for those in need or facing injustice, a value that his family embraces and lives out in many ways. Bruce excelled at connecting with others in a variety of relationships. He genuinely cared about people. He had a way of making everyone feel like they were the most important person in the world. Yet, we all know the status of most important person belonged to Elaine.
Near the end of his earthly life, Bruce still made sure everyone was taken care of. He made sure to check in on the well-being of the caregivers at the hospital. He made sure to leave each of his family members a special personalized statement. His family will forever cherish Bruce's final thoughts and sentiments he was able to share with each of them.
The family would like to extend their gratitude to Dr. Christiansen and Dr. Mendelson, as well as to the many nurses and staff at Health Sciences Centre who were so incredibly kind to our father, for their care and compassion during his final weeks.

"How lucky are we to have something that makes saying goodbye so hard."
- Winnie the Pooh
So, we won't say "goodbye". Instead, we will say, "Until we meet again Dad."
A memorial service of Farewell will be held at Grace Lutheran Church, 211 Kimberly Ave. on Monday, January 16 at 7:00 p.m. In light of the situation, masks will be mandatory. The service will be live-streamed and can be viewed from the Grace Lutheran webpage: http://gracelutheran.ca/videos/
In lieu of flowers, donations may be made to Grace Lutheran Church, Mortgage Elimination Fund or to Luther Village Camp, 211 Kimberly Ave., Winnipeg, MB R2K 0X3.

Expressions of condolence can be sent to richardrosin.ca

Richard Rosin
Funeral Director Ltd.
204-219-1126
richardrosin.ca
As published in Winnipeg Free Press on Jan 14, 2023
Condolences & Memories
(22 entries)
We met once at my Father-in-law's funeral service. Pastor Bruce spoke. I will always remember him. A Decent God sent Soul. Rest In Peace, with the Lord 🙏✝️ - Posted by: Boagh Singh (Friend ) on: Feb 06, 2023

I have so many great memories hanging out with Heidi and the family at Victoria Beach in the summers as a kid. Always thought that Bruce was the nicest dad in the world. His loving and patient nature still stands out to me. How he held that through our rambunctious shenanigans, I'll never know. Hugs to all the Gelhorns! - Posted by: Karen De Blonde (Friend ) on: Jan 18, 2023

My heart goes out to you all for the loss of your dear Bruce. I cannot imagine the pain and heartache you're feeling. Bruce and I spent a lot of time together growing up and had numerous friends. We all had so much fun and always enjoyed being together. Bruce introduced me to the Lutheran faith and I will always be grateful that he did. I will cherish these special memories forever. Bruce's amazing personality and grace lives on through you. My heartfelt sympathy to you and yours at this very sad time. My deepest condolences and prayers. Bruce Ferens - Posted by: Bruce Ferens (childhood friend ) on: Jan 17, 2023

Pastor Bruce baptized me and my family. He welcomed us into his lives and his church. I grew up going to Grace Lutheran. I remember how kind Bruce was and always smiling doing what he loves. His sermons were amazing to listen to. He became really good friends with my parents and I will forever be grateful for that. He is a beautiful person that will be missed. Condolences to the family in these hard times. - Posted by: Kira Bodnarchuk (Kovac) (Family Friend) on: Jan 17, 2023

I am so very sorry. Father Bruce was a very special person and a great friend. Father taught me cycling at the YMCA his classes were always the best . He helped me so very much during a very confusing time in my life and I will never forget his wisdom and friendship. Father Bruce I will miss you, thank you for being in my life father you are now with your father in heaven and I can't wait till we meet again. - Posted by: John Minski (Friend ) on: Jan 16, 2023

He welcomed us into their community when we moved into our home on Kimberley. Although we only lived there 15 months before moving to Gillam, he baptized both our children into the Lutheran faith. Even though we no longer resided in his parish. A very understanding, and accepting man whom my wife and I really felt blessed to have known. He will be missed. - Posted by: Treffle Aussant (Parishioner of the past) on: Jan 16, 2023

Sending my condolences on the loss of your beloved husband and Father. He was an exceptional person and you are a beautiful family. I have memories of your family while I taught at Prince Edward. May his memory be a blessing and know that I am offering prayers to you all for comfort. - Posted by: Celeste Krochak (Teacher ) on: Jan 15, 2023

Sincere condolences to you, Elaine, and family! My heart breaks for you at your great loss! May your many friends and close family help to sustain you during this difficult time! Our years of working together (Elaine & Jamie) hold many great memories! I remember Bruce as a wonderful, kind, caring man! He will be missed by so many! Linda Nedecky - Posted by: Linda Nedecky (Friend) on: Jan 15, 2023

My memory of Bruce and the Gelhorn family goes back to when we lived at 667 Machray. Bruce lived lived at 713 Machray. Bruce and I played together through the innocent period in our lives. At the Gelhorn residence, Bruce and I would have empty soup cans with string attached pretending that we could talk to each other. Oh what a wonderful life we had! Had many blessed memories with Bruce, remembering Heather & Lloyd as well as Mr. & Mrs. Gelhorn. Unfortunately time has a way of fading some memories; that's just the way it goes. Was fortunate to reunite with Bruce and some of our childhood friends back in 2018; Emil S., Wayne V. John C. Billy W. Terry W. Gregg D. We all have fond memories of Bruce. My condolences to the family. God Bless. - Posted by: Gregg Dershko (Childhood friend and neighbor) on: Jan 15, 2023

My deepest condolences to Elaine & family. I met Bruce and Elaine at Luther Village many moons ago during my teens. Their love for each other was precious, beautiful and rare. Such a kind warm soul Bruce was… his smile lit up a room. Sending love and strength ❤️ Ingrid ( Sarbacher ) Scham - Posted by: Ingrid Scham ( Sarbacher) (Friend ) on: Jan 15, 2023

Elaine and family-Our sincere condolences on the loss of Bruce. Bob and Lillian Ralke - Posted by: Robert (Bob) Ralke (Cousin of Harold Granke) on: Jan 15, 2023

Having know Bruce since U of M days as well as Elaine it came as shock to hear of his death. As I think back to our days in the Chaplains office, meals, partying and his cheesy mustache and his deep love for Elaine. Until we meet again my friend. God bless you. - Posted by: Allan Stamler (Friend) on: Jan 15, 2023

Love and sympathy to Elaine and family. May God be with you at this difficult time. - Posted by: Janet Tomczak (Friend ) on: Jan 15, 2023

I wish to send my condolences on the passing of Pastor Bruce. Sending prayers to Mrs. G. Elaine, Lloyd, Heather and rest of the family. I got to know Pastor Bruce through my working for his dad, Mr. G. At Luther Home. He always stop and talk to us when he came into the home. He was indeed a real cool Pastor and he will be missed by many. - Posted by: Lorene. Coleshill (Friend through Luther Home) on: Jan 15, 2023

I took a 22 km hike today in honour of Pastor Bruce. It was the perfect day for a hike and when I looked up to the sky, I could feel his presence. We had a good talk. Elaine, I envy you and he love you and Bruce shared. My heart aches for you. There are no words. But know you are constantly in my head and heart. Jamie, Sarah, Heidi and Leif; it's beyond unfair what has happened but how great it is to have been given the gift of a Dad like yours. Carry on and make him proud, like I know you will. He is surely smiling over you all the days of your lives. I feel SO blessed to have known your husband and father and I am eternally grateful for the role he played in the lives of myself, my parents, siblings and children. How lucky we are, to have had something SO great, that makes saying goodbye SO hard. Sending ALL my love. Kristyne Brandt - Posted by: Kristyne Brandt (Friend) on: Jan 15, 2023

We joined Grace after our son was born in 1991. Bruce was such an amazing pastor. Loved his semons. He was there and counselled me through some very hard times. I also got to know him as a pastor at Kildonan House where both of my parents attended his services My dad especially loved the services and played his guitar for the hymns. Bruce joined us ( dad and mom then just dad and I ) for coffee after the service and enjoyed talks about our families with children of similar ages. We shared a lot of family stories. Raymond got to know him with their love of cycling. Raymond considered him a friend. They joked about Raymond's outfits. And I think Bruce might have even given him the aka the machine. Their love of cycling and cars was always reason for conversation. Elaine Raymond and I also washed cars on our dates. In his last days Bruce also counselled Raymond. It meant so much to us. Can't believe he is gone but believe he is in a wonderful place having coffee with old friends and riding his bike in the clouds. We love and miss him. Sending love and prayers to Elaine and family. - Posted by: Lori Czayka (Parishioner ) on: Jan 14, 2023

He was a wonderful compassionate man. Our condolences to the family. The Veren's ( Donna, Bob, Jorey and Jalissa) - Posted by: Donna Veren (Friend) on: Jan 14, 2023

Our deepest condolences on the loss of Bruce! Not enough kind words or thoughts can be said about our Pastor,Friend ,Boss or the big blond smile I knew when he was 6 years old? Bruce will be in your hearts and have a special place in many of ours each day . Peace be with the whole family especially you Elaine! - Posted by: Joanne&Bruce Hallmuth (Friend ) on: Jan 14, 2023

We send our love to Elaine and the entire Gelhorn clan. Our friendship goes back to the early days of Luther Village. Great memories and visits come to mind.- including LV Bike-a-thons and our connection with tandem bikes. Neil and Val Sander - Posted by: Neil and Val Sander (Friend) on: Jan 14, 2023

Dear Elaine, family and friends I am so sorry to hear of your great loss. I worked at Grace Lutheran Church for a few years and I am very grateful to have been able to work with such a very kind and wonderful Pastor. Pastor Bruce always showed compassion and kindness towards others and he will be surely missed. Take care Elaine you are in my heart and prayers at this difficult time. - Posted by: Alexandra Solomon (Friend) on: Jan 14, 2023

Dear Elaine and family, we were profoundly saddened to hear of the loss of your dear Bruce. He married our children and baptized our grandchildren. My children and families always said that he was the "coolest" pastor. May he Rest In Peace. Take care of yourselves and God bless you. Sincerely, Ray and Jean Faryna - Posted by: Ray and jean Faryna (Grace parishioners ) on: Jan 14, 2023

I was lucky enough to get to know Bruce in spin class, your classes were so much fun and brought out the best of everyone there. Your choice of music surprised me, when " Thunderstruck " by AC/DC came on and you cranked it up, your energy was off the charts. I remember you telling me that the Y made a comment on just how loud it was. You encouraged me to always do my best and pushed me in doing things I didn't think I could do. I will never be able to hear that song again and not immediately think of you. Thank you for the memories that I will hold close to my heart. Tight hugs to the whole family during these difficult days ahead. - Posted by: Beverly Sutherland (Friend) on: Jan 14, 2023
Email Alerts
Sign up for free email alerts of new obituaries for specific people, towns & more.
❮ Go Back to Listings