Search:

Winnipeg Free Press Passages
All Titles
Notices are posted by 10 am Monday through Saturday

❮ Go Back to Listings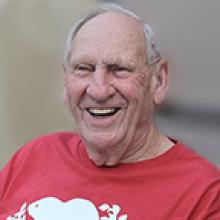 JOHN (JACK) CARNEGIE
Date of Passing: Jan 22, 2023
Send Flowers to the Family
Offer Condolences or Memory
JOHN (JACK) CARNEGIE

It is with deep sorrow that we announce the passing of Jack Carnegie on Sunday, January 22, 2023 at the age of 87.
He will be lovingly remembered and sadly missed by his sister Patti; son Rob; daughter Karen; daughter-in-law Robin; son-in-law Barry and his four wonderful grandchildren, Sydney (Colin), Courtney (Brian), Danielle and Craig (Kasha). Jack was predeceased by his parents and his wife Marlene.
Jack was born in Winnipeg, growing up and residing in St. James. During his youth he was an athlete and loved playing hockey and lacrosse. In 2012, Jack was recognized in the University of Manitoba's Bison Walkway of Honour for his achievements as a member of Men's Hockey team during his university years. He was especially proud to also be inducted into the Manitoba Sports Hall of Fame in 2017 as a member of the 1954 - 1955 Manitoba Junior Lacrosse All Star Team.
Jack worked in the St. James-Assiniboia School Division for over 30 years as a teacher, vice principal and principal. He was well respected in the division and was always a true advocate for his teachers and his schools. One of his proudest achievements was to establish the Teen Leisure Club at Brooklands School - an evening program for students to participate in numerous activities. Aside from working to keep the kids off the street, Jack watched out for the kids and loved seeing the students gain a real interest in school. Jack created many lasting friendships with many people in the school division and loved catching up with fellow retirees for coffee and dinners at the Silver Heights Restaurant after he retired. Jack retired early and enjoyed many years travelling with Marlene. They loved their time in Palm Springs every winter. After Marlene's passing, he continued to travel with his many wonderful friends.
He loved his summers at Clear Lake creating many great memories fishing, boating and watching the grandchildren grow up with a love for the lake life. His favourite time of the day was Happy Hour when 4th Street North would gather to enjoy each other's company. A special thanks to our Clear Lake Family for always taking time to sit with dad and listen to his stories. He was an amazing storyteller.
Jack was witty and had an amazing sense of humour. He loved his crib and poker games and loved to shop - always sharing his excitement when he got a good deal! He loved his Sunday morning breakfasts and his walks with friends in Assiniboine Park. Those who knew Jack knew him best for his smile, his wit, his sense of humour, his love of life and his overall positive outlook… oh, and his memorable laugh.
As for his grandchildren - he "loved them heaps", as he would sign every birthday card. He was so proud of his family.
In lieu of flowers, the family is asking that donations be made in memory of Jack Carnegie to the St. James-Assiniboia School Division Scholarship Foundation to provide awards to deserving Brooklands School students, St. James Scholarship Foundation, 2574 Portage Avenue, Winnipeg, Manitoba, R3J 0H8.
A memorial service will be held at 10:00 a.m., Tuesday, January 31 at the Chapel Lawn Funeral Home, 4000 Portage Avenue.

For those who wish to sign the online Guest Book please visit www.chapellawn.ca

Chapel Lawn Funeral Home
204-885-9715
As published in Winnipeg Free Press on Jan 28, 2023
Condolences & Memories
(32 entries)
My deepest condolences to Karen, Rob and family. I will always remember the fun times spent at Jack and Marlene's home. They always welcomed everyone with open arms. Jack was always smiling and his great sense of humour kept everyone laughing! My mom and dad have passed but I know they also spent many great days and evenings with Jack and Marlene. Take care and keep all of the wonderful memories close to your hearts. - Posted by: Christine Minaker (Friend) on: Feb 08, 2023

My sincere condolences to All of the Carngie family. I first met Jack when he and his parents first moved to their first home on Old Mill Rd. when I would take my dog to the creek for a swim. It turned out that he was my Chemistry teacher his first year of teaching and the first year Silver Heights Collegiate opened. He was one of the best teachers I ever had the good fortune to know. We had several encounters over the years. One that stands out was when he accompanied a student choir from Brooklands School, who had come to entertain Seniors in a facility I managed. It was an evening performance and he assisted the teacher. It was obvious the students enjoyed his company. - Posted by: Heather Ritchie (Walker) (Student - Friend) on: Feb 08, 2023

My condolences to Rob and Karen on the loss of your father. The Carnegies were our neighbours when we lived on Ronald Street in the 1960's. They were wonderful neighbours and our son John and Rob were playmates from the time they were toddlers. I often think of Marlene when I prepare a recipe that she shared with me. No doubt she has piped Jack into the pearly gates and may they rest in peace. Vera Sexsmith, former friend and neighbour, Edmonton, AB - Posted by: VeraSexsmith (Friend and former neighbour) on: Feb 05, 2023

Jack was my principal at Sansome School. I remember him jaunting past our classrooms, just to make sure all was well, always with that twinkle in his eye. He was not only caring and supportive but one of the most decent people I have known. - Posted by: Gina Petty (Teaching Colleague) on: Feb 02, 2023

So very sad to open the paper and see that Jack had passed. That wonderful, smiling face and charming personality will be missed. This is my memory of Jack, always smiling, always welcoming. How we loved his sense of humour. When he was the principal of our children's school, he offered to drive my sick son home. I will never forget this. I equally enjoyed working with his son, Rob. Heaven will be richer and a whole lot livelier! My condolences to the entire family. Madeleine Loewen - Posted by: Madeleine Loewen (Friend, parent, colleague ) on: Jan 31, 2023

Jack and Marlene were the best neighbors Al and I ever had. They taught me how to drink gin. Love them forever ❤ Rest in peace. Wendy and Al Clarke - Posted by: WENDY Clarke (Old neighbor ) on: Jan 30, 2023

A sad day but for me so grateful for having Mr. Carnegie as a teacher and coach Jack when he coached the Silver Heights Midget Hockey Team along with Gary Jones. What a special person and one to look up to as a young person still trying to make sense of it all. There were no airs about Jack in the classroom or in the dressing room. He expected of you what he expected of himself always with energy and enthusiasm. Over the years I would on occasion run into him in and around St. James and share an update on his busy life. What a pleasure to have known Jack as a person who just happened to leave a very special imprint. - Posted by: Alan R Schick (student and hockey player) on: Jan 30, 2023

Jack and Bryan Weir (my husband who died in 1971) were the best of friends growing up !!!..(.all through Linwood school, hockey, golf & University) After we were all married we did still keep in touch playing bridge, golf & parties with he and Marlene. Our son Bruce still lives in Winnipeg I was sorry to hear of Jack's passing last week, and will always his great wit such a fun guy to be around.. - Posted by: Claire weir (Good friends from the past.) on: Jan 30, 2023

I grew up on Linwood St. same as Jack! We attended Linwood School together from grades one to eight and then Assinibone School for grade 9, until my family moved away from St. James! We met several times over the years and had lots of laughs and fond memories! I will miss him! - Posted by: Joanne Haining ( Allan ) (Long time friend) on: Jan 30, 2023

We were fortunate to have worked with Jack from the beginning of our teaching careers. He was full of fun and at the same time most considerate and helpful as a mentor. Lots of laughs were always prevalent in the staff room, whenever Jack was present. Bridge games were excellent and he was patient with new players. When he went into administration, he was willing to help out wherever possible for his present and former staff - a grand guy that was looked on with great respect. He kept up his caring nature for former staff even during his retirement. We will always remember him as a dedicated educator and wonderful person that we were so fortunate to have as part of our lives. - Posted by: Gary and Patricia Hamilton (Friends ) on: Jan 29, 2023

A lovely, well respected influencer who made a difference in so many lives. My deepest condolences to the family. May family friends time and memories ease your sorrow I remember him well - Posted by: Debbie Larkin Sigfusson (Student ) on: Jan 29, 2023

My deepest condolences to Karen, Rob & family. Jack was amazingly entertaining at all of the The Winnipeg Heather Belle Pipe Band get togethers. He was especially proud of his wife Marlene playing the bagpipes in many of our competitions and parades as he and the other husbands held our our purses on the sidelines...what a sport! Many Christmas dinner parties were enjoyed by all of us….especially Jack! May he continue to hold Marlene's purse as she plays on. Former band member..Dale Turner - Posted by: Dale Turner (Friend ) on: Jan 29, 2023

I have known Uncle Jack, as we affectionately called him, my entire life. As a dear friend of my parents, Uncle Jack was always the life of the party, quick to share a joke or tell a funny story. As a young girl, he always made time for my siblings and I, although my mom wasn't always happy with some of his antics. He let us stay up later than we should have especially on Christmas Eve and taught us how to play 52 pick up after a game of cards. My good fortune came when I went to high school. Uncle Jack was our vice-principal, and I needed to call in a favour during my graduating year. I skipped too many classes and my credits were withheld. I convinced Uncle Jack there was there was a compelling reason and he magically made it go away. (Later I admitted there may have been one too many visits to the Hickory House for coffee). My high school story throughout the years was a favourite of Uncle Jack's to retell. Although I have lived in Ontario for 40 years, every trip home to Winnipeg, I had the good fortune of Uncle Jack's company either at my Mom, Gail's, for HH (Happy Hour) or at a restaurant Sunday morning for breakfast with the gang. Uncle Jack and Auntie Stewie were part of a special group of people whose friendship was borne at St. Jamies Collegiate and has lasted a lifetime. How fortunate for me to know what lasting bonds of friendship look like. Uncle Jack, thank you for the memories. Say hi to Auntie Stewie for me! And try to stay out of trouble. XO - Posted by: Joey McDowell (Family Friend) on: Jan 29, 2023

Our Condolences to Rob and Karen and their Families. We were so sad to hear of your dad's passing. He was such a large part of our lives for many years! We have many fond memories of him, including, our Sunday morning breakfasts. the many Casino bus trips to the States, the month-long bus trip through the British Isles and the winters in Palm Springs including Cruises to Mexico. With the exception of our last move, Jack helped with four of our moves. Specifically hanging the many pictures in just the right places Jack also played Santa Clause to Lisa, Paula and our Grandsons as long as they believed or pretended to believe in Santa Clause. He was such a good and dear friend to both of us, helping in any and everyway he could, when he knew there was a need. His kindness, knowledge and compassion for others was always there when needed. He was an exceptional father and grandfather. Always grateful for his family. They were very precious to him. He enriched so many lives and futures. Eleanor, Frank, Lisa, Paula and Dave and so many people will miss him and treasure his memory always. - Posted by: Eleanor and Frank DeCock (Close friends) on: Jan 29, 2023

I remember him very well. Always smiling and energetic. A true life force and example for students. - Posted by: Diane Peters (Student) on: Jan 29, 2023

I STUDIED CHEMISTRY UNDER JACK IN 1959-61 AT SILVER HEIGHTS COLLEGIATE. HE WAS THE 'COOLEST' AND BEST TEACHER I EVER HAD. I REGRET NOT LOOKING HIM UP LATER, BUT I LEFT WINNIPEG RIGHT AFTER GRADUATION FROM U OF M AND LIVED AROUND THE WORLD AS A CANADIAN DIPLOMAT, SELDOM RETURNING TO WINNIPEG. I DID FOLLOW HIS CAREER THOUGH VIA THE INTERNET. I RECALL HIS SAYING TO ME ONE DAY WHEN I WAS WORKING ON THE SCHOOL GRAD COMMITTEE..."ROSS, TAKE MY CAR" AS HE TOSSED ME HIS KEYS. THAT DOES NOT USUALLY HAPPEN TO A 17-YEAR-OLD CHEMISTRY STUDENT. THE WORLD WAS A BETTER PLACE, THANKS TO JACK. BILL ROSS, VICTORIA - Posted by: William ROSS (FORMER STUDENT) on: Jan 29, 2023

I was saddened to hear of Mr. Carnegie's passing. He was Vice Principal at Golden Gate Jr High when I attended 1968-70. I respected him for his friendly and firm approach with the students. As Student Council President, I appreciated his support and guidance to us as we worked hard to introduce improvements to the school environment. Jack Carnegie left his positive mark on my and many other lives in the school system. - Posted by: Mavis (McQueen) Taylor (Former student) on: Jan 29, 2023

I first met Jack when I was a citizen member of the St James School Review and he was principal at Brooklands. I noticed early the great relationship he had with the students at that school. Later I became a school trustee and had more interactions with Jack. What I remember most was his joy in working in schools and the tremendous regard his staffs ands students had for him. My wife Linda her brother Lloyd were students at Silver Heights Collegiate in the early 60's and they remember him fondly. We were very sorry to learn of Jack's passing and were blessed that we knew him. Bruce and Linda Alexander - Posted by: Bruce Alexander (SChool Trustee) on: Jan 29, 2023

We were so sorry to have learned of Jack's passing. Our best wishes and condolences to Rob, Robin & family and Karen, Barry & family. Your father will be missed by all those fortunate enough to have had a friendship and acquaintance with him. Hazel and J. Frank both appreciated their relationship with Jack and Marlene. Jack was a friend of our family as well as a loyal supporter whose opinion was valued. We will miss his unparalleled wit and friendly conversations. We will always have fond memory of Jack's sense of humour particularly when holding court at his "cook shack". I (Scott) loved our regular conversations and his guidance when discussing education as well as his thoughts on the political arena. Jack was a common sense kind of guy - who would ask……why? I always admired his ability to communicate with kids. He talked to them not at them. It was apparent Jack's first love was his cherished family as well as the close relationship he had with extended family. Jack was one of the good ones! We will miss his impeccable timing throwing a line out to enhance a moment. It has been a pleasure to have known Jack Carnegie. It is soothing to know his peace and joy now being reunited with Marlene. The Johnstons Hazel (J.Frank), Robyn, Scott & Karen, Donna & Eugene and our families. - Posted by: The Johnston Family (Long time friends) on: Jan 28, 2023

A great teacher among the many at Silver Heights that shaped us for life's travels. Thank you - Posted by: David Clarke (Student) on: Jan 28, 2023

Mr.Carnegie was my home room teacher in grade 11 at Silver Heights Collegiate in 1964. What a time we had. He had the most interesting classes and I think we were the envy of the other grade 11 classes for having him as our home room teacher. Every day was a fun day in Mr. Carnegie's class but it was always a learning day. I still remember the formulas he used to make us memorize. I was lucky enough to renew our fun times when he used to come to the St. James -Assiniboia Kinsmen Club every year to talk to us and pitch us for money for whatever project he was involved with .Needless to say we never said no to him. I had the greatest respect for him and will always remember him as my favourite teacher. - Posted by: David Skinner (former student) on: Jan 28, 2023

Mr.Carnegie was my home room teacher in grade 11 at Silver Heights Collegiate in 1964. What a time we had. He had the most interesting classes and I think we were the envy of the other grade 11 classes for having him as our home room teacher. Every day was a fun day in Mr. Carnegie's class but it was always a learning day. I still remember the formulas he used to make us memorize. I was lucky enough to renew our fun times when he used to come to the St. James -Assiniboia Kinsmen Club every year to talk to us and pitch us for money for whatever project he was involved with .Needless to say we never said no to him. I had the greatest respect for him and will always remember him as my favourite teacher. - Posted by: David Skinner (former student) on: Jan 28, 2023

Our Condolences to Rob, Robin, Karen, Barry and the rest of the family. I have wonderful memories of Jack and Marlene at the Lake; shared Anniversary parties with my parents, lots of card games in the cookshack and of course Jack and my Dad played crib twice a day and kept score all summer. I will miss his smile and having wonderful chats in the cookshack. - Posted by: Lori Ann Kirby (Part of Clear Lake Family) on: Jan 28, 2023

Jack Carnegie was my vice-principal at Sturgeon Creek when the School first opened. He was a wonderful, warm individual that I remember very fondly. Jack, demonstrated that one can be a warm, friendly administrator with their staff and still be an excellent administrator. I believe that Jack was one of those adminstrators that had the total respect of their staff. - Posted by: Scott Johnston (Colleague) on: Jan 28, 2023

To Jack's family . I was in Jack's very first class in 1959 at Silver Heights when he got out of University. He'd take us down to SturgeonCreek CC to play hockey Fri afts . But he'd also give us detentions and we'd have to show up Saturday mornings to paint his fence at his new house ! We loved the guy. I also taught along side him in St James for 20 years and knew intimately how extremely high regard he was held by all those fortunate to have crossed his path . And oh that laugh! - Posted by: Bob Moore (Jack's student and collegue) on: Jan 28, 2023

Mr. Carnegie taught me chemistry at Silver Heights Collegiate in the early 60s. All these years later I have fond memories.. A terrific teacher, who would share the jokes he had heard on Johnny Carson the night before. - Posted by: Kathryn Foster Bagg (Student in the 60s) on: Jan 28, 2023

It was with with deep sorrow when I was told of Jacks passing. Since my family and I have spent summers at the lake Jack has always been one special guy, I always considered him as one of the three wise men with Gord and Bill. You could always find the three of them in the afternoon playing cribbage before happy hour. They taught their kids well to continue the campground happy hour ritual! He and the other two were always worth a walk down to get the good word. He will be so badly missed by his family, his Clear Lake famiy and everyone who knew him. God speed Jack! - Posted by: Norm Milne (Clear Lake Friend) on: Jan 28, 2023

There may not be enough space for our many years of association! I,Gary, first met Jack when we were in Science at U of M. Upon getting our B Sc's we went into Education for one year for the teaching certificate. Together we applied to St. James School Division where we spent our careers. Along the way we married our wives, Marlene and Sandra. This involved accompanying them on their Honeymoon to the Southwest USA for 3 weeks. People thought this trip would not work well, but it cemented our closeness! We are privileged to have spent so many years and created so many significant memories together. - Posted by: Gary and Sandra Jones (Close Friends) on: Jan 28, 2023

To Rob and family, so sad to hear of your loss. Your Dad was a very kind caring and gentle person, always caring for others especially his students. You are in my thoughts, sincerely. Linda Archer,d - Posted by: Linda Archer (Friend) on: Jan 28, 2023

Jim and I have known Jack for many years. He was my vice principal when I taught at Sturgeon Creek. He was always so much fun! One day he called me into his office to say I should be more involved in extra curricular activities. I was all offended since I was already involved in a few things! He started laughing hysterically and there were a couple of other teachers from my department looking in the window to his office—laughing too! I was set up! We send our condolences to his family. Jack wad simply the best—better than all the rest. We are in Florida so will not be able to attend the service unfortunately. - Posted by: Carol Tomes (Colleague ) on: Jan 28, 2023

Dear Patti & all Jack's family So sorry to hear of Jack's passing. May all your wonderful memories you shared somehow sustain you in your time of sorrow. Death leaves a heartache no one can heal but Love leaves memories no one can steal.Jack will live on in all the hearts of those who knew and loved him. Love & hugs to you all. - Posted by: Marlyn Harding (Distant cousin) on: Jan 28, 2023

Best principal I ever had. Stood up for staff and George B. - Posted by: Will Peters (Teacher) on: Jan 28, 2023
Email Alerts
Sign up for free email alerts of new obituaries for specific people, towns & more.

Chapel Lawn Funeral Home & Cemetery
4000 Portage Ave. (Map)
Ph: 2048859715 | Visit Website
❮ Go Back to Listings