Search:

Winnipeg Free Press Passages
All Titles
Notices are posted by 10 am Monday through Saturday
❮ Go Back to Listings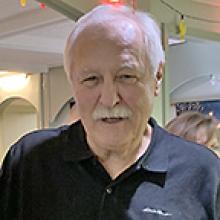 BRIAN ROBERT LARENCE
Date of Passing: Feb 28, 2023
Send Flowers to the Family
Offer Condolences or Memory

BRIAN ROBERT LARENCE

Brian Robert Larence - expert storyteller, funny man, pocket t-shirt wearing, mustache donning, carpenter ordinaire, died on February 28, 2023.
Brian has been making friends and family smile since the day he was born in Winnipeg on February 28, 1950. He spent most of his younger years in the bustling town of Fisher Branch in the family home strategically located across the street from the RCMP. He was forever testing his parents, Jim and Lucie with his shenanigans, which almost always involved some combination of, or all, his "brudders", Ken (Shirley), Barry (Rhonda), Dean (Teresa) and on more rare occasions his sister Doreen (Alex).
In his late teens, Brian's first job was surveying for what he called the "Department of Holidays" (aka Highways) - where he claimed to walk 10 miles every day. A version of that 10-mile claim became a staple in many of his stories. Some of those stories may even have been true.
Starting in 1972, Brian made a lifelong career in the tire industry where he was recognized for his polyester pants and black shoes that he shined daily. Brian's charisma and kindness made him a natural salesman, and his hard work was rewarded in the early 2000's when he was offered ownership in his own Fountain Tire store. His popularity had its drawbacks for those with him on errands, as he always ran into someone he knew. He loved people, was caring and friendly and always made time for a chat.
When Brian wasn't working, he could be found: making his favourite cabernet-sauvignon or white wine for his beloved partner of 38 years, Jodene; searching for cool cars to buy but would never fix and end up giving away; on occasion chasing bank robbers (true) for ten miles (not true); listening to country music (instilling a love of John Prine in all his children by the age of two); camping, and later spending time at the cottage. His favourite activities were anything that surrounded him with family. He loved sitting around any campfire, listening to guitar, singing and telling stories. Brian never got cold around these campfires and was one of those guys who wore shorts long after everyone else was wearing jackets. Maybe that was just so people could admire his muscular calves (formed, no doubt, by all those 10-mile walks).
It was 1985 when Brian met Jodene and after many months of begging he finally convinced her to go on a date. It took the next ten years for Jodene to convince Brian to marry her in 1995. Long before Brian and Jodene were officially married, Ian (Brenlee), Naomi (Chuck), Casey (Wanda) and Dustin were a family.
Ian is an owner in his own business thanks to the guidance and support of his dad, as well as the work ethic he instilled. Growing up, parents' place was the gathering spot for all his friends and many fond memories were created with Brian that now form part of the stories being passed on to the next generation.
Naomi attributes her love of numbers to the countless cribbage games with her dad (even if the count is only in twos and threes and up to thirty-one). Brian was patient in teaching this game to anyone who was interested, and it was only after he thought you were a real competitor that he would he start to steal your uncounted points.
Brian had such a positive influence on Casey's life personally and professionally. Casey followed in many of the same footsteps, most with Brian's help. Casey will miss how Brian was always exited to talk about the shop with him and give him advice whenever needed. Brian helped him become a business owner and instilled his love of spending time with family and friends. Brian always welcomed Casey's friends to the family cottage whenever they asked, and even when they didn't.
As for Dustin, he is happy to have inherited his joke and storytelling skills from Brian. He is always up for a laugh, thank you for that. He will take over the jokes from here, dad.
The pastime Brian loved most was the time he spent with his grandchildren. Liam will cherish his solo breakfast and goofy time with grandpa. Colton will cherish the walks with grandpa and Lily at the lake, where Colton would sneak Grandpa out so he wouldn't have to share him with the other kids. Sydney and Matthew will cherish their tradition of Christmas eve sleepovers and Bannock baking - a special time just for them. Sam will cherish the early mornings after a sleepover when her and grandpa would sit at the table with the newspaper and do the wordsearch together before grandma woke up. Jordan cherishes the sweet and ridiculous things grandpa would do for the grandkids; the time he bought a metal detector because one of them lost their phones while playing in the snow; and, who can forget how he would always burn the toast and none of them would eat it but he ate it because, of course, "he liked it burnt". Mackenzie will cherish all the times that grandpa would sit and read with her, the same books, repeatedly. She especially remembers their love of Shel Silverstein books, "Where the Sidewalk Ends" and "The Giving Tree".
First for his kids and then his grandkids, Brian was always counted on for a ride and to be a cheerleader at every hockey, football, basketball, baseball, soccer game and swim meet. His pockets were always stocked with loose change, and it didn't take much arm twisting for the Dippin' Dots, Slurpees, McDonalds or Booster Juice to flow.
Brian and Jodene created a community beyond their children and grandchildren. If you were a friend or a friend of anyone Brian loved, then you were family and you were always welcome. The door was literally, always open. As was the fridge and the bar. This is still the case, right Jodene?
A celebration of Brian's life will be held at the West Kildonan Legion at 1748 Main St. on April 8, 2023 from 1:00 to 4:00 p.m. In lieu of flowers, please consider a donation to the Heart & Stroke Foundation or the Spirit of Hope Rescue.
As published in Winnipeg Free Press on Mar 11, 2023
Condolences & Memories
(12 entries)
Growing up in Fisher Branch everyone in town hung around together. I remember Brian as always enjoying a laugh and having fun. While well more than 50 years have passed since those days I still recall a genuinely nice guy. My sincere condolences to his family. - Posted by: Tom Lamb (Friend) on: Apr 08, 2023

Jodene, we are so very sad to hear of the passing of Brian. We never had the opportunity to meet Brian, but if you married him he must have been something very special. Friends and family forever. God bless Phil & Loreen - Posted by: Phil & Loreen (Friends) on: Apr 03, 2023

Condolences to all. Brian was a great guy and full of laughter. Funny how people never forget their roots or the people from the home town never forget a person. Number of occasions before dad past we would drive by Brian's tire shop and dad would always say Brian Larence works there on the occasion dad making me stop to say hi. Once again condolences to all Brian will be dearly missed. - Posted by: Ron Malkowich (Friend) on: Mar 15, 2023

Jodene, I am so sorry to hear about Brian's passing. My thoughts are with you and your family. - Posted by: Wendy Olson (Acquaintsnce/friend) on: Mar 14, 2023

Sorry to hear that my friend Brian has passed, Brian and I grew up together and lived next door to each other for many years in Fisher Branch till he moved to the other end of town but we still saw one another every day. We got into trouble now and again pulling tricks on other friends. I did get to see him a few times in the last couple years when I would come out from BC to visit friends and we always brought up old stories about when we were in trouble and had a great laugh, he will definitely be missed and I wish I could have spent more time with him. Prayers be with him. Lawrence JR Chassie - Posted by: Lawrence (Real good friend ) on: Mar 14, 2023

Brian, we will miss you a great deal. Your smile and laughter always felt like a warm hug. You always were full of light, joy and love. May you continue to watch over your family with the extreme love you have for them. You may not be here with us, but your influence will live on for many generations to come. The positive impact you had on so many people will surely continue to live through them. Much love and strength to your family. ~Nadine - Posted by: Nadine Sanche-Johnson (Friend) on: Mar 14, 2023

Sending our condolences to Jodene and family. Brian was a great brother and friend. He was always there for us and I have so many fond memories or him. We will truly miss you and it will not be the same going to Winning. RIP Brian. - Posted by: Doreen & Alex Allary (Sister) on: Mar 14, 2023

Jodene, so very sorry to hear about your husband Brian. Our deepest sympathy to the whole family. We weren't lucky enough to meet Brian, but it sounds like your life with him was filled with special moments. I know that every time you sit around a campfire you'll see his eyes twinkling in the flame. You know too that you have a community of friends, for any kind of support in the near and distant future. love, Monique and Dave - Posted by: Monique and Dave Coffell (friends of Jodene) on: Mar 13, 2023

Thank you for this wonderful story of Brian's life. Having moved to BC many years ago I've missed being with my cousins. This write up shows me just how much I missed. We sure had a fun-loving family growing up. My deepest condolences to the family. I can see it's a huge loss. - Posted by: Peggy Haire (Cousin) on: Mar 11, 2023

We will miss Brian's slapstick sense of humour and caring personality. We shared many happy memories with Brian and Jodene. He truly was one in a million and we offer our deepest condolences to Jodene and his family - Posted by: Darlene Grantham (Cousin) on: Mar 11, 2023

Uncle Brian was such a fun and welcoming person! Loved his stories and his quick wit and sense of humour. He will be truly missed! 💔 - Posted by: Shelley Giles (One of the brudder's kids (niece)) on: Mar 11, 2023

Rob and I would like to offer our condolences to the entire family. Brian was a kind and caring boss. I don't remember ever being worried about approaching him with a problem or concern that I had. I have fond memories of the lunches Brian, Murray and myself had at the Olive Garden and Brian's ability to make us both laugh out loud in the restaurant. Because we now live in Halifax, we won't be able to attend his Celebration of Life but know that our thoughts are with the entire family. - Posted by: Ellen Young (Former Employee) on: Mar 11, 2023
Email Alerts
Sign up for free email alerts of new obituaries for specific people, towns & more.
❮ Go Back to Listings