Search:

Winnipeg Free Press Passages
All Titles
Notices are posted by 10 am Monday through Saturday
❮ Go Back to Listings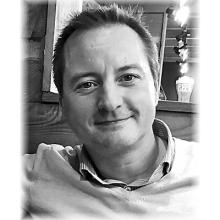 ILYAN VITALI IWANCHUK
Born: Aug 13, 1974
Date of Passing: Aug 12, 2023
Send Flowers to the Family
Offer Condolences or Memory
ILYAN VITALI IWANCHUK
---
With great sadness the family of Ilyan Vitali Iwanchuk announces his passing on Saturday, August 12, 2023, just a day before his 49th birthday.
Ily leaves to mourn his mother Irene Karpiak; his brother Andre (Karen); his children, Nathan and Mya; and their mother Andrea Kinsman; his aunt Christine Walker; and cousin Katrina Walker; and cousins, Paul, Katherine and Michael Karpiak. Ily was predeceased by his father Chrys; and his uncle Robert Karpiak.
Ily was born August 13, 1974, in Winnipeg, Manitoba to proud parents, Chrys and Irene. He grew up in the Tuxedo and River Heights neighbourhoods along with his elder brother Andre. He attended Laidlaw Elementary and Kelvin High Schools. Ily was proud of his Ukrainian heritage, was fluent in Ukrainian, and a member of Plast Ukrainian Scouting Organization.
He completed a Bachelor of Justice and Law Enforcement degree at the University of Winnipeg, and a Juris Doctor (JD) Law degree from the University of North Dakota. Ily began his career at his father's law practice, and subsequently worked as a Legal Analyst with the Manitoba Housing Authority.
Ily will be remembered as an outgoing, humourous and kind friend. He loved the beach, his books, his dirt bike, his jet ski, dogs of all sorts and sizes, and the highest and scariest amusement park rides, a passion he shared with his children.
Most of all, he was a devoted father to Nathan and Mya. He loved being with them, and they cherished him.
His world fell apart after the tragic death of his father. Despite his many efforts and the support of others, recovery seemed to elude him. Still, our love and hope never ended.
A Memorial Service will be held at the Korban Funeral Chapel, 907 Main Street, on Tuesday, August 22, at 2:00 p.m. Reception to follow.
In lieu of flowers, anyone wishing to make a donation, on Ily's behalf, may do so to the Canada-Ukraine Foundation, or to an Addictions charity of your choice.
Your Everlasting Memory!

Vichnaya Pamyat
KORBAN FUNERAL CHAPEL
(204) 956 - 2193
Condolences may be sent to
www.korbanchapel.com
As published in Winnipeg Free Press on Aug 19, 2023
Condolences & Memories
(9 entries)
I went to Kelvin High school with Illy, what am absolute legend. We both had Volvo station wagons at school. He had a 79 red and I had a 77 baige. Illy was a generous loving man with a genuine love for adrenaline. He took me for a ride on one of his bikes, I will never forget that day. 240kmph on Mcgilvary Blvd I wore a cheap bike helmet and could not breath. The heavens have a new star, you will be missed mate. From your Aussie mate Charlie. - Posted by: Charles olweny (Friend shared love for volvos) on: Oct 19, 2023

To you, who have so generously and eloquently shared your memories of my dearest son, Ilyan, I extend my most sincere and heartfelt thanks. Your memories drew out moments and features of your shared relationship that allowed others unique glimpses of him—through childhood and adulthood—as colleague, neighbour, father and friend. Your comments brought out the various dimensions of his nature that I, and perhaps others had missed. And together, they revealed what a generous, personable, complex and humane individual he was. With gratitude and warmest wishes. - Posted by: Irene Karpiak (Mother ) on: Oct 14, 2023

I worked with Ilyan at Manitoba Housing, our cubicles were across from each other. We spoke often about our children, and my pets along with his great desire to be a dog owner telling me what breed he would want and potential names of the dog should he adopt one. He was a very proud father and it showed through his family photos in his cubicle to how his face would light up while talking about them. My heart goes out to his family, I am truly sorry for your loss. - Posted by: Manda Van Doeselaar (Co-worker) on: Aug 28, 2023

I was saddened to hear about the loss of Ilyan. Although, I did not know him very well, I knew more about Ilyan and his family from my husband, who is also a lawyer and knew Ilyan's father. Ilyan and I met at Shoppers Drug Mart on Osborne, I do not recall how we started the conversation, but once we realized that are both lawyers, we started to share our thoughts about lives as lawyers, legal practice and how harsh it can be. We talked about his education, his practice with his father, lots of discussions about real estate law and life in general. What I liked in Ilyan, he was very open, not pretensions and always smiling and with a great sense of humor. I appreciate all my encounters in life, no matter how brief they are, I believe that we meet people for a reason, sometimes we do not understand the reason. I think for me meeting Ilyan was a reminder about the tragic death of my uncle and how it affected all of us, how fragile life is, how everything can change in one moment, how our education and social status does not mean much once we are broken and how it is important to stop and hear someone's story, because, may be that conversation at that moment can safe someone's life or make it a bit happier. After I found out about the loss of Ilyan, I sat in my car at the parking lot of that shoppers and thought of Ilyan, I recalled many of our conversations, thanks for making me laugh, thanks for being honest about yourself, I will miss seeing you there. - Posted by: Elizaveta Ioussoupova (acquaintance) on: Aug 24, 2023

Sincere condolences to Irene and family. You are in my thought and prayers, Irene. So very sorry for this tremendous loss in your life. I know you will face this with your faith, courage and inner strength. With love, Merrily - Posted by: Merrily Marchessault (Friend) on: Aug 24, 2023

I remember the first time I held you-that moment you had a piece of my heart. Though we are far away I have watched you grow into an adult, become a father -your beauty I see in your children's faces now I am so lucky that you continue to tug at the piece of my heart, my soul-you will always be with me My love and deepest sorrow to your dear family - Posted by: Christina Hiera (Cousin/Godmother ) on: Aug 21, 2023

Dear Ily and family, It feels like just yesterday, yet nearly four decades have passed since our paths first crossed as neighbours on a brand-new street. As I sit down to pen these words, a bittersweet blend of nostalgia and sorrow washes over me. The news of your departure has left an enduring mark on my heart, summoning a flood of memories from the wonder years we experienced side by side. Growing up in that new development, where trees far outnumbered houses, was a treasure beyond measure. We were explorers of the wild, architects of endless forts, and citizens of the field adjacent to St. Paul's High School. Our days resounded with the laughter of local kids engaged in spirited games of baseball, soccer, and our own flights of fancy—launching rockets and setting the sky ablaze with fireworks. The emergence of houses within the woods held a singular promise for us young adventurers: the promise of forts—limitless forts to construct and conquer. Our quests for materials led us into those houses under construction, every moment etching the spirit of our camaraderie deeper into the very fabric of our being. Even as St. Paul's safeguarded its domain with a fence crowned by spikes, our youthful spirits remained unyielding. The journey to Laidlaw School, flanked by snowbanks towering even higher in memory, was a journey of unity. I can still vividly recall those moments by the Iwanchuk's backdoor, eagerly awaiting the readiness of both you and Andre. And then, with excitement ablaze, we would embark on yet another day of shared adventures. Those snowbanks, back then, were monumental landscapes where our dreams of fortresses would take form—kingdoms in the midst of winter's embrace. Ily's home, blessed with an inviting pool, became the nucleus of our neighbourhood—a haven where laughter and respite flowed freely. The Iwanchuk family bestowed upon me a window into Ukrainian culture, an impression that endures steadfastly in my memory. Saturday nights ushered in sleepovers, followed by Sunday mornings at the Ukrainian Church on Main Street. The opulence of the Orthodox Ukrainian Church weaved its colours into my young mind, an affirmation of the tapestry woven by diversity and tradition. Irene's mother, Ily's grandmother, was impressive with her culinary prowess, introduced us to the flavours of Ukraine. Her fantastic beef taco left such an impression that I was convinced for years that tacos hailed from Ukraine. It was a delicious misconception, a testament to her culinary skill. Ily's home was a doorway not only to Ukrainian culture but also a haven for shared gaming adventures. While allegiances veered differently—Colleco Vision and Intellivision on one side, and Atari on the other—unity prevailed in our shared passion that Atari was the least favoured system. But the Iwanchuk's had a trump card, a full-sized old-school pinball machine in the basement! Conversations with you and Andre, the discussions we held while walking to Laidlaw, carried the weight of our youthful curiosity. The question of Luke Skywalker's father, seemingly an enigma, became a cornerstone of our discussions—forging bonds that transcended time. Downtown escapades on the bus were cherished gems, with Book Fair on Smith and Portage unveiling a world of comics. The 25-cent fare felt like a fortune, my weekly allowance stretched to its limits. I can distinctly recall my amazement upon discovering that you received double my allowance—a revelation that spurred my negotiation skills, adopting the Iwanchuk standard as my guide in navigating parental conversations. Our shared cinematic odysseys encompassed an array of experiences—good movies and bad, all united by the fondness we had for them. A Christmas Story remained a cherished favourite, its charm unrivalled. We even had our own Red Rider BB guns! Time Bandits, a movie that didn't quite measure up, but it was the only movie playing on Boxing Day at Eaton Place. And then there was the day our mothers took us to see "On Golden Pond" at the sprawling Grant Park theater—a moment that's etched into the very essence of our friendship. Notably, "On Golden Pond" might have been a touch mature for young boys, a gentle reminder to both my mom and Irene. Katherine Hepburn and Henry Fonda are surely remarkable, but we weren't yet 10. Both families will forever remember the laughter and warmth of Cheachie's restaurant at Polo Park. It was perhaps there that I realized that Tacos weren't Ukrainian! The testament to our creativity and camaraderie remains the fort-building expeditions. From the woods across from St. Paul's to the side of your home, our ambitions knew no bounds. Ultimately, the expansive forest stretching between Bard Boulevard and the railway tracks became our canvas—an intricate web of forts, crowned by Fortville as its treasured nucleus. Trips to the cabin with your family, as well as our joint excursions to Grand Forks ND, form the tapestry of those wonder years. Ily, my dear friend, you were an anchor in my primary school memories. With the news of your departure, those memories have grown more vivid, the bond we shared more profound. Although life's currents led us along separate paths, the friendship between our mothers endures—a testament to the enduring connections formed in childhood. My heart, along with my parents and siblings, mourns deeply for your departure. The laughter, the escapades, and the irreplaceable moments we shared will forever be etched in my heart. The Iwanchuk family, your family, will forever hold a special place in the tapestry of our lives. Your family's affinity for animals was undeniable. Your Schnauzer held a special place in your heart, while your admiration for Andre's menagerie of exotic animals showcased your unique spirit. From hermit crabs to tarantulas, you possessed a remarkable ability to infuse curiosity and courage into every aspect of life. We embarked on cricket hunts in the forest to ensure the tarantula remained content and well-fed. To this day Whenever I hear Huey Lewis and The News I think about how you forced me to listen to it. Your brother Andre was a role model for all the younger kids including me. Andre was such a fan of Iron Maiden. I remember getting my mom to buy me that cassette tape. I still have it. But I only ever listened to it once. As the pages of time continue to turn, and the sands of memory flow, your light shines undiminished. Farewell, my dear friend. Until the day our paths intertwine once more. With enduring love and remembrance, Steven Fletcher Co-Founder of Fortville and companion explorer Many hugs to Irene and Andre from Gordon, Julia, Joanne, and David Fletcher - Posted by: Steven Fletcher (Childhood friend) on: Aug 19, 2023

My very deepest condolences, dear Irene and family. I only just realized that it's been over 60 years since I first met you and Chrys, and of course Robert, at Sisler. Though I never got to know your children well, nor you mine, it was always such a treat to get together and share news about them. Thus, I do feel that I knew Ily, and my heart breaks for this wonderful child of yours, gone way too soon. Vichnaya Pamyat, my dear. - Posted by: Ruth Constance Wawruck-Hemmett (family friend) on: Aug 19, 2023

Ohhhhh Ily, I am so heartbroken to hear from Ross and Marty confirming that this was true. I'm gonna miss your daily crazy funny emails and you dropping by to come check up on me. I will always Love you and keep you in my heart. You were one of a kind and admired the way you can have conversations with just about anything with anyone. You were such a great man and I am gonna miss you so much. My heart and deepest condolences go out to your family as they grieve. Rest in Peace my Friend and see you on the other side. ❤️🙏😭 - Posted by: Ruby McKay (Close friend) on: Aug 19, 2023
Email Alerts
Sign up for free email alerts of new obituaries for specific people, towns & more.
❮ Go Back to Listings